The Exploring Family History Tutorial
Marriage Certificate
Available for Marriages after July 1st 1837
Task: Identify and obtain the marriage certificate for James Horwood
The quickest way to search the Marriage Certificate index is by using the FreeBMD web site.
| | |
| --- | --- |
| First Name | James |
| Last Name | Horwood |
| From | Mar 1855 |
| To | Dec 1863 |
| Type | Marriage |
| County | Middlesex |
The search produces 3 responses:
Marriages Mar 1857

Horwood
James
Kensington
1a
51
Marriages Dec 1859

Horwood
James
Clerkenwell
1b
809
Marriages Jun 1861

Horwood
James
Shoreditch
1c
338
By clicking on the page you can get all the marriage partners on this page and the 1861 entry gives
Marriages Jun 1861

Horwood
James
Shoreditch
1c
338
Shaw
Henry
Shoreditch
1c
338
Town
Mary
Shoreditch
1c
338
There should be a 4th entry (2 marriages per page of the register) - giving 2 male and 2 female names, but as one of them is Mary Town, who is the mother of Thomas William Horwood (view), there is no difficulty in deciding which was the right marriage certificate, which was obtained from the General Register Office.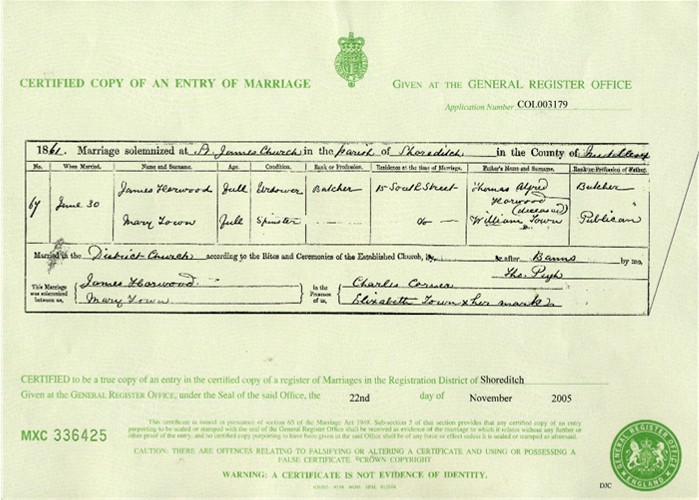 Marriage solemnized at
St James Church
in the
Parish of Shoreditch
in the County of
Middlesex
When married
June 30 1861
Name and surname
James Horwood
Mary Town
Age
Full
Full
Condition
Widower
Spinster
Rank or Profession
Butcher
-
Residence at the time of Marriage
15 South Street
15 South Street
Father's name and surname
Thomas Alfred Horwood
(deceased)
William Town
Rank or profession of father
Butcher
Publican
Married in the
District Church after Banns
By me
Tho. Pugh
This marriage was solemnized between us
James Horwood
Mary Town
in the Presence of us
Charles Corner
Elizabeth Town X her mark
Witnesses are often related to the happy couple. and Elizabeth Town (who couldn't write her name so made her mark) is almost certainly a close relative of Mary Town. Further investigation might show that Charles Corner is related to one or other of the couple, perhaps by marriage. The "of full age" unhelpfully does no more than say that the couple had passed their 21st birthday.
Result of Investigation
As expected, the certificate has identified the church where the marriage occurred, additional information of the couple's parents, and the name of two witnesses. However there is a big surprise (not mentioned in the bible (view)) as James Horwood is a widower - which immediately raises the question about what happened to his first wife, and were there any earlier children
Page created November 2005