William Reynolds

1735-1807
Father:
Mother:
Born:
Baptised:
Married: 1st August 1762 at Banham, Norfolk
Wife: Elizabeth Saunders (1735/6-1818)
Daughter: Dinah Reynolds (1762/3-1831) Married George Wilde at Chippenham in 1791. Children: Rebecca Wilde & George Reynolds Wilde. All family buried in Reynolds plot at Chippenham.
Daughter: Elizabeth Reynolds (1764?-?) Married Green [Mentioned in father's will]
Son: Richard Reynolds (1765?-1835) Married Charlotte Mortlake at Chippenham in 1790. Children: Charlotte Reynolds. Richard became a widower in 1795. . In 1820 Richard Reynolds married Honour Reynolds (brother Henry's widow?) at St Botolph, Bishopsgate, London, and Susannah Reynolds was born in the same year. [Possibly Charlotte and her young children went to live with widower Richard after Henry died.]
Son: William Reynolds (1766/7-1805) Married Sarah Talbot at Chippenham in 1799. Children: William Reynolds & Robert Reynolds.
Daughter: Judith Reynolds (1768-1855) Baptised 11th April 1768 at Banham, Norfolk. Married Henry Morley. Children: Elizabeth Morley & Philip James Morley.
Son: Robert Reynolds (1770-1825) Baptised 3rd November 1770 at Banham, Norfolk. Farmed Home Farm, Chippenham. Buried in Reynolds plot at Chippenham
Son: John Reynolds (1772-?) Baptised 28th November 1772 at Banham, Norfolk.
Son: Philip Reynolds (1775-1838) Baptised 18th February 1775 at Banham, Norfolk.
Daughter: Rebekah Reynolds (1778-1834) Baptised 27th November 1778 at Banham, Norfolk. Married James De Carle at Chippenham in 1800. Children: Rebekah Reynolds De Carle, Elizabeth Mary De Carle & Alice Ann De Carle.
Lord of the Manor: William Reynolds must have arrived in Chippenham about 1780. Geo. Molineux Montgomery, Esq. lived at Chippenham Hall, and presumably was responsible for the following advert. Later adverts letting another farm in 1781 link it to Chippenham Hall, and the estate was sold in 1783. George later sold off the contents of the house over 5 day from 13 May 1784.
Farm? Either of the first two farms could be the one taken by William Reynolds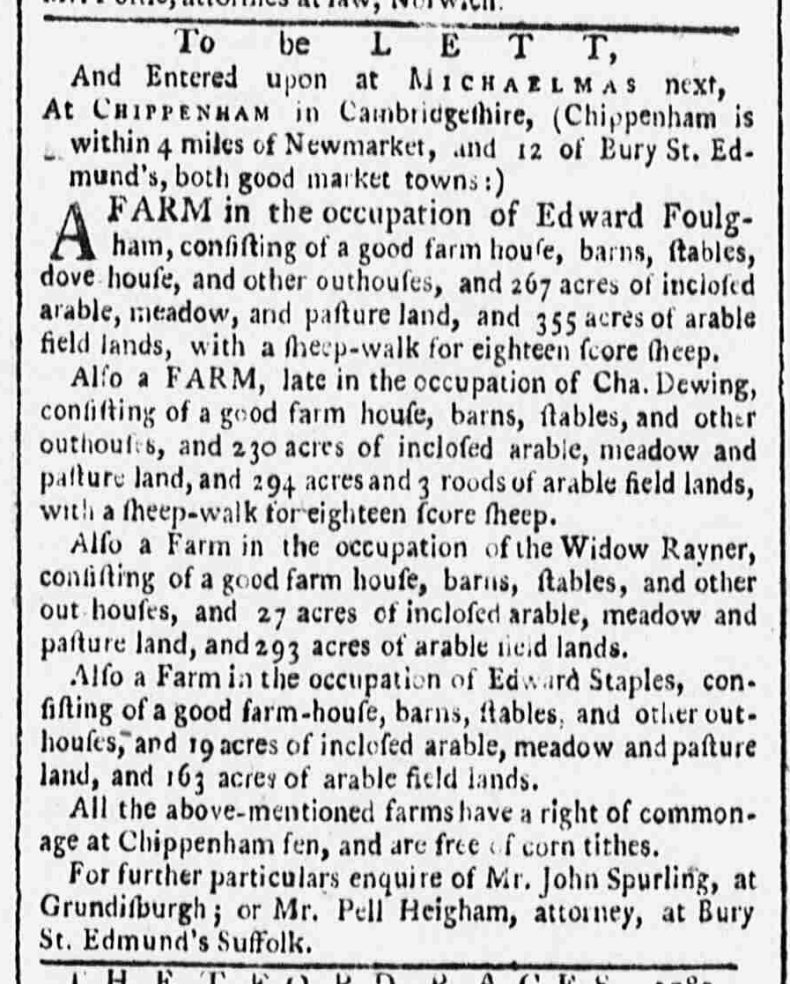 Ipswich Journal 1 July 1780 - also in Norwich Chronicle 1 July 1780
Son: Henry Reynolds (1781-1815) Baptised 20th October 1781 at Chippenham, Cambs. Married? Charlotte Chastney. Children: Philip Chastney Reynolds, William Reynolds, Henry Reynolds & Robert Reynolds. Buried in Reynolds plot at Chippenham
Lord of the Manor: In 1783 the manor was put up for sale. It was acquired by a banker called Drummond Smith who obtained an Act of Parliament enclosing the common field lands. The ground was staked out and new tenancies were negotiated with the old tenants, including William Reynolds. In 1786 Drummond Smith purchased the manor of Tring and when he moved their he sold the manor of Chippenham to Joseph Tharp in 1791.
Lord of the Manor: Estate including the farm put up for sale in 1789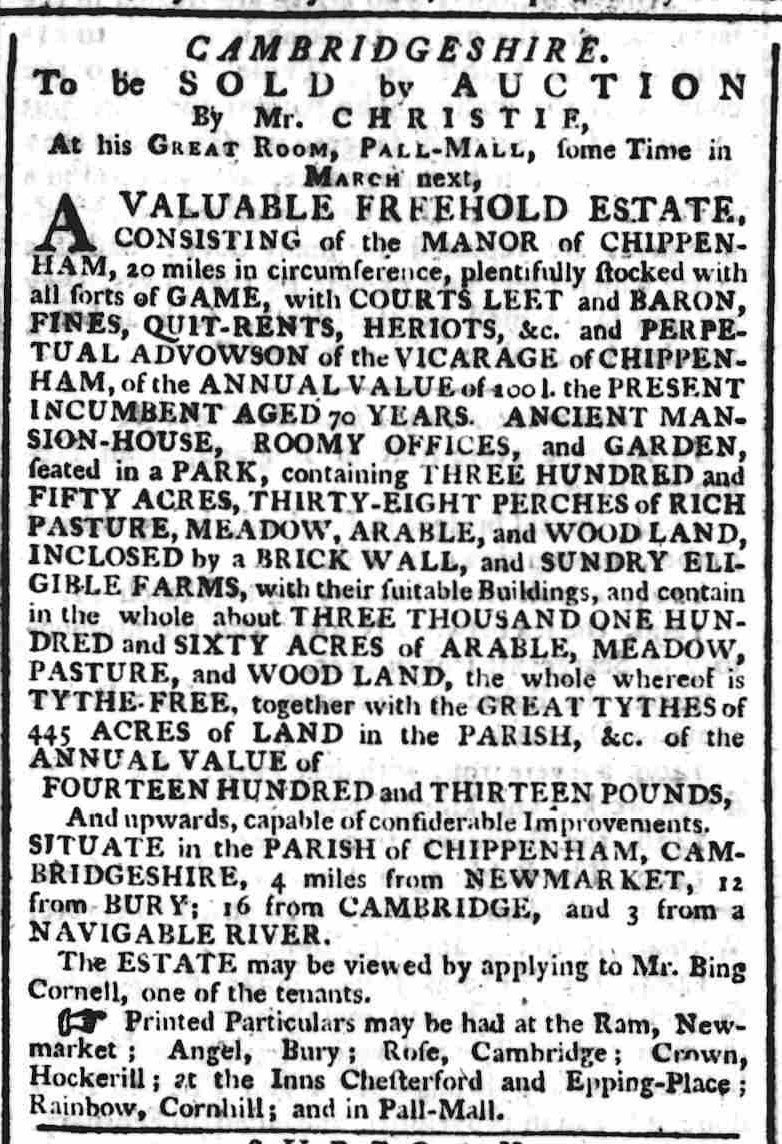 The Bury and Norwich Post, 14 January, 1789
Overseer: William Reynolds was overseer of the poor in 1785/6 and later in 1787/8, 1789/90, 1791/2, 1794/5. 1796/7, and 1798/9. (Source; Town Book. Cambridgeshire Records Office R/55/7/31/1)
New Lease: On 22nd December 1791 Drummond Smith and William Reynolds of Hog Hall signed a 21 year lease (dating from October 1790) for 640 acres at £230 per year. (Source: Cambridge Records Office R/555/7/7/253-256)
Churchwarden: William Reynolds was churchwarden between 1792 and 1806. His expense accounts survive (Source; Churchwarden's Accounts. Cambridgeshire Records Office R/55/7/31/4) There were many payments "for sparrows" at the rate of 2 pennies per dozen. This was almost certainly because at the time the roof of the church was thatched and nesting sparrows can seriously damage thatch so local children could earn a few pennies by catching them.
Dispute with Landlord: Mr Tharp wanted to enclose and plant 20 acres of woodland, and there is a document dated 16th March 1793 giving legal advice on what would be a fair adjustment of the lease. (Source: Cambridge Records Office R/555/7/7/253-255)
Will: William Reynolds, of La Hogue Hall Farm, made a will on 3rd June 1806 which included specific bequests to his widow and named children totally £3000,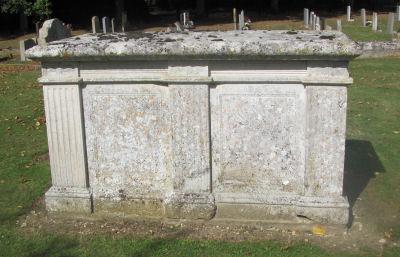 Death: 3rd May 1807 at Chippenham, Cambs
Burial: 6th May 1807 at Chippenham, Cambs. In Memory of William Reynolds who departed this life the 3rd day of May 1807. [Plus wife Elizabeth.]
Probate: 18th August 1807. PCC. Executors Robert Reynolds and Henry Reynolds
If you can add to the information given above tell me
| | | |
| --- | --- | --- |
| September 2011 | | Page created |
| | | |