Splitting Straw
To make the finest straw plait the straw was split along its length into narrow splints. The original splitter consisted of a cone with cutters set sideway on a handle. The cone was inserted into the hollow end of the straw to split it, but there were other designs.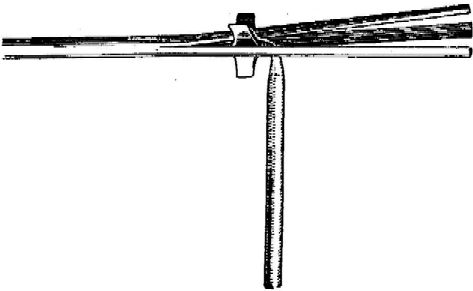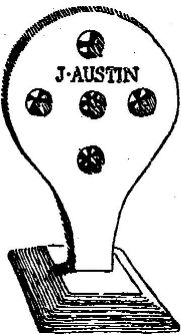 from Luton and the Hat Industry, by Charles Freeman, 1953
"The Austin cutter, made off Akeman Street, Tring, offered a choice of splint sizes. A pear-shaped wooden frame supported four or five holes each containing a metal cutter filed from a French nail, the pin of which took the place of the bone cone in the earlier model. and the cutters split the straw into anything from three to nine pieces."

Straw Plait, by Jean Davis, Shire Album 78, 1981
James Austin, wood turner of Akeman Street, Tring, is listed in the Post office Directories for Hertfordshire in 1850, 1862 and 1870, but not the 1839 Pigot's directory nor the 1882 Kelly's Directory. The 1851 census lists him as a 45 year old turner, born in Tring and living in on the eastern side of Akeman Street, just up from the High Street, and close to where the Victoria Hall now stands. With him was his wife, Hannah, 45, born Aston Clinton, Bucks.
The 1851 census lists a large number of Austin households and individuals in the Tring/Berkhamsted area and the following have related occupations, and so might be closely related to James. None of these are listed in the 1850 directory:
James Austin, widower, 62, sawyer, living in Aldbury, born Northall, Bucks.
Joseph Austin, 31, master carpenter, living in the West End of Tring with his wife and family, and born in Tring
William Austin, unmarried, 15, wheelwright, living in Bourne End with his widowed mother, and born in Bovingdon.
A quick check showed that there are no matching baptisms in the IGI at familysearch or on the British Vital Records Index suggesting that they may have patronised one of the many chapels in the area.
It may be relevant that a Thomas George Austin , deputy superintendent Registrar of the District of Luton, Beds and Herts, published "The Straw Plaitting and Straw Hat and Bonnet Trade with a Digest of the Recent Census for the Luton District ..." in 1871
What else did James Austin make, and was he related to the other Austin woodworkers in the area? If you can add to the page above please tell me.
For more about straw plaiting see The History of Straw Plait in Hertfordshire
November 2001
Joy Webster (webcj @t xtra.co.nz) of the Bay of Plenty, New Zealand, writes: Just been pointed in your direction by another Austin descendant from Australia. We both descend from James Austin who married Hannah Beatrice and their son Joseph who married Ann Higgs. I descend from Joseph and Ann's daughter Emily who married a Rueben Chamberlain. Is there any way I can get in touch with other members of the family still in the area to our mutual advantage; I have some notable gaps in my research but also have uptodate info. on the family. The 'Tring Personalities' site by Wendy Austin still to be finalised [Now done] - wonder if she is of the family? [No, she is not local by birth]
Have found your website really easy to navigate and very interesting. Hope to hear from you.
| | | | | |
| --- | --- | --- | --- | --- |
| Joseph Austin | Head | 31 | Master Carpenter employing 2 men | Tring |
| Ann Austin | Wife | 31 | Dressmaker | Wendover, Bucks |
| Ann Austin | Dau | 7 | (Blind) | Wendover, Bucks |
| Emily Austin | Dau | 4 | | Wendover, Bucks |
| Henry Austin | Son | 2 | | Tring |
| Jane Austin | Dau | 3 w | | Tring |
Thank you for you message - I am not sure whether you have seen the 1851 census return which shows Joseph Austin, father of Emily, living in the West End of Tring, so just in case here it is.
As you will see, if the ages in the 1851 census are correct Joseph (31), the father of Emily, is too old to be the son of James (45), the wood turner. Assuming that Joseph's marriage certificate shows that his father was a James he may have been the son of James, the 62 year old widower in Aldbury. However one must be careful not to jump to conclusions - see Right Name, Wrong Body? It is also important to remember that many people living in Tring worshiped at one of the many local Baptist Churches - and their births/baptisms would not have been recorded in the parish registers - and it is quite possible that no record of the event survives.
If you can tell me more about the information you have, and in particular details of the sources that have been examined, I may be able to suggest further avenues of research.
March 2006
Pam Ruschke (pjruschke @t telus.net) of Vancouver has drawn my attention to the Leighton-Linslade Virtual Museum, which includes pages on straw plaiting in its Trade and Industry Gallery - including a revolving image of an Austin straw splitter where you can see a couple of unbroken pins.