Pat (Taylor) Smith (PSmith7179 @t aol.com) of Westland, MI, U.S.A., is looking for William Taylor, baptised 28 Oct. 1804 Little Gaddesden, Herts, and would like to find his parents and other details - and has lots of information on the families named in here, and will be happy to share with others who are interested.

William Taylor chr. 1804 later married to Mary ( ) of Cholesbury, Bucks. They had a son Henry Taylor born Sept. 10, 1836 and who lived at 148 Orchard End, Northchurch, Herts. He married 4-28-1860 to Sarah Bedell, dau of John Bedell and they had a son John "Jack" Taylor born 1861, bapt Feb. 23, 1868. John later lived New Road, Northchurch. He married Elizabeth Ryder, daughter of James Ryder and Elizabeth Butterfield. She was daughter of Edward Butterfield and Sarah Bedford.

John Taylor had a son Charlie Taylor born Sept. 7, 1884 in Northchurch. He later married Annie Maria Wilder, daughter of John Joseph Wilder and Susan Impey. She was the daughter of George Impey and Ann Flitton. John Joseph Wilder Jr. was the son of John Joseph Wilder Sr. and Maria Morton.

Charlie Taylor mentioned above was my Grandfather. He moved with his family to London, Ontario, Canada about 1913, and later to Windsor, Ontario, Canada in 1923.

Can anyone give me additional information on the Parish Church for Little Gaddesden, or also if the Census records of 1841 are available on line, or the index to it?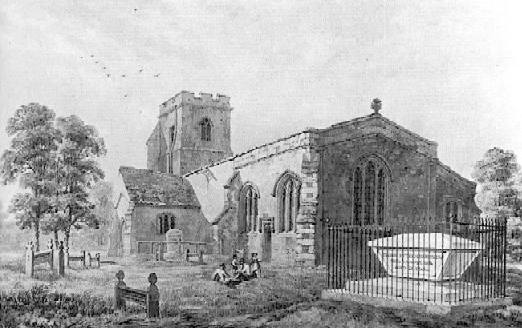 Little Gaddesden Church circa 1808 from Little Gaddesden & Ashridge
You don't say what sources you have consulted, but a quick look online at familysearch shows that a William Taylor and Sarah had four children baptised in the Little Gaddesden parish church, viz: William (28th October 1804), James (16 November 1806), Mary (1st January 1809) and Elizabeth (7th July 1811). This at least identifies your William's parents. However, when even a couple with an unusual surname, such as George and Sarah Seabrook can give trouble (see Right Name, Wrong Body) correctly identifying a William Taylor is difficult. For instance I notice another William Taylor, born 1804 in Wendover, Bucks (not far from Cholesbury, Bucks - where your William's wife came from), listed only a few miles away in the 1851 census for Tring, Herts. Familysearch (which has its limitations) lists several possible William and Sarah marriages (Little Gaddesden is close to both Buckinghamshire and Bedfordshire) and to identify them further you may need to look at microfilms of the relevant parish registers and other documents at your nearest LDS Family History Centre. Your should be able to view the 1841 census for Little Gaddesden on microfilm at the same time
I note that you say Henry Taylor lived at 148 Orchard End, Northchurch. This numbering is most unlikely and I assume the 148 comes from the first column of the census enumerator's book which simply records that the household was the 148th to be recorded by that enumerator. Definitely the entry on the 1881 census CD does not record the number - and there are nothing like that number of houses in Orchard End.
Because of your interest in the parish I have added a page on Little Gaddesden and details of Howard Senar's book "Little Gaddesden and Ashridge". (I note that there is currently a secondhand copy for sale online.)
Pat (Taylor) Smith (PSmith7179 @t aol.com) replied: Chris, I just wanted to thank you for all the material that you put on your site in answer to my recent query. You certainly have given me a lot of sources, and leads to track down. All of my surnames are ones that give you a headache, Smith, White, Brown, Taylor, O'Neil, Bell, Bedford, and on and on and on. Then to complicate the search, they go and name their children common names!!! Well, it certainly makes the search an interesting one. Thanks, so much for all your help. If I can help anyone, please get back to me.
If you can add to the information given above tell me.