John Macey (jmacey5772 @t aol.com), of Earls Colne, Essex, says A nephew has moved into Hudnall Lane, Little Gaddesden and would like to try to see who/how many folk lived in his house/or the two houses it was originally, in times gone by. Is there a Census listing for that area on-line?
Information on the availability of Hertfordshire censuses is given on How To ... A Quick Introduction to Census Returns. Apart from a few isolated exceptions the only census on line is the 1901 census - and that only from 2nd January, 2002. The 1881 census is available on CD.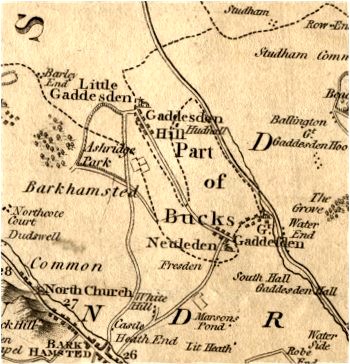 Detail from a map (Stockdale, 1798) showing the finger of Buckinghamshire that included Nettleden and Hudnall.
Having said that, Hudnall and Hudnall Lane were in a detached part of the Parish of Edlesborough, Buckinghamshire until 1884, when the area transferred to the civil parish of Little Gaddesden. A quick check of the 1881 census CD shows that the following cottages are listed as being in Hudnall Lane, as part of the census returns for Edlesborough, Bucks:
Henry Carter (44, agricultural labourer) with wife and seven children.

Reuben Smith (69, agricultural labourer, born Great Gaddesden) with wife and three boarders. [See also Reuben SMITH, Nettleden, circa 1810]

Ralph Pattison (28, carpenter & joiner, born Aldbury) with wife

Matthew Simmons (62, woodman, born Ringshall) with wife

Joseph Mead (24, carpenter, born Hudnall) with wife and daughter

John Matthews (67, grocer, born Luton, Beds) with wife, granddaughter and a servant
Other families were listed for Hudnall Common and Hudnall Farm (picture on Little Gaddesden & Ashridge) in the parish of Edlesborough, Buckinghamshire. However a number of people are recorded as being born in Hudnall, Herts.
I would there suggest that your nephew visits Hemel Hempstead library and looks at the maps there, and also at the 1891 census - which is almost certainly held there on microfilm. However the 1841-1881 censuses should be available on microfilm at the Bucks County Local Studies section of the Reference Library in Aylesbury. As there are a number of cottages it is important to tie in the census returns with maps as is explained in Locating Census Addresses on Maps.
August 2003
Update to the previous answer: The 1881 census is now available online at familysearch while the 1901 census is available online through the Public Records Office.
August 2003
S. David Hudnall (shudnall @t utmb.edu) of Bellaire, Texas, USA., say he has have traced our family to a Henry Hudnall born 1515 and a John Hudnall born 1545 in Berkhamsted, Hertfordshire. I am descended from a John Hudnall who left the region and moved to Northumberland Virginia USA in the early 17th century. I am particularly intrigued by my discovery of a Hudnall Common, Hudnall Corner, etc. just east of Little Gaddesden. I would of course love to learn more about the origins and nature of these Hudnall places.
The Place-Names of Hertfordshire give the name Hudenhale in about 1200, with later medieval references to Hodenhale. It suggests that the origin might be "Huda's Heath". Because I cannot read medieval Latin, and do no have access to the relevant manuscripts, I cannot comment further as to the origins. However the contorted nature of the old county boundary in this area means that records are likely to occur in records referring to both Hertfordshire and Buckinghamshire.
It is possible that someone called Hudnall had ancestors who came from Hudnall, but of course all people with a Hudnall surname may not have a common ancestor with that name. See The Origin of Surnames
A number of buildings are listed Grade II. Hudnall Common Farm and Hudnall Farm both were built in the 16th century, the latter having an early 17th century barn. Two other residential buildings date from the mid 16th or 17th century. (All have, needless to say been modified or extended in the following centuries.)
Hudnall is marked on Warburton's map of 1749 near Gaddesden Parva (i.e. Little Gaddesden) and on Dury and Andrew's large scale map of Hertfordshire published in 1766 shows three buildings.
Additional information - September 2003
Hudnall Farm
Picture from Little Gaddesden & Ashridge.

This book also includes a useful account of the history of Hudnall. This includes information on the history of Methodism in Hudnall (Starting in a barn in 1838, then in the open, chapel built 1888, new chapel built 1940) and details of some of the 20th century houses.
If you can add to the information given above tell me.