Philippa Taylor (philippa_taylor18 @t hotmail.com), currently of Hampton Wick, Surrey, writes: We are in the process of buying the lock keepers cottage at Lock 44 and have unsuccessfully been trying to find out some history about the house and the people who used to live there. All help you can provide will be gratefully received.

This is a difficult location right on the county boundary, where for different administrative purposes the effective boundary is in different places. The cottage itself is just in Bucks - but it may well have an HP23 post code associating it with Tring, Herts, and it may have 01442 (Hemel Hempstead area) phone code rather than 01296 (Aylesbury, Bucks). In the past it would have been in the Berkhamsted Union - which would mean that census returns and births, marriages and deaths would normally be registered in Hertfordshire. As most of the houses in Bulbourne, except those directly on the canal, are in Hertfordshire I am happy to consider this query as relating to Hertfordshire.
My first reaction to this enquiry was to look at the 1851 census returns for Tring to see who was listed, as I knew that several lock keepers cottages were listed in Northchurch, on the London side of Tring Summit. At Bulbourne there is no listing for any cottages or the managers house at the workshops, which would be in Buckinghamshire. However a Robert Faulkner is listed as a coal merchant - so presumably had a wharf on the Hertfordshire side of the road, perhaps where the Grand Junction pub now stands. Elsewhere the Canal is represented by an engineer, William Woodhouse) and two engine drivers (John Woodhouse and William Goodson) who are listed at Little Tring, on the Wendover Arm of the canal, where they would have worked on the pumping station. An Alfred Keen was lock keeper on the Aylesbury arm.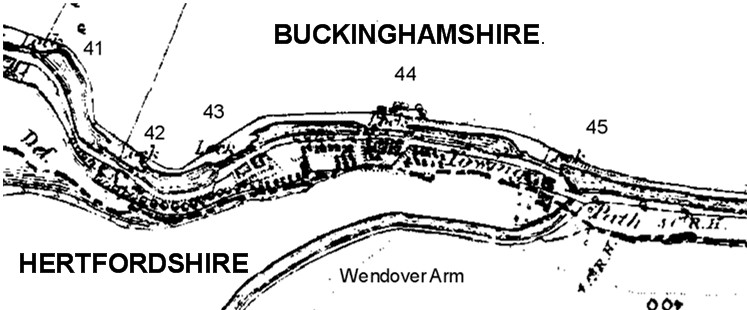 A check of the large scale Ordnance Map of the area in 1884 (from Old Maps) was interesting - I have added the lock numbers to the above extract. Unfortunately it is not very clear, but some of the balancing ponds alongside the locks can clearly be seen (clearest by lock 43). The only building that can be identified is the house by the junction of the Wendover Arm with what was then the Grand Junction Canal. This was the former toll office and immediately adjoins, and is to the south of, the dashed line which represents the county boundary - so it is in Hertfordshire. The old cottages adjacent to the canal immediately to the east of the Wendover Arm junction are not there, and there is no sign of any buildings alongside locks 41-44. An examination of the area to the east of the map shows the Grand Junction Arms at Bulbourne (in Hertfordshire) and the Bulbourne workshops (in Buckinghamshire) but the row of cottages alongside the road to the south of the public house had not been built.
A check in the book The Grand Union Canal in Hertfordshire suggests that the canal workshops at Bulbourne were established in 1810 and expanded in 1848, with the Grand Junction Arms public house being built in 1852. It also mentions lock cottages at 39 (now Bluebells Cafe at Startops End, Marsworth), 40 (now demolished), 42 (recently sold and now subject to a planning application for an extension), and 44 (the subject of this query). It does not mention the date these cottages were built but many canal properties carry a date, and while I could not see a date on the cottage by lock 42, the one by lock 44 carries the date 1909.
This raises two problems. The first relates to the management of the locks before the lock cottages were built. Tring Summit at Bulbourne, posed a significant water supply problem, which is why there are four large reservoirs at Tring. The Marsworth flight of locks, with its side ponds to help conserve water, would have needed careful management, yet there is little evidence for the lock keepers cottages in the first century of operation. The question is "Where did they live?"
The second relates to Philipa's query. For 19th century properties the starting point for tracing previous occupants of a cottage property is an examination of the census returns, but the latest available is 1901, and more modern records can be difficult!
Her cottage would have been a tied cottage - owned by an employer for use by an employee. In most cases (for instance a farm cottage associated with a farm) no records survive - but it is possible (but by no means certain) that employee/tenancy/rental records of the Grand Junction (later Union) Canal survive. Definitely some historical records relating to canals were housed at the British Transport Historical Records Office but this was closed down some years ago, and British Waterways may be able to tell you where they were moved. (I understand some Railway related records went to the Public Records Office at Kew.)

The occupants of the cottages (adult men first, later women) would have been on the electoral registers, which would be updated every year. As far as I am aware parliamentary and local government boundaries always follow county boundaries - so you could approach the Records Office, in County Hall, Aylesbury.

Other records would have been created relating to the payment of rates. However there are complications over confidentiality relating to such records and there may even be a 100 year restriction on access. If they have been kept some or all may not be accessible to the public. Try the Aylesbury Vale Council Offices, but I am not hopeful.

Finally you may be able to get information for perhaps 50 or more years back by chatting with the regulars at the Grand Junction Arms! A pleasant way to do research - and I definitely recommend their lunchtime curry menu - as I call in sometimes when walking the dog.
March, 2005
Richard Price (richard @t tcsecurity.co.uk) wrote: I lived in the cottage known as No. 2 Canalside, next to the Wendover Arm, Lock 45 [Marsworth Top Lock]. My Dad was the Toll Clerk at the Toll office for many years. I lived there for 24 years and have a good knowledge of the area.
As it happens I recently called in at Bluebells Cafe, Marsworth, which is in built onto the Lock Keeper's Cottage by Lock 39, which is at the lower end of the flight of locks between Bulbourne and Marsworth. On the counter was a privately published booklet, retailing at £1.50, entitled "Life as a Lock-keeper's Daughter" by Gladys Phelps, neé Oakley. It starts with the paragraph:
Arthur Oakley, my father, worked as a lock keeper from 1931 until his retirement in 1958. We lived in the Lock House, Startops End, by the side of the Grand Union Canal, opposite the White Lion Pub on the main road. In recent times you may well have stopped by for tea and cake, as it is now known as 'Blue Bell Tea Rooms.'
In addition a land agent's sign at Bulbourne records that the former lock keepers cottage by Lock 42 has just been sold. It is perhaps worth mentioning here that the former canal engineering works at Bulbourne closed in 2004 and are currently being redeveloped. Meanwhile the construction work on the first stage to re-opening the Wendover Arm of the Canal is complete and should be re-watered within the next month or two. (See Little Tring) Philippa Taylor (philippa_taylor18 @t hotmail.com), has also confirmed that she did move into the cottage by Lock 44 and is enjoying the location.
December, 2005
Roger Mew (rogermewtehig @t yahoo.co.uk) writes: You may be interested to know that my father, Richard Port Mew, son of Stanley Port Mew, was born at the toll house and that John Mew was my uncle. Thomas Port was my great great relation and I am trying to find out why he came down from up north. Also the Brooks family, related to the Mews worked in the Boatyards Brentford way. A Peter Mew in the 1950's was the "Man" at the summit, Fred Mew was the Locksmith and was featured in "All our Yesterdays" on I believe Anglia TV in about 1970. Another Mew was in charge of the pumping station. I went in there when very young on the "withered arm". That was the name given by cut people to the Wendover arm. I am also intrigued, as you might be, by Thomas Port, who was something to do with the cut, but was killed by a service train and buried at Harrow on the Hill church. Why was a canal zealot killed by a train. Family story has it that he lay in front of the train to derail it, the train had ineffective brakes... We have the original epitaph on original paper in our family.
Your comments about the Mew family seem to all relate to the 20th century -but you may be interested to know that in 1901 there the following families were living in "Canal Bank Cottages"
Fanny Harrowell
Head
Widow
66
Annuitant Means
Little Tring
Maria Harrowell
Daughter
Spinster
36
House Work
Little Tring
Frederick Mew
Head
Married
41
Canal Engineers Foreman
Wigginton
Mary Mew
Wife
Married
31
Tring
Olive Mew
Daughter
10
Scholar
Tring
Gilbert Jno Mew
Son
7
Scholar
Wilstone
Ida M Mew
Daughter
4
Wilstone
Adeline S Mew
Daughter
1
Wilstone

----

Unoccupied
March, 2006
Claire Read-Ball (claire.readball @t btinternet.com) writes: Thought you might be interested to know that the Fanny Harrowell you list related to the Canal Side Cottage, Little Tring residents in 1901 was actually the daughter of the William Goodson you have at the beginning of the discussion, Canal Pump Engineer 1851-1881. After her husband died she moved back to this house around 1899-1901.
James Valentine (jamesjaime @t hotmail.com) writes from Scotland to say: William Goodson, engine driver at the pumping station, was my great great great grandfather. One of his sons, Charles, became a railway engine driver (1881 census). This is a nice example of the move from canal transportation to railways. Claire Read-Ball responded William Goodson was also my Great-great-great grandfather, so I am also directly descended, like James, but through a different child of William Goodson. How nice that families separated so far down a Genealogical line can find each other!
September 2008
Sue Littler (sue.littler @t btinternet.com) of Tring writes I lived at the Toll House, Lock 45, from 1963 to approx 1973. My dad Charlie Turney was the lock keeper for the 7 locks. He was born in 1923 and, along with his 3 brothers and one sister lived next to what is now Coasters cafe in Parsonage Place, Tring. I think his father was Albert and his Mum was Annie (nee Waterton from Tring Station). The elderly couple living at Lock 44 were Mr and Mrs French. I remember Mr French passing away approx 1966ish.
February, 2010
Ann Trustram (ann.trustram @t yahoo.co.uk) of Hemel Hempstead writes: My Dad - William Jellis, known as Bill - was lock keeper in Marsworth and we lived in the lock house at Lock 39 (now Bluebells tea rooms). We moved there when I was small, ( I was born in 1958) until my Dad passed away in 1965.We probably moved into the lock house when Mr Arthur Oakley retired in 1958.

Ann added: I believe (if memory serves me right) that a family called Brooks moved in to 39 Lock House after we left. I'm sure the father's name was Sam, but I think after they left the place was left to go almost derelict until it was refurbished, and became the tea rooms as there used to be some old photo's on display on the walls of the tea rooms, showing the state of disrepair of the house. I don't know what became of the photo's.

July, 2010

Donna Edmonds (edmondon @t aol.com) fills in the gap when she writes: My grandfather Samuel Brooks and his wife Jenny (Jane) lived at no 39 for several years. My grandfather retired from working with British Waterways and as the cottage was tied with his job he then had to move out after retirement. After this I believe British Waterways sold the property on and it is now Bluebells Cafe.
If you can add to the information given above tell me.