John Woods (john @t woods37.fsnet.co.uk) of Maple Cross, Rickmansworth, writes: The Nutter family once lived in a grocers shop in Mill End, Rickmansworth. Joseph and Sarah Nutter were my 2G Grandparents. As far as I can tell from the 1881 and 1901 census records are that they lived near to the junction of the Uxbridge road and Church Lane on the opposite side of the road from the Vine & Tree pubs. Joseph came from Riseley, Beds and Sarah from Braunston, Northants. I have been trying to identify the grocers shop and anything that may be known about them also I would like to trace them further back before the 1880's which is the first record that I have from the LDS site.
In order to start to answer this question it is necessary to know what the 1881 census says:
| | | | | |
| --- | --- | --- | --- | --- |
| Name | Relation | Age | Birthplace | Occupation |
| Joseph NUTTER | Head | 41 | Risley, Beds | Shoe Maker |
| Sarah NUTTER | Wife | 34 | Braunston, Northants | Boot Closer |
| Thomas NUTTER | Son | 16 | Braunston, Northants | Leather Cutter |
| Joseph Hy. NUTTER | Son | 10 | Windsor, Berkshire | Scholar |
| Albert Jas. NUTTER | Son | 7 | Rickmansworth | Scholar |
| George Fredk. NUTTER | Son | 2 | Rickmansworth | Shoemakers Son |
| William S. NUTTER | Son | 4 m | Rickmansworth | Shoemakers Son |
This make it clear that the family only arrived in Hertfordshire about 8 years earlier, but you should have no difficulty in getting birth and marriage certificates, etc., for the pre-Hertfordshire period using the methods described in the many help files on this site.
The fact that the family were shoe makers from Northamptonshire is interesting, as there was a major shoe making tradition in that area - and many of the shoemakers in Tring in 1881 also came from that area. (see Tring Occupations and Employers.) I note that Joseph was described as a bootmaker in the 1901 census.
A quick check of some Hertfordshire directories shows that Joseph Nutter is not listed in 1882 or 1890 - which could mean either that he was employed by someone else or had no obvious shop at the time. In 1912 he was listed as a shopkeeper of Mill End.
If you want to fill in intermediate dates the Watford Central Library has an excellent collection of trade directories, and significant other material. Books of photographs such as Rickmansworth - A Pictorial History and others should be available there, and also in the local Rickmansworth library, and I am sure that one or other will have microfilms of the 1891 census and local parish registers.
John Woods (john @t woods37.fsnet.co.uk) replied: Many thanks for the information given in your answer to my question about the NUTTER family in Mill End. This got me thinking so I looked up the Kellys directories for 1895, 1899, 1902, 1908 & 1914 using the links on your page to Hertfordshire Directories and then Digital Library of Historical Directories. Joseph NUTTER is listed in all of them as a retailer of beer (1895) and then on as a grocer with a shop at 8 Church Lane. My strong guess is that this was owned by Joseph HORWOOD and then after his death in 1903 by the trustees of his will. This would also tie up with the fact that Joseph NUTTER's son, Joseph Henry NUTTER, married Joseph HORWOOD's daughter Annie. However, Joseph jnr died in 1900 and Annie re-married to Thomas SIMPSON in 1903.
As an aside I have also managed to establish Joseph snr as an 11 year old in Riseley but am now struggling to find his family. A useful site is that of the STRATFULL family. This deals a lot with the lineage of the HORWOOD family in Mill End and is located at www.freepages.genealogy.rootsweb.com/~stratfull/
John Woods (johwoods37 @t btinternet.com) of Maple Cross, near Rickmansworth writes again: I am trying to locate where the Nutter family were actually living during the 1881 census. I know that they were living on the south side of the Uxbridge Road in Mill End but am stumped as to exactly which house it was. I also know that they were on the west side of John Bridge Lane. There was a pub called the Red Lion on the junction of John Bridge Lane and Uxbridge Road and then they were 4 addresses west of the pub, the last one being the Nutter household. The problem is, where is John Bridge Lane? It doesn't show up on modern maps and I have tried to see if I could find it in the reference library in Rickmansworth but with no success. Any clues?.
You don't make it clear exactly where the reference to "John Bridge Lane" comes from, so I did a check on what the census returns actually say.
A quick check of the 1881 census on Ancestry provided no clues and no reference to "John Bridge Lane" - so I looked at the 1881 census on familysearch and found that a few households earlier there is the Red Lion and several of the earlier households are listed as being in "John Bridge Lane".
So I looked at the 1901 census (Ancestry) which shows the family living in the grocer's shop on Uxbridge Road, again close to the Red Lion. They were listed next to a Miss Wild living at "Colne Bridge House". This looked suspicious so I returned to the original of the 1881 census on Ancestry. This shows a Miss Wild living at "Coln Bridge House" in difficult but not impossible handwriting.
What has happened in that when the familysearch transcript was being made "Coln Bridge House" was wrongly transcribed as "John Bridge Lane". The error was compounded because, having assumed that it was a road rather than a house address, the transcriber then wrongly assumed non-existent "ditto marks" to assign the address of "John Bridge Lane" to several following properties.
Basically "John Bridge Lane" is an excellent example of how you can end up a blind alley if you assume that indexes and transcriptions are correct and fail to check the originals
See Problems with finding census returns

August 2015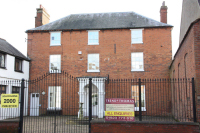 Eleanor writes to say Colne Bridge House, Rickmansworth is now called Hawkford Hall (Uxbridge Road Rickmansworth) and is a Grade 2 listed building.
She add that the
Nutter
family trade was shoemaking etc and there was a tannery (now known as '
The Old Tannery
') just down the road from '
Hawkford Hal
l.' There were several little shops along that road as well as a Laundry and a mill at the end. In the late 1800s early 1900s
Gilham
s in
Rickmansworth High Street
was one of several shoe/bootmakers and may have farmed out work (Just a guess).
If you can add to the information given above tell me.