Theresa Smith (tesmith40 @t comcast.net) of Mechanicsburg, PA. USA, writes I've been researching my NORTH, PEACOCK, KENT, CATER family lines in Great Munden, Aspenden, Westmill areas. I have ordered and maintain many LDS films to verify what I may find in the IGI files online and also the 1841, 1851, 1861 Census films for these areas.

I have a JOHN NORTH who married an ANN PEACOCK May 9, 1791 in Great Munden (verified thru parish registers for Great Munden on LDS film # 1368166).

ANN PEACOCK is the daughter of WILLIAM PEACOCK and ANN KENT who married Dec. 1, 1760 in Great Munden (verified thru the same parish register's film above).

ANN KENT is the daughter of JOSEPH KENT & ANN CATER, who married on January 9, 1730 in Great Munden (again verified thru parish registers). The register reads "Joseph Kent Husbandman and Ann Cater of Paddox End, Married B"

Where is PADDOX END? Is this a village, a hamlet, a street?? I want to be able to find the parents of Ann Cater. Any ideas??
You have a problem - but not the one you thought you had!
The first thing to say is that a name like "Paddox End" would almost certainly now be written "Paddock's End" and virtually every village in Hertfordshire has a bevy of Ends.
The second thing is that when you have a mysterious (to you) place name in a register it was probably well known to the cleric who wrote the register entry - so may not be far away. So start at the church, looking in tight circles ... (In fact a common error is to assume that a "Distant" place name really is distant - when it may be the name of a local farm. For instance Gibraltar Farm is in Flamstead and California is in Kensworth.)
The third thing to note is that a marriage normally took place in the bride's church - particularly if it was by Banns (the "B" in the register entry you quote).
So the starting place for a search is Great Munden.
A look in The Place-names of Hertfordshire lists "Paddock" as a place shown on the 6" OS maps (the maps on old-maps) in Great Munden - and you may well have missed it because Great Munden is not named as such on the map (perhaps an oversight because it is right on an edge of the sheet) - the alternative name of Nasty (a hamlet within Great Munden) being used! The book mentions a reference to Padocks End in a 1601 terrier as the earliest mention of the name.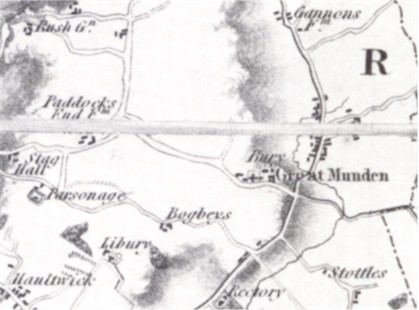 The second key source is Bryant's 1822 Map of Hertfordshire - as the recent reprint comes with a comprehensive index - and this shows a "Paddocks End Farm" less than a mile due west of the parish church in Great Munden. (see snippet from the map).
A look at a modern road map suggests that not only has the farm gone, but so has the lane running towards Stag Hall on which it stood.
So Ann Cater was married in her home parish of Great Munden - and a quick look at the IGI on familysearch shows two christenings with different parents. So was your Ann the one baptised on 14th December 1703 - or the one baptised on 16th May 1704? You have a "right name, wrong body situation to unscramble!
Best of luck sorting that one out!
If you can add to the information given above tell me.