Alan Evans (alan-d.evans @t ntlworld.com) of Sawston asks: Do you have information about the estate of Cockenhatch (now Cokenach Estate) near Royston during the 18th C.? There were many alterations to the house in this period and to the grounds, the Clintons were the owners and appear to have a colourful history themselves.
There are many different spellings but the commonest in the standard histories is Cockenach, which is a manor, and associated estate, in the parish of Barkway.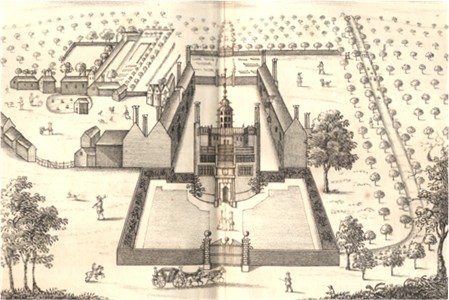 The above engraving comes from Chauncy and shows Cockenach as it was in 1700. Cussans reports that "The present house is built of brick, and seems to have been erected about the year 1725. The moat, as represented in Chauncy's engraving, and which doubtless supplied the fishing referred to [in a 16th century document], still surrounds a great portion of the building." The manor and estate (together with other manors such as Newsells in the area) were in the family of Sir Robert Chester from 1540, and Cussans reports "About the year 1780 the estate was purchased by Sir John Chapman, Knt., citizen of London, on whose death it came to Sarah, his widow, who devised it to Mary, daughter of the Honourable George Clinton, and wife of Sir Francis Willes, Knt., son of the Bishop of Bath and Wells. She died on Christmas day, 1813, and bequeathed it to her husband for his life, with remainder to General Sir William Clinton, on whose death in 1846 it came to Lieut.-Colonel Henry Clinton, the present [1872] possessor and occupant." By the time the Victoria County History was published the property was owned by Mr Alexander Crossman.
October 2008
Ally Walker (catz2701 @t yahoo.co.uk) of Derbyshire wrote: The Bailiff for the Cokenach Estate in the late 1890's was one Josiah George Harritt who originated from Saffron Walden area, Essex. He married Amelia Jane Flack from Chesterton District of Cambridgeshire in 1896 and moved to Barkway. One of his daughters, Mary, married into the Whitby family of Barkway and I married into that family.
What a very unusual surname - but your may have the date wrong for him becoming bailiff. In the late 19th century a Mrs Clinton lived at Cokenach to be succeeded by 1899 by Alexander Crossman. John Loder was farm bailiff for Mrs. Clinton, then Alexander Crossman and by 1917 for Mrs Crossman, and towards the end of this period is listed as being at Abbotsbury, Barley. George Harritt, of Abbotsbury, Barley, is first listed as bailiff to Douglas Crossman Esq. [of Cokenach] in 1922 but by 1929 Hugh Field was the farm bailiff, still living at Abbotsbury. [Information from Kelly's Directory for Hertfordshire.]