Elizabeth (steamingliz @t hotmail.com) of Hitchin writes: My father went to Dagmar House School, circa 1918, which was situated on the opposite corner to The Red Lion Hatfield - on the Old Great North Rd. He told me how he walked to school from Hertford where he lived. Sports at the school was played in the grounds of Hatfield House. I found his school cap in his effects. Please could you give me further info about the school.
The booklet Hatfield & Its People - Part 8 - Schools - records the following information
1861-1870: John Dare had a young gentleman's boarding school, possibly Triangle House, Batterdale.
c 1871: John Dare, young gentleman's boarding school, Dagmar House, North Road.
c 1888: continued by J. R. Sheehan-Dare (adopted son of John Dare)
c 1923: sold to Messrs T. W Hearle and J. G. Prentice
c 1934 closed.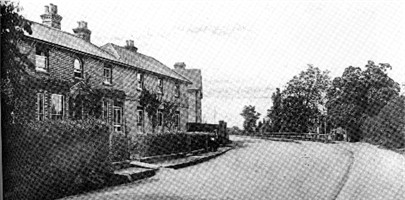 The picture is from Hatfield: A Pictorial History, and shows the Hatfield Collegiate Schools - Dagmar House (for Boys) and Alexandra House (for girls). There is a brief descriptive text which says there was a florishing cricket team, and an Old Dagmarians football team. There is also a picture of 33 girls, and three teachers, of Alexandra House taken about 1923 - and they were wearing distinctive hats.
The 1914 Kelly's Directory for Hertfordshire (online) shows John Raymond Sheehan-Dare residing at Dagmar House, North Road, Hatfield, with an entry for "Hatfield Collegiate Schools (J. R. Sheehan-Dare, principal), Dagmar House (boys) & Alexandra House (girls), North Road.
| | |
| --- | --- |
| | Peter Clarke (Peter.Clarke42 @t ntlworld.com) writes: I was doing some research on my local Church War memorial, St Peter Mancroft, Norwich, which includes the name William Henry Eldret. William is listed as a pupil at Dagmar House, Hatfield on the 1901 census. By the time of the 1911 census, William had moved to Norwich, and would enlist in the 8th Battalion Norfolk Regiment. He was killed on the 1st July 1916, the opening day of the Battle of the Somme. |
The 1901 census shows 36 boys, aged 8-16, were boarders - and there would have been more day pupils. The was no sign of an adjacent girls school, and next door was The Wrestlers public house (listed as still there in Hertfordshire Inns & Public Houses).
The records for small private school rarely survive - but it may be worth contacting HALS to see if they have anything. However their events, such as cricket matches, were more likely to appear in the local papers of the time because many of the pupils will have been day scholars of the well-to-do tradesmen, etc., in the town.