Reginald F Slade
(
regntrudy @t hotmail.com
) of Orillia, Ontario, Canada, grandfather was
Edward Slade
, who came from
Coleshill, Herts
, emigrated to
Canada
in 1911 and died May 1818 at 69 years. Because of some confusion caused by a combination of (1) transcription errors on
Ancestry
, (2) Two
Edward Slade
s, (3) a complex family situation, (4) the question of whether
Coleshill
is in
Herts
or
Bucks
and (5) a couple of typos in the question - please take my word that the following is a proper answer.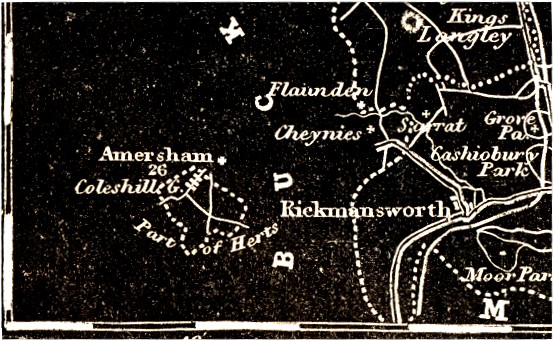 Detail from Joshia Archer's map of 1833
I was intrigued to get this query, as it is the first question I have had relating to ancestors living in Coleshill, which was a small area of Hertfordshire embedded in Buckinghamshire, near Amersham. I was interested to find out how it was recorded in the census returns. Using Ancestry I found the following index entries for the two Edward Slade.
This one is your Edward Slade of Coleshill
| | | | | | |
| --- | --- | --- | --- | --- | --- |
| Census | Born | Living | Age | Occupation | Notes |
| 1851 | Coleshill, Herts | Amersham, Bucks | 6 mo | | Parents Henry (Agricultural Labourer) & Maria Slade, living at Coleshill Green. Thomas Slade lived nearby as did a George and Mary A Smith. |
| 1861 | Coleshill, Herts | Amersham, Bucks | 8 | Scholar | With widowed mother Maria (indexed Moria) |
| 1871 | Coleshill, Herts | Coleshill, Amersham, Bucks | 20 | Agricultural Labourer | With Uncle & Aunt Charles (Blacksmith)& Emma Slade. Thomas Slade lived nearby |
| 1881 | [place omitted] Bucks | Ealing, Middlesex | 30 | Greengrocer | |
| 1891 | Coleshill, Bucks | Ealing, Middlesex | 40 | Master Carman | |
| 1901 | Coleshill, Bucks | Ealing, Middlesex | 50 | Master Carman | |