Coleshill was a small area of Hertfordshire, completely surrounded by Buckinghamshire, to the south west of Amersham. It is in modern Buckinghamshire.
It was in the Dacorum Hundred and the Amersham Union.
The following description comes from Guide to Hertfordshire, by An Old Inhabitant (1880)
Belonging to the County of Hertford, but surrounded on all sides by Buckinghamshire, is the Hamlet of Coleshill, about one and three-quarters miles from Amersham, containing about 1800 acres. It is difficult to understand why a place which is partly in the Parish of Amersham and partly in that of Beaconsfield, both in the County of Buckingham, should form part of another county; but so it is. It stands on elevated ground, from which there is a prospect over six counties. The old Manor House which formerly existed here was called Old Stock, and was in the possession of the Bohuns, Earls of Hereford, one of whom resided here in 1360. Coleshill is celebrated as the birthplace of Edmund Waller, the poet, who represented the Borough of Amersham in three Parliaments, including the memorable Long Parliament, and died at Beaconsfield in 1687, and has a tomb in the Church yard; a venerable oak near the old Manor House was called after his name. There was formerly an ancient Chapel here, the foundations of which may still be seen in a field called Church Field. Beaconsfield has been chosen as the name for the Earldom conferred recently on the celebrated Right Honorable Benjamin Disraeli. It is also remarkable as the burial place of the illustrious orator, Edmund Burke, who has a memorial in the Church.

Groves Mill, Coleshill, circa 1890
from the Bucks Records Office online picture collection
An important historical study of Coleshill has been published as "Fields and Farms in a Hilltop Village", by John Chenevix-Trench, in Records of Buckinghamshire, Volume XX, Part 3, pp 410-429, 1977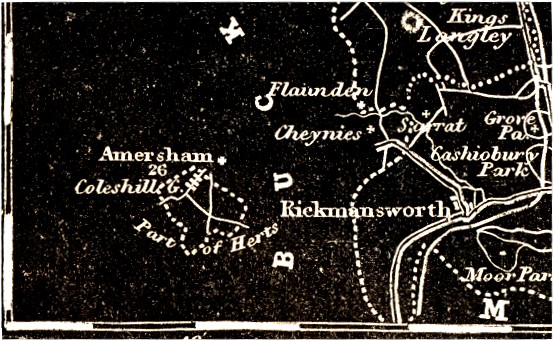 Detail from Joshia Archer's map of 1833
The 1831 Topographical Dictionary of England includes the following description:
COLESHILL, a chapelry partly in the parish of Amersham, hundred of Dacorum, county of Hertford, and partly in the parish of Beaconsfield, hundred of Burnham, county of Buckingham, 1¾ mile (S. by W.) from Amersham, containing 492 inhabitants. Since the demolition of the chapel the inhabitants have attended divine service at the parish church of Amersham; they still pay their own poor and highway rates. Here are manufactories for lace and common red earthenware. Edward Waller, the lyric poet, was born here; he represented the borough of Amersham in three parliaments, and died in 1687.

| | | |
| --- | --- | --- |
| Waller's Oak. - Universal Series 170 No 1 - circa 1905 | | |
The 1899 Cassell's Gazetteer of Great Britain and Ireland lists it (with abbreviations expanded) as:
Coleshill, township, part of Amersham (q.v), S. Bucks, acreage 2,810. All Saints is a chapel-of-ease, Edmund Waller was born here (1605). Population 515.
Basically Coleshill was a hamlet in the parish of Amersham, Bucks, which for ancient historical reasons was part of the Hundred of Dacorum, Hertfordshire. While it may have had its own church centuries earlier it had long gone, and part of the area had become part of the parish of Amersham. Despite its small size it was, in legal terms, a township, which simply meant that it contained (parts) of more than one parish and - at least before it was transferred to Buckinghamshire in Victorian times - set its own rates.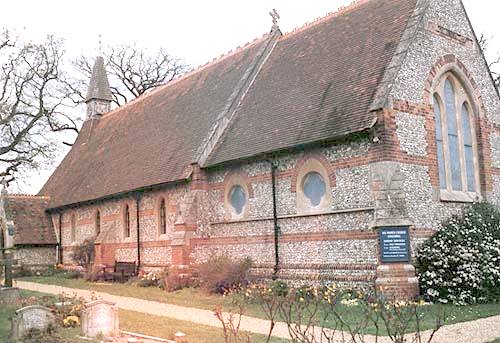 All Saints, Coleshill
From Buckinghamshire Church Photos [http://met.open.ac.uk/group/kaq/church.htm]
From its picture (and others which appear to show an absence of old tombstones) All Saints, Coleshill, would seem to a Victorian building and is associated with the modern parish of Amersham with Coleshill, with the main church being St Mary's in Amersham, and Coleshill All Saints being a chapel of Ease [Oxford Diocesan Year Book, 1998]
Because Coleshill does not have an "ancient" parish church its inhabitants would have used adjacent parish churches or, in the case of non-conformists, local chapels or meetings. These parish registers, and (where they survive) any relevant non-conformist records would normally be in the Buckinghamshire Records Office - or they could probably indicate where they are to be found. I don't know if any "township" records survive (rating books, possibly militia lists, etc.) but would expect them to be either at HALS (as Hertfordshire Records) or in the Centre for Buckinghamshire Studies. Court records could be interesting as I assume that Bucks would have had no jurisdiction while Herts probably couldn't bother about this out-of-the-way outpost.
Note: Coleshill is not mentioned in Chauncy, Cussans or Place Names in Hertfordshire and is only mentioned in a list of county boundary changes in a footnote in a table in the Victoria County History of Hertfordshire.
If you know of other books, websites, etc, relating to this place, please tell me.