PROCTOR, Benington, 1886-1932
May, 2007
Arthur Bond
(
ajebond @t shaw.ca
) of Surrey, B.C., Canada, wrote
My mother has recently moved from her house and I have acquired a visitor's book dated 1886 that belonged to Mrs. G. V. Proctor of Bennington Lordship. It contains a number of signatures and addresses up until 1932. The contents also include a family tree and photo of George Proctor 1809-1858 and Frank Proctor 1849-1898. This book belonged to my step father's first wife (Joan Proctor) and I have no family connection with it. Therefore, I am asking if there are any know Proctor family members/descendants in the community that might like to receive it. I am not asking for anything in return but I would like to know that it has gone to the right person.
I replied:
Hi Arthur

There is nothing sadder than a "family" item which has become detached from its family and I have succeeded in reuniting a few lost items - including a Visitors book which may have been "stolen" from a parish church which appeared for sale on ebay. [see St Mary's, Aylesbury, Bucks, Visitors Book.]

The Proctor family are not listed as living at Benington in the 1901 census and the house was sold to the ancestors of the current owners in, or shortly before 1905. It is possible that their association with "The Lordship" ended with the death of Frank - and the book moved to a new location - perhaps with Frank's widow?

There are a number of places where the visitor book could end up.

A descendant of the Proctor family: Tracking down a Proctor descendant who is interested could be time consuming and you could end up finding the present generation is not interested. This may appear to be the best in the short term - but any long term guarantee is difficult. The "family archives" of both my grandfathers vanished. My paternal grandfather married again, and his widow had no interest in them and they were never seen again.. When my maternal grandfather died his writing desk (and contents) went to an aunt who threw away the contents. Fortunately, a few years before he died he donated the most important papers to the Buckinghamshire County Records Office where anyone can see them - and they proved very useful when an academic was researching early 19th century politics in Buckinghamshire,
If you are interested I may be able to help. If you let me have the book I would happily include details on my web site, where it may be seen by members of the Proctor family researching their ancestors. I could also take it to HALS to see if it is of interest to them, and if not contact The Lordship at Benington. If appropriate I could scan it and put copies on a CD so that anyone interested could have a digital copy.
Arthur is sending the book and I will report on its contents when it arrives.
August, 2007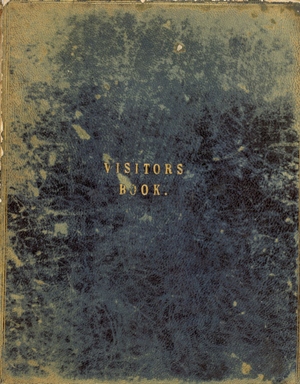 Preliminary Report
General Description of Book
A leather covered hardback visitors book printed with about 100 double pages, and 11 entries per page, about three-quarters full. Cover very worn, spine missing, binding loose but all pages firmly in place.
The "title page" has the inscription:
Mrs G V Proctor
Benington Lordship
1886
October 19th
The first entry is dated October 21, 1886, and ends on June 12, 1933.
The following changes of address are noted:
| | |
| --- | --- |
| Eastwood Vicarage | 5 Dec. 1899 |
| West Ridge, Sandhurst | Sept 26 1903 |
| The Highlands, Caversham | Oct 17, 1913 |
The above represents a typical page
Family Tree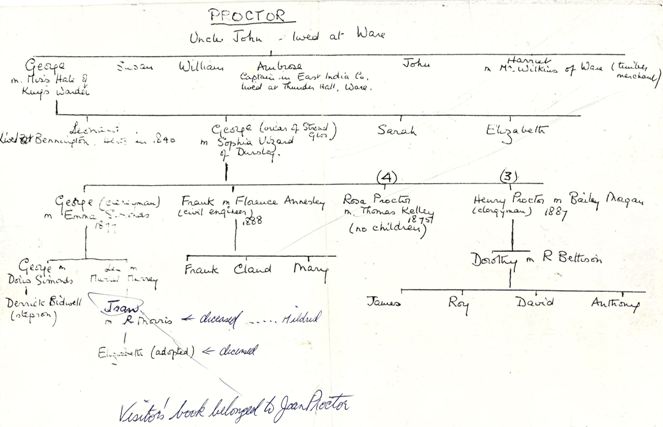 A family tree which came with the Visitors Book
Photograph
My Grandfather & Father

George Proctor
b. 1809 d. 1858
m Sophia Vizard)

Frank Proctor
b. 1849 d. 1898
(m Florence Annesley)
Brief Extracts from Principal Sources
Cussans
... on 14th May 1826, sold it to the late George Proctor, Esquire, on whose death, in 1840, it came to his son, Leonard Proctor, Esquire, the present owner. ...

In the tower is a peal of eight bells (in the key of F#). which are considered to be the best of their weight in the County of Hertford, while the performances on them, as recorded on tablets in the belfry, are certainly without parallel in campanologian annuals. This result is attributable to the fact that the lord of the manor is himself a most enthusiastic and skilful bell-ringer, and there are probably but few belfries in England in which the name of Leonard Proctor is not known and respected.
Victoria County History
In 1826 the last John Chesshyre sold Benington to George Proctor, who was succeeded by his son Leonard in 1840. Leonard was still holding it in 1894, but before 1899 was succeeded by Arthur Procter Pickering, who died in 1902. In 1905 Mr. Arthur F. Bott, the present lord of the manor, acquired it by purchase from Mr. Pickering's successor. From: 'Parishes: Benington', A History of the County of Hertford: volume 3 (1912), pp. 73-7.
Benington Lordship web page
The red brick manor house was built after a fire in about 1700. By 1832 George Proctor was in residence. He built the magnificent flint gatehouse including the curtain wall and summer house. It is generally believed that this romantic folly is the work of James Pulham who was famous for work using his "Pulamite Stone". This secret mixture was a sort of cement that could be moulded to replicate stonework.
Additional Information
Census Returns - Benington Lordship
Summary: Leonard Proctor never married and was in residence in all censuses from 1841 to 1891. His unmarried uncle, William Proctor, was with him between 1841 and 1871. His nephew, George Vizard Proctor. and family, was with him in 1881 and 1891.