Benington
Adjacent Parishes: Aston, Great Munden, Little Munden, Walkern, Watton-at-Stone
It is in Broadwater Hundred and the Hertford Union
BENNINGTON, 5 miles south east of Stevenage and the Great Northern Railway, and 7 miles north-north-west of Ware station and river, is in the hundred of Broadwater. A fair is held here yearly on July 10. The Church is dedicated to St Peter, and the living is a rectory; the present incumbent is the Rev. John Pollard, m.a., and the Rev. Joseph William Sharpe, curate. Bennington was anciently a residence of the Kings of Mercia. The area of the parish is 2,950 acres, and the population, in 1841, was 605. The assessment to Income Tax, in 1841, was £4,248. Box Hall is ¼ mile north. Cole Green, ½ mile north-east.
GENTRY
Pollard Rev, John, m.a. [rector]
Proctor Leonard, esq. Lordship House
Sharpe Rev. Joseph Wm. b.a. [curate]
Wigram William, esq. Bennington pk

TRADERS

Armstrong John, baker & beer retailer
Aylot John, carpenter
Barwick Mrs Jane, shopkeeper
Chalkley Thomas, farmer
Clinton Thomas, shopkeeper
Dickinson Isaac, baker
Foster Richard, jun. farmer
Freshwater James, butcher
Hoy Mrs Ann, farmer
King John, farmer
Parkins Frederick, shoemaker
Pearman Mrs Catherine, beer retailer
Rayment Edward, farmer
Savage William, farmer
Smith John, farmer
Taylor James, 'Bell'
Letters received through Stevenage office.
from the 1850 Post Office Directory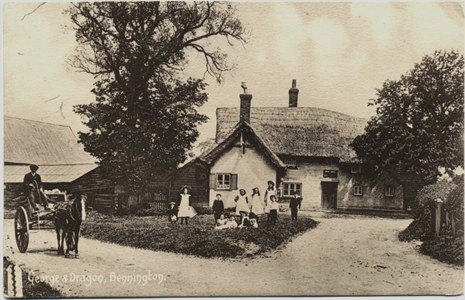 The George and Dragon, Bennington, with a crowd of children in their Sunday best outside. The name William XXXXXX can be seen over the door, and William Snoxall is listed as a beer retailer in the 1912 Kelly's Directory for Hertfordshire. The card was published by C. Kitchener, Post Office, Bennington. (see Postcards of Hertfordshire Pubs) For more about the pub see PEARMAN, Benington - 19th century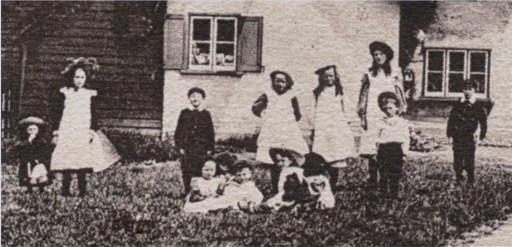 ~~~~~~~~~~~~~~~~~~~~~

St Peter's Church, Bennington
Known posted 1914

Modern pictures of the church

by John Salmon
Geograph

Here continues to rot the Body of Walter Clibben who with two of his sons robbed many persons. He was shot the 28th Dec. 1780 by Geo. North whilst he and his two sons were cruelly treating Mr. Benjn Whittenbury His Master. One son was executed for this crime in March 1783.

An epitaph from Bennington


The above Frith postcard was offered for sale on ebay with no indication which Benington it was.
The plan below showed that it was the Benington in Hertfordshire.


Plan of Benington Church, and appeal for funds from 1889/90
from Church Plans Online - which also gives details of architect, etc.
Modern picture of the same cottages in Town Lane, Benington, as they are now.

by Nigel Cox
Geograph
See also Vital Records
If you know of other books, websites, etc, relating to this place, please tell me.
Page updated October 2007