MILSTED, Bernards Heath, St Albans, Early 20th Century
September, 2007

Frederick Milsted
Jan Pearson (spiderhotel @t aol.com) of Redbourn, Hertfordshire, writes: My family (the Milsteds) ran the Heath Laundry on Bernard's Heath. My great grandfather (Frederick George Milsted) bought the laundry from his "aunt" Jane Milsted and ran it from 1906 until his retirement in 1947. Through research, it turns out that this "aunt" was in fact his first cousin, once removed. As Jane was born in 1840 and Frederick in 1874, the term "aunt" was probably a courtesy title. The laundry was initially based at 90 Sandridge Road, moving across the road to the Heath in the early 1920s, I think. After the laundry moved across the road, the back of the house was used as a stable for the horses that pulled the laundry wagon. Later, Tomineys ice-cream was made there and I can remember as a small child, sitting on the steps at the back, eating an ice-cream that I swear was as big as me!
My question is as to whether you have any further information about Jane Milsted and how she started the laundry. I have tried the 1901 census but there appears to be no record of it then. Jane never married and died in 1926, living at 52 Culver Road.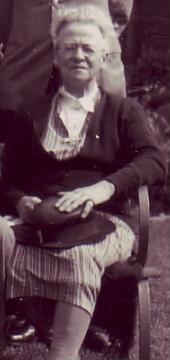 Grace Milsted
First a quick summary from the Trade section of Kelly's Hertfordshire directories
1902 -
1908 Mrs J Milsted, Laundry, 90 Sandridge Road
1912 Mrs Grace Milsted, Laundry, 90 Sandridge Road
1922 Mrs Grace Milsted, Laundry, 90 Sandridge Road
1926 F G Milsted, Laundry, 90 Sandridge Road

Houses renumbered in 1928 see Sandridge Road, St Albans, circa 1900

1929 F G Milsted, Laundry, 78 Sandridge Road
1933 Heath Laundry, Sandridge Road
1937 Heath Laundry, Sandridge Road
1946 Heath Laundry, Sandridge Road [from St Albans Directory]
For a map showing the early development of Sandridge Road see Sandridge New Town. I have a later large scale map which suggests that the East side of Sandridge Road was almost fully developed up to the school by the First World War.
If you visit the Central Library, The Maltings, St Albans, they have a very significant set of St Albans directories which will allow you to fill in the gaps in the above list, as has been done in the answer Sandridge Road, St Albans, circa 1900 for 80 Sandridge Road. You may well find that No 90 (later renumbered 78) was first listed somewhere between 1902 and 1906 - and it may well be that Jane Milsted was the first tenant. You should also be able to track her move to Culver Road.
I checked my private newspaper index for the period but found nothing for Milsted.
I decided to double-checked the census returns for Jane Milste(a)d born at Tenterton, Kent, circa 1840, for clues as to where to look and like you couldn't find her in the 1901 census. At first she also appeared to be missing in 1881 and 1891 - but if the "age" field is ignored there was a domestic servant with the right name and place of birth who could be her if she knocked a few years off her age each time she changed jobs to appear younger than she really was.
I am afraid that this leaves the big question unanswered.
Where was Jane Milsted in the 1901 census, why did she came to St Albans, and how did she get in the laundry business!
If she was the domestic servant spotted in the 1881 and 1891 census I wonder how an apparently poor elderly spinster could have afforded to move into a newly built house and establish a laundry business of sufficient size to be listed in Kelly's directory. (There must have been dozens of women who did other people's laundry at home - but they would not be listed in the directory.) So did she inherit some money at about the age of 60?
I also note that Frederick George Milsted was a "Manager at Laundry" in Bridlington, Yorkshire, in the 1901 census, and his wife was Grace Bertha Milsted - the Mrs Grace Milsted listed in Kelly's directory for 1912 and 1922. This immediately raises the question of why the business was not in the name of her husband when they came to St Albans, particularly as this appears to have matched his occupation in 1901. It will be interesting to see what the 1911 census says as hopefully this will be available next year.
October, 2007
Jan later added: Frederick George had 2 sons and a daughter. Fred (my grandfather) took over the laundry and ran it until it closed in the mid/late 1950s. My father still has the account book where my great grandfather paid for the building. It cost him £56, which he paid "on the drip" - 5/- here and 7/6d there. Alice Dorothy (aka Dolly) never married and lived in Hitchin and then there was Harry William. Harry died in a motorbike accident in 1931, at the age of 22. I have the write-up of the inquest from the Herts Advertiser. Great Grandad was a special constable in WW1, whilst Grandad was one of the first tank drivers. I still have his discharge papers.
I remember Heath Farm as a child. My grandparents lived in Spencer Gate, the same house in which the great grandparents originally lived, and we were allowed to cut through the farm from Harpenden Road on our way to visit.