KIMICH, Hemel Hempstead, 1862-1915

November, 2008

Updated July 2013
One of my mother's old school friends was Babs Kimich, and when we were working on The London Gunners came to Town I was intrigued by the Kimich's German origins, and the rumour that Babs' father had killed himself because of a fear that he might be interned. I was therefore excited to get a request for information, from Mark Robertson (arlex1a @t aol.com) which included somewhat unlikely sounding information that Babs has a sister called Annie, who was reared in a croft in Scotland, separately from the rest of the family. We have exchanged information and he supplied the photograph of Joseph and Isobel Kimich. I also have been in touch with Jo Lambert who has Magnus Kimich on her family tree.
As a result I decided to see what I could find out about the Kimich clock and watchmakers who came to Bedfordshire (and elsewhere) from Württemberg in the 1830s and 40s, one of which (the only one who appears to have stayed in England and raised a family) moved to Hemel Hempstead. This has been done online, using material in my private library, and information provided by Mark. It should be noted that confirmatory birth, marriage and death certificates have not been obtained. There may well also be key information in Joseph Kimich's will and the papers relating to the dispute over probate, which I have not seen.
---
In the 1830s and 1840 it appears that a number of mainly young clock and watchmakers came to England from Germany - usually from Württemberg when the area is recorded. The following is a summary of what has been discovered so far.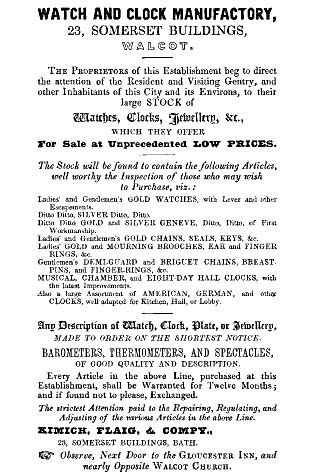 It was soon realised that the very uncommon surnames of Flaig and Kimich were closely associated, and a check of known clock and watchmakers showed that by 1842 Kimich, Flaig and Co. were clock makers in Bath, Somerset (see advert from 1846 trade directory for Bath) and by 1844 a company with the same name was operating from Dunstable, Bedfordshire.
There are slightly earlier London references to a Valentine Flaig (born overseas circa 1801), a clockmaker who, in 1837, took out insurance on property at The Brown Bear, Leman Street, Goodman Fields and living at Kingsland Road, St Leonards, Shoreditch in the 1841 census. With him were two journeyman clockmakers, Bernhard Ferenbard and Joseph Richie (both born overseas circa 1831).


B. Kimich
of Bath
The 1841 census shows that a Bernhard Kinich and Mather Flaig were living in a house in Margarets Place, Lansdown, Walcot, Bath. Both were listed as Clock Makers from "Foreign Parts", their ages being both given as 25. Kimich. Flaig & Co were still operating at the time of the advert. Some clocks exist simply saying "B. Kimich & Co, Bath" and by 1848 Flaig & Alexander were operating from 23 Somerset Buildings, Walcot, Bath while between 1852 and 1858 Bernard Kimich was at Newport, Monmouth, and I have not followed him up further.

by Josh Kimich of Dunstable
Despite using the name Kimich, Flaig and Co in 1846, the Kimich/Flaig situation in Bedfordshire at the time was more complicated. Hayer Flaig (clockmaker born circa 1806, foreign parts) was in Gas House Row, Houghton Regis in 1841, but I have found no later reference to him. Alex Flaig (widower born circa 1777 in Württemberg) turns up at Lovell End, Leighon Buzzard, Beds, in the 1851 census as a watchmaker and jeweller with his partner Frederic Spahn (born circa 1823 in Baden, Germany). No more is known of Alex, but Frederic continues as a watchmaker and jeweller in Bedfordshire (Leighton Buzzard and Ampthill) until 1887 when he sold up and became the publican at the Falcon Inn, Leighton Buzzard. He died in 1906.
There are three people in Bedfordshire with the surname Kimich from Germany during the same period.
Magnus Kimich was born in Germany in about 1825. He was described as a clock maker in 1851, and was living in Stuart Street, Luton. He married Mary Durrant in Luton later the same year and in 1861 was living with her in Hastings Street. Luton. He was now described as a straw bonnet maker and there was no evidence of any children. He died in Luton in 1865 and in 1867 his widow married Abaziah Goodman.
Joseph Kimich was born in Württemberg in about 1819 and was recorded as living in West Street Dunstable in 1841. He is listed in Post Offices Directories as a Watch & Clock Maker in the High Street, Dunstable. He died in Castle Street, Luton, on 31 October, 1858.
Engelbert Kimich was clock maker who was born in Württemberg in about 1836 and is reported to be trading as E. Kimich & Co, in Luton in 1859. He took over the business run by the late Joseph Kimich (see adverts below) and it may be that he came to England for this purpose. He married Mary Hook in the Whitechapel registration district in 1861 and at the time of the 1861 census he was living at 2 London Road, Luton with his new wife, his business partner John Mayer, a watch maker born circa 1840 in Württemberg, and Stephen Günter, a clock maker born circa 1840 in Württemberg.
From a 19th century watercolour
from A History of Hemel Hempstead.

This shows the lower end of the High Street, which turns to the left in the distance, while to the right is Queen Street. When Engelbert Kimich first came to Hemel Hempstead he lived in Queen Street. Later he moved to the High Street and the first house in the middle of the picture is where he lived - as it was next to The Bury (which is off the picture to the left). Marlowes is a road to the right of the picture. The area was later known as The Broadway and is now part of Queensway.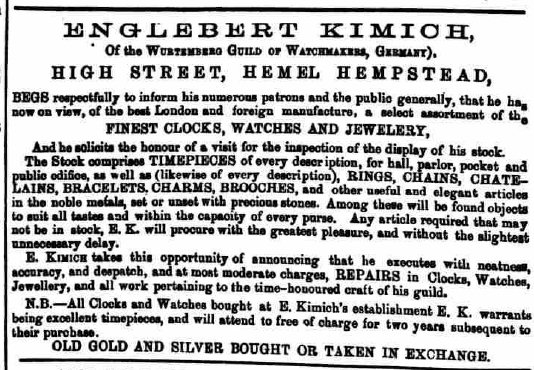 Made by E. Kimich
Hemel Hempstead.
In 1861 Engelbert moved to Hemel Hempstead and there are many adverts in the Hemel Hempstead Gazette - the example shown here came from 1875. He lived in the town until his death in 1892. On different occasions, he is described as a watchmaker, a clock and watch maker, or a jeweller. Joseph Engelbert Kimich was born in 1863 and Mary Monika Kimich in 1865 - but both died in December 1865 There were three children later children. Paulina M Kimich was born in 1866, Sarah Magdalene Kimich in 1868, and Joseph Kimich in 1871. Sarah and Joseph were not baptised until August 1875, the address was given as High Street. Their mother, Mary, had died in 1874 and in January 1879 Engelbert married Charlotte Emily Saunders at Leverstock Green.

When Engelbert died his widow, Charlotte continued running the business as a watchmaker and jeweller. The 1901 census shows she was living at 4 High Street with her (step) daughters Paulina and Sarah. Charlotte died in 1904 and in 1905 Sarah married William May Shardlow in Watford. William died on 13th June 1946, at 31 Alexandra Road, Hemel Hempstead and Sarah's death was registered in St Albans in 1952. In 1911 Paulina was a dressmaker living at 13 Alma Road, Hemel Hempstead and her death was registered in Hemel Hempstead in 1944.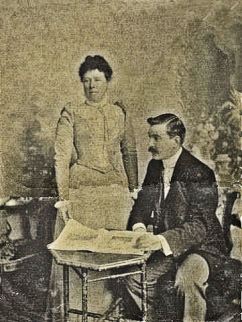 E. Kimich
Hemel Hempstead
Early in 1899 Joseph Kimich married Isobel Davidson Smith (who was born in Scotland) in London. Exactly what happened next is unclear, but Annie Fraser Kimich was born in Chicago, Illinois, USA, on 4th July, 1900, and by the 1901 census was a "boarder" being looked after by Alexander Smith, a crofter living at Forgie Hill, Saughwells, Bellie, Moray, Scotland, with a wife, Elizabeth, and four children Isabella (19), George (14), Annie (12) and Lizzie (9). It is believed that Joseph's wife was related to Alexander, and it is understood that Alexander was paid 10 shillings a week, and that Joseph's later children were not aware of Annie's existence at the time. The reason for this unusual arrangement, or how Annie came to be born in the United States, is not known.
Meanwhile, at the time of the 1901 census Joseph and Isobel were living at 33 [later renumbered 81 and one of the few remaining houses] Marlowes. Joseph was a watchmaker and was possibly employed by his mother. Isobel was described as "manageress apron & shirt factory" and she probably worked for S Umfreville & Son, muslin apron manufacturers, of Marlowes. On 9th January 1904 Helen Davidson (Babs) Kimich was born (in Marlowes) and on 6th December 1906 her sister Isobel Monika Kimich was born (in The Broadway). Both girls were baptised in Hemel Hempstead. Neither married, Isobel dying in 1982, Helen in 2001)
| | | |
| --- | --- | --- |
| | | From the Hemel Hempstead Gazette, 9th January 1915 |
Early in the 20th century (possibly following the death of Charlotte Kimich, the house/shop where Charlotte had lived was redeveloped as shown in the above picture, with the new Fire Station, with its large doors alongside. At about the same time the short length of road became known as The Broadway. The fact that Helen was born in Marlowes and Isobel was born at The Broadway suggests the family moved over the new shop once it had been built. By 1908 Mrs Isobel Kimich was a milliner and ladies outfitter at 2, Broadway (the first shop window), while J Kimich was a jeweller at 3. Broadway (the next window). The 1911 census shows the family living in The Broadway Joseph being a jewellery dealer and Isobel is described as a linen apron manufacturer. Both shops were still listed in trade directories in 1912, but in addition J. Kimich & Co were listed as apron manufacturers in Bury Road. Two years later the millinery shop was no longer listed but J. Kimich & Co, fancy apron makers, was also listed at 53 Aldermanbury, London EC.
On the 2nd March, 1915, Joseph Kimich was working in the shop one afternoon, and a couple of hours later his body was found on the railway line over a mile away, and as was common in those days, every attempt was made to avoid officially declaring the death as suicide. In his will, made in 1909, Joseph left everything to Isobel, and made her his sole executix. Isobel did not apply for probate but continued to trade as an apron, pinafore and overall manufacturer and also continued with her husband's jewellery business. This clearly did not work as in February 1916 Isobel "lately trading as J. Kimich and Company, The Broadway and Bury Road, Hemel Hempstead, Herts, apron, pinafore and overall manufacturers" was declared bankrupt. In March 1916 the accountant appointed to deal with the bankruptcy applied to the Court of Probate and Supreme Court of Judicature for power to administer the estate quickly so that the assets of the jewellery business could be realised quickly, before any more losses were incurred. By 1917 Joseph Walter Spiers was the watchmaker at 3, Broadway.
The fact that Isobel went bankrupt raises the question of whether financial difficulties led to Joseph's death. The letter by the accountant asking for probate suggests the the jewellery business was not in serious trouble when he died, although it may be that the trade in luxury goods had been significantly affected by the outbreak of war. While the apron manufacturing business, trading as J Kimich & Co. was run by Isobel, it was a new and expanding activity and could have overreached itself.
My mother's recollection (see The London Gunners come to Town) was that Joseph killed himself because he was afraid of being interned because of his German origins. As my mother was only 7 at the time she is unlikely to have invented the story herself, and a study of the local press provides some possible supporting evidence of how such a rumour may have started, at a time of significant anti-German feeling. German citizens resident in England had to register with the police as soon. as the war started. Many were later interned at Alexandra Palace. On 13th February, 1915, The Gazette reported that of the 583 alien enemies registered in Hertfordshire, 134 had already been interned and only 150 still remained in the area. It ominously went on "Naturalised British subjects of alien origin. and British-born subjects of alien enemy origin residing in the County are known to the Police and particulars regarding each is registered unofficially." Joseph Kimich killed himself two weeks later, on 2nd March. In fact Joseph seems to have been a good British citizen and had been doing his bit for the war effort. Shortly after war had been declared in August 1914 he enlisted as a special constable whose duties would have been to guard key sites such as the waterworks and the gas works, and preserve law and order if there was civil unrest or food riots.
So what about Annie? In 1914 time she was invited to come to Hemel Hempstead, but declined - as the Smith's of Forgie Hill were now, for all practical purposes, her family. Isobel sent her a box of things - but about six months later asked for them back. Later Annie married Alexander Robertson and Monika married Arthur Howe. Babs never married and for a short time around 1937 had a confectionery shop in Victoria Street, St Albans, close to the Midland railway station, before moving to London.