Mike Roberts
(
mrobertsbcn
@t
yahoo.es
) of Barcelona writes:
I was delighted to stumble across your site and find so much information and wonderful images of W. Fisk and J. Fisk and Son, the drapery in St Albans High Street. This drapery was originally set up by my great, great, great grandfather William Fisk and his wife Louisa Lake, when they moved to St Albans from Thorpe-le-Soken in Suffolk in 1834.
William Fisk (1807-1881) came from a Fisk family with a long and proud tradition that can be traced all the way back to the 13th century. Many of them were members of the Protestant clergy, and many emigrated to America in the times of the persecution of Protestants under Bloody Mary. William himself was deacon of the Baptist church in St Albans for forty years.
He and his wife had ten children, two of which died in infancy. Three of the sons, Thomas, William and my own great great grandfather Ebenezer Edward Fisk went on to become Baptist ministers in different parts of the country, and two of the daughters also married Baptist ministers.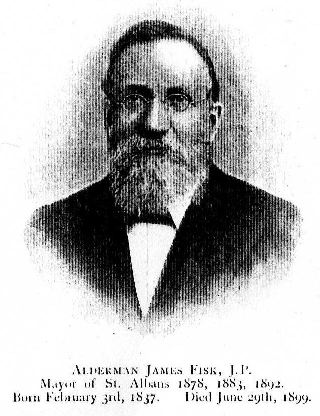 Picture from the Fisk Family Papers, an extensive study made by a Hugh Ffyske in the late 19th century. Information on the St Albans family was provided by Thomas Fisk, James' brother, who was a Baptist minister in Kidderminster.
The only son that didn't turn to the cloth was James, who helped his father William run the drapery. When William died in 1881, the drapery was left in the capable hands of his son James and his own son, William (i.e. it now became J. Fisk & Son, and James had married a lady called Anne Alice Trollope). Other than running the drapery, James was elected Mayor of St Albans in 1878, an office he occupied three times. In February 1887, he was made an Alderman, and in 1894 was placed on the Commission of Peace. He was also director of the St Albans Coffee Tavern Company, and the St Albans Permanent Benefit Building Society. He was a governor of the St Albans Grammar School, and a member of the House Committee of the Hospital. Mr Fisk was one of the original members of the Public Library, and took part in the work of raising funds to build that institution. He was a member of the Committee of the School of Science and Art from its establishment in the early 1870s, and was vice president of the Chamber of Commerce when it was formed.
He died in 1899, and his wife Anne ran the drapery for a while, but by the time of the 1911 census, she had retired and the third generation of Fisks, William was now the manager.