HAWKINS, Apsley, circa 1900

December, 2010

If you can identify any aspect of these pictures,
The Hawkins Photograph Collection
A collection of seven card mounted photographs, linked to Hemel Hempstead, came up for sale on ebay and were acquired, with a view to trying to find out the occasion each one was taken, and to identify at least some of the people involved. The advert suggested that the same old person appeared on six of the pictures. This page records the history of the attempt to unravel the mystery. - clicking on a picture will take you to a page showing the card at a larger scale - together with what is currently known about it. The aim is to give readers some idea of the processes involved in analysing old photographs.
Stage 1 - A First Examination of the Photographs
Picture 1

A football team displaying trophies. A man is carrying a box displaying the words "West Herts Infirmary". The building in the background has mullioned windows and may be part of a church. No photographer name on mount.

Picture 2

A football team displaying trophies. They are wearing the same strip as Picture 1. Extreme enhancement of the "white" panels show they have a shield-like image which includes a Hertfordshire Stag. In the middle of the back row is a distinguished bearded gentleman. The mount is marked Coles, Hemel Hempstead.

The Special Day

Picture 3

A family group with, in the centre, an elderly lady in widows weed. The other people are clearly not dressed for a funeral as some of the women are wearing floral hats. Bearded gentleman is in the group. Same style card mount as Picture 1, with no photographer name - so possibly similar date.

Picture 4

Off on a outing - with a gorse-drawn omnibus and people with bicycles. The elderly lady, the bearded gentleman and several other people appear in both photographs in the same clothes. Same mount as Picture 3.

Three Weddings

Picture 5

A large wedding group with a rural background. The arrangement suggests that the bearded gentleman and the lady sitting next to him are the father and mother of the bride. The mount carries the name J. T. Newman, Berkhamsted.

Picture 6

A large wedding group in a garden, with a Victorian style school building on the other side of the boundary brick wall. The bride and groom are flanked by two >matrons of honour", and then by the bearded gentleman and his (?) wife. The mount carries the name P. T. Culverhouse.

Picture 7

A large wedding group photographed at the back of a house. The bride is not in white - perhaps wearing her going away suit. The bearded gentleman and his wife are together in a prominent position to one side of the picture. The picture contains a sailor from H.M.S. Whirlwind. The mount carries the name P. T Culverhouse.
Stage 2 - Observations following a visual inspection
Dating: The overall style of the photographs and mounts are typical of a period around 1900, and the clues all support such a date. The dates for the photographers fit with this. William Coles was a Watford photographer who had a studio in Hemel Hempstead between about 1898 and 1910 while J. T. Newman was a Berkhamsted photographer who had started trading by 1895.
The West Herts Infirmary (picture 1) became the West Herts Hospital in 1908 (Dacorum within Living Memory).
Culverhouse and Son were house furnishers in the High Street, Hemel Hempstead, and it is not known when the son, Percy, started a side-line in professional photography and the examples I have seen are from the First World War period. H.M.S. Whirlwind (picture 7) was a W-class destroyer which was not launched until December 1917. Not only does this suggest a later date - say circa 1920 - for this picture, but it also suggests that Picture 6, which has an identical mount, is of a similar later date.
People: Clearly the key to the pictures must be the bearded elderly gentleman who appears in 6 of the 7 pictures. However, without further clues it might be easier to start with the football club.
Locations: All appear to be in different locations and the only one which is possibly identifiable is Picture 6, where one is looking for a Victorian school with specific design features.
Stage 3 - Tracking down the Football Club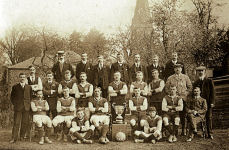 This proved easier than I expected. There was already a page on this site for the Apsley Football Club on this web site, with a picture of the team in 1909 and a comparison shows that they are wearing the same strip.
Even better a check through books containing early photographs of Apsley shows that Picture 2 had already been published in Hemel Hempstead - and even better it named all but one of the people in the picture. The picture was taken in 1905. The bearded Gentleman turns out to be C. H. Hawkins.
Further background information on the Apsley Football Club, founded 1885, was located using Google.
Stage 4 - A theory to be tested
There is only one older bearded person in the pictures and if they are all the same person we know the name - Christopher Henry Hawkins
Picture 2: Date 1905

C. H. Hawkins

Picture 3

Picture 4

Picture 5

Picture 6

Picture 7: Date c1920
From the pictures this would appear to be his wife:
| | | |
| --- | --- | --- |
| | | |
| Picture 5 | Picture 6 | Picture 7: Date c1920 |
An this would appear to be their daughter and Son-in law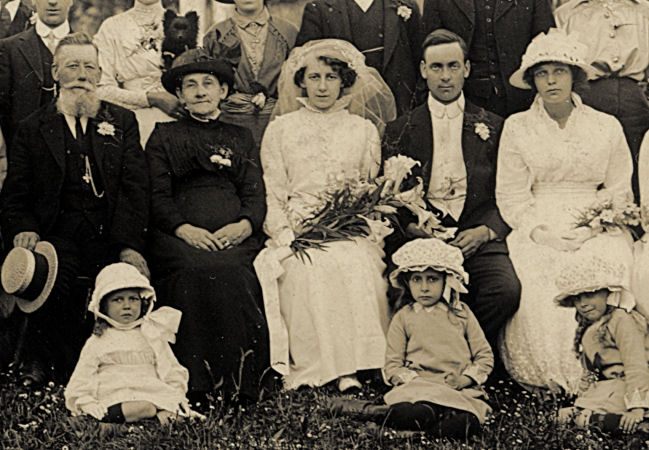 So we are looking with a couple who were both still alive, but elderly, in 1917 (Picture 7) who had at least one daughter who looks as if her father was quite old when she was born.
Stage 5 - A Preliminary Genealogy Study
For the first genealogy search I looked at the census, (Ancestry which does not 1911), trade directories, and various free sources - the aim being to identify areas worthy of further investigation.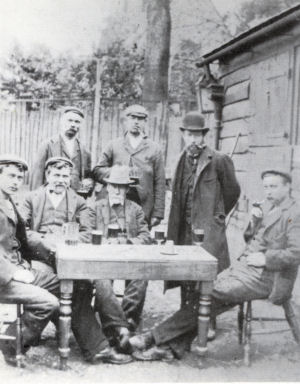 Behind the Salmon Public House are (left to right) William Hay, Walter Brinklow, 'Uncle' Hawkins and John Allsop. Standing left is Joe Hearns. C. H. Hawkins was the licensee who presented the Uncle's Cup in 1898 for which Dickinson's departments teams played annually in Salmon Meadow. [Apsley & Nash Mills in Camera]
Genealogical sources consulted (unverified)

1835
familysearch
Christopher Henry Hawkins born 23 Oct 1835, son of John & Elizabeth Hawkins, baptised at St Mary, Rotherhithe on 15th November
1840
FreeBMD
Sarah Ann Bingham birth registered Hemel Hempstead [Dec 6 470]
1851
Census
Sarah Ann Bingham (10) living with her parents, John (37, type founder) & Rebecca (36) , and two siblings, John (7) and Rebecca (5) in CLerkenwell. All but her mother born in Hemel Hempstead.
1859
FreeBMD
Christopher Henry Hawkins married Sarah Ann Bingham [Clerkenwell]
1861
Census
Christopher H Hawkins (25, Watch Case & Index Maker, born Bermonsey) living at 8 Dane Street, Islington, with his wife Sarah Ann (20, born Hemel Hempstead)
1871
Census
Christopher Hawkins (34, watchmaker) and wife living in Clerkenwell. [No sign of any children]
1881
Census
Christopher Hawkins (45, watchmaker) and wife at Two Waters, Hemel Hempstead.
1882
Directory
not listed
1886
Directory
Christopher H Hawkins, beer retailer, Apsley End
1890
Directory
Christopher H Hawkins, beer retailer, Apsley End
1891
Census
Christopher H Hawken (54, beer house keeper) wife Sarah (49) at 106 Apsley End - with daughter Edith (13, scholar, born Stratford)
1901
Census
Christopher Hawkins (65 , Beer House Keeper) and Sarah (59) at Bell House, 106 Apsley End
1902
Directory
Christopher Henry Hawkins, beer retailer, Apsley End
1904
FreeBMD
Edith Bessie Hawkins married within the Berkhamsted area [March 3a 931] The most likely husband is Edmund George Lawrence.
1908
Directory
Not Listed at Apsley End
1911
Census Index
Christopher Hawkins living in Watford
1912
Directory
Not listed at Apsley End or Watford
1924
FreeBMD
Christopher H Hawkins died aged 88 [Watford March 1924 3a 1153]

Stage 6 - Assessing what has been found
A quick search of the key genealogy sites for Christopher Henry Hawkins (1835-1924) shows that he was a watchmaker who married a Hemel Hempstead girl, Sarah Ann Bingham in London, and the couple had moved to Two Waters, Hemel Hempstead. By 1886 he was publican in Apsley End (The Salmon). At some date before 1908 he appears to have moved to Watford, where he died. They appear to have had one daughter when Christopher was over 40. The preliminary investigation seems to fir the profile I was looking for.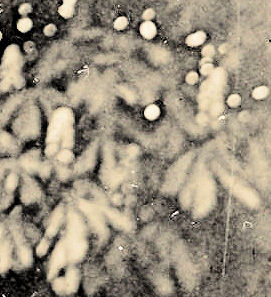 ??? BUT ???
There are warning signs that something is wrong. Look at this detail from Picture No 5 which I failed to note in the original analysis. This shows that wedding group (Picture 5) took place in the April-June quarter of the year and so cannot be the wedding of Edith Hawkins which took place in the January-March quarter of 1904. (Click on the picture if you not understand the reason for this comment.)
Looking closely at the pictures of the "old man" also makes a date of 1904 for the wedding unlikely as, if the pictures were of the same man. If the wedding was in 1904 the receding hair line would have advanced in the following year. In fact a closer look makes one wonder if they were the same man.

If you can help.
Stage 7 - What Next?
At this stage I am standing back to let ideas incubate - and any comments from visitors to this web site will be very welcome. In particular your view on whether the bearded man in pictures 3-5 is Christopher Henry Hawkins?
Whatever else happens there is plenty of potential for more work on the Apsley Football Club, as one can expect detailed reports in the Hemel Hempstead Gazette. This research would be better done by someone with an interest in football history.

Further work on Christopher Henry Hawkins and his relatives is only relevant if he is the bearded man in pictures 3-5.

If the bearded man is not C. H. Hawkins there is no point in trying to identify common people between the pictures until we have a definite link.. Identifying the school, or the sailor from H.M.S. Whirlwind, will probably not be sufficient on its own. Possible ways forward (with your help) ate:

There are a lot of people in each picture - and there may well be other copies.- hopefully even with some names attached. Do you know of any such copies?

If you had relatives from the area do you recognise any individuals?

Can you spot any identifiable/dateable features which I have missed?
If you can add to the information given above tell me.