The Newman story really starts with Theophilus John Piggott (1843-1892), who was born in Buckingham, the son of a Wesleyan minister, William Piggott. By the time of the 1871 census Theophilus and his brother William Frederick Piggott (1841-1923) were chemists and photographers in the High Street Leighton Buzzard. In 1881 Theophilus was running the business as a chemist and photographer, with William Coles (who later became an important photographer in Watford, with a branch in Hemel Hempstead) as an assistant, while William Piggott had moved to Huddersfield where he was a chemist and druggist, and a chemist and photographic dealer in 1891. A picture of employees of Locke & Smith's Brewery, Berkhamsted, by Theophilus J Piggott of Leighton Buzzard is dated 1889 and by 1890 Theophilus had opened a branch as a photographer in Chapel Street, Berkhamsted. Unfortunately Theophilus died in 1892 and his brother William returned to Leighton Buzzard to continue to run the business until 1906 when it was taken over by A. Anderson. [Information on the Piggotts of Leighton Buzzard is available online on the Lucerna site (magic lantern slides) and in an paper The Piggott Family, Leighton Buzzard Photographers, by Colin Holmes in Trans. Leighton Buzzard & District Archaeology & Local History Society, 2007 (not yet seen). There are also some pictures by the Piggott family held the the Bedfordshire Archives]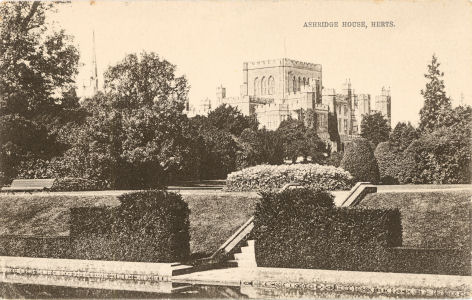 Ashridge House, Herts
Published by Wm. F. Piggott, Leighton Buzzard. used 1906
James Thomas Newman (1859-1937) was born in Berkhamsted in the later part of 1859, the son of George & Elizabeth Newman, of Wilstone, near Tring, his father, who was a wheelwright, dying early in 1860. The family stayed in Wilstone, with the older children working as wheelwrights, until at least 1871. By 1881 James was working as a coach builder with an older brother in Leighton Buzzard. In 1885 James married Susannah Alice Biggs, the daughter of a significant farmer, Joseph Biggs and his wife Sarah (nee Biggs, married 1859). James and Susannah had a large family - Theodore Frank (1886), Marjorie Alice H (1888), Gladys Dorothy M (1890), Percival James (1892). Muriel Elsie O (1894). Kathleen Elizabeth Janet (1895), Mary Irene Christine (1898) and Vera Octavia Beatrice (1899), the first three being born in Leighton Buzzard, the rest in Berkhamsted.
Between 1881 and 1891 James changed job to work under Theophilus Piggot and moved to Berkhamsted to become manager of the studio there, living in Chapel Street at the time of the later census, when he was described as a photographic artist. On Theophilus's death he took over the Berkhamsted business and in the next edition of Kelly's Hertfordshire Directory in 1895 he paid for an extended entry:

He was still living at 176 High Street at the time of the 1901 census but had moved to Dean Innocent's House, an impressive half-timbered building on Berkhamsted High Street by 1908. He built up a formidable reputation as a photographer, and was responsible for many photographs of the Inns of Court Regiment when they were based in Berkhamsted during the First World War.
A Newspaper photograph by James Newman showing Lord Roberts inspecting the Royal Bucks Hussars at Tring Hill and published on the occasion of Lord Roberts' death.

Bucks Herald

21 November 1914
The range of his work can be seen in the following advertisement from 1919.
.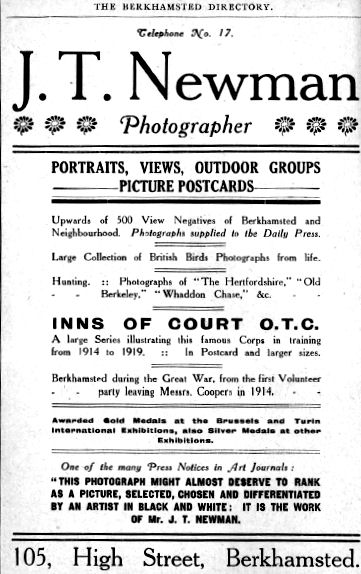 According to the trade directories he continued to trade at 105 High Street until 1926 and died in 1937. By 1911 his son Frank was established as a Photographer in High Wycombe.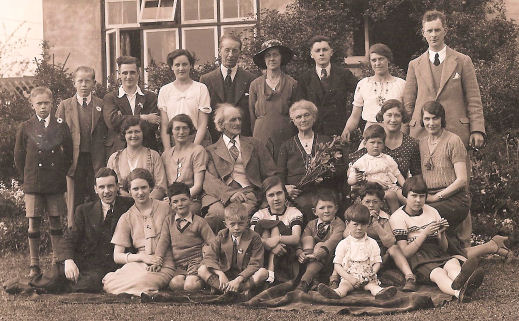 Golden Wedding, April 30, 1935 at Cornerfield, Berkhamsted
scan provided by Barbara Hoare