ATKINS, St Stephens, early 19th century

January, 2011
Mark Watson (nath787 @t hotmail.com) of Toronto, Ontario writes: I have discharge papers from the British Army dated 1853 in Barbados for my great great grandfather John Atkins. It indicates that he was N0. 1799 Sargeant John Atkins born in the Parish of St. Stephens in or near the town of St. Albans in the county of Hertford. He enlisted in the 34th Regiment on Jan. 30, 1841 at 18 years old, and discharged at Barbados on March 31, 1853 at his own request after 12 years service. Do I have sufficient information to trace his family history? i.e. parents, siblings etc? He remained in Barbados and married locally.

To get you going I demonstrate the first few steps needed to find John Atkins family. and what actions are needed to fill in some details
---
Search 1: Familysearch for John Atkins - born Hertfordshire 1823 +-2
Purpose to find if any John Atkins were born in the area who would be about 18 in 1841
John Atkins, christened 10th Feb 1822 at Abbots Langley the son of John and Susannah
This is the best fit - and Abbots Langley parish shares a boundary with the parish of St Stephens. We must remember that at this stage we have not proved that this is your John Atkins - just that he is the best candidate so far.
---
Search 2: Familysearch for John Atkins resident Abbots Langley 1823 +-20 Father John Atkins
Look for any siblings of John Atkins. We know we will not find John in the 1841 census for the area (because he had joined the army) but if we know the family we may be able to spot them in the 1841 and later censuses.
| | | | |
| --- | --- | --- | --- |
| Name | Baptised | Father | Mother |
| William Atkins | 9 May 1819 | John | Susan |
| Sarah Kezia Atkins | 9 May 1819 | John | Susan |
| Shadrack Atkins | 10 Feb 1822 | John | Susannah |
| John Atkins | 10 Feb 1822 | John | Susannah |
| Richard Atkins | 22 Mar 1824 | John | Susan |
| Mary Atkins | 19 Jun 1825 | John | Susan |
| James Atkins | 5 Aug 1827 | John | Susan |
| Jonah Atkins | 3 March 1832 | John | Susan |
| Phoebe Atkins | 29 September 1844 | John | Susan |
| Jane Atkins | 29 September 1844 | John | Susan |
It is clear that John was one of a large family. Two children baptised at the same time is more likely to be a delayed baptism, rather than twins. This suggests that the eldest child was probably born in about 1817/8. Pheobe and Jane may have been been born several years before 1844.

Action: Looking at the register entries will provide extra information - for instance John senior's occupation and perhaps an address which will tell you if they lived in the parish of St Stephens or Abbots Langley. (Copies of the register entries can be purchased from HALS or a microfilm of the register can be consulted at your nearest LDS Family History Centre - address on familysearch.)
---
Search 3: Familysearch for John Atkins marrying a Susan in Hertfordshire 1815 +- 5
From the information on the dates of christening we know that John and Susan(nah) were probably married around 1816 as the eldest child usually appeared quite quickly after the marriage.
John Atkins married Susannah Hoare at Abbots Langley on 19 May 1816
Action: The parish register may give some extra information, such as the parish where the bride and groom lived, whether either of them had been married before, and whether they could sign their own names.
---
Search 4: Ancestry Search for John Atkins in Hertfordshire 1841 census
The 1841 census is the first one where names are recorded - so this search is to see (1) can we find the John & Susan(nah) family, (2) can we find John - baptised 1822 - as if we can he isn't our man, and (3) how common is the name John Atkins in the area - in case there are some other possible candidates we have missed.
Living at Winch Hill, St Stephens
| | | | |
| --- | --- | --- | --- |
| Name | Age | Occupation | Born Herts |
| John Atkins | 44 | Ag Lab | y |
| Susan Atkins | 44 | | y |
| Mary Atkins | 17 | | y |
| Jonas Atkins | 10 | Ag. Lab | y |
| Maria Atkins | 8 | | y |
| Pheobe Atkins | 6 | | y |
| James Atkins | 3 | | y |
(1) The family is found - less John Junior - living at Winch Hill, St Stephens - and not in Abbots Langley, where the children were born. It is relevant to the fact that John Junior says he was born in St Stephens.

Note: It is possible that "James" aged 3 in the census, could be the "Jane" baptised in 1844. Such errors are not uncommon and to resolve it it may be necessary to see the original register entry (on microfilm).

(2) While John Junior was old enough to be not living at home - there was no sign of him elsewhere in Hertfordshire, which fits with the fact that he had joined the Army.

(3) While things are beginning to look as if we have the right man, the name John Atkins is common enough that we must keep an open mind. For instance there is another John Attkins (born circa 1803) also in St Stephens, and another born 1811 in Abbots Langley. While we might be reasonably happy about our choice it is worth looking at Right Name, Wrong Body to see why one must take care.

Action: You can download a copy of the return on Ancestry for your records

Note: While I have used Ancestry you could also have used FindMyPast.
---
Search 5: Where is Winch Hill, St Stephens?
While not essential it is useful to look at a map at this stage. Sometimes you can find where you are looking for on a modern map - such as Google Maps - but there have been many housing developments in the St Albans and Abbots Langley area. (I can tell you that the correct Winch Hill does not show on Google Maps.) Large scale Ordnance Survey maps are available online at OldMaps.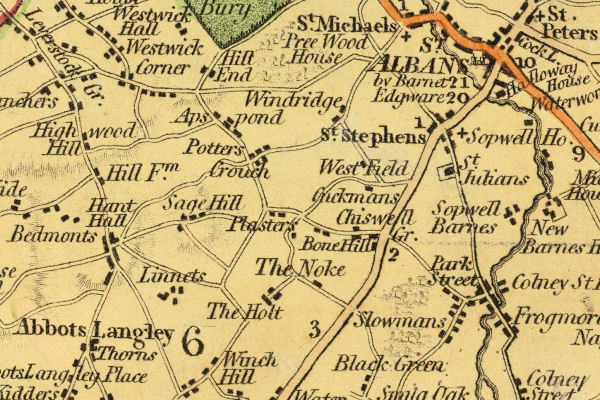 Abbots Langley and St Stephens showing Winch Hill
(This antique map, By Charles Smith, from 1808, is not available online - but is shown as an example)
St Stephen's parish consisted of two parts - to the North East part of it, including the church, was in the borough of St Albans (not yet a city), but there was also a highly rural area to the South and West. Winch Hill is a hamlet in the parish of St Stephens immediately adjacent to Abbots Langley village. In cases like this it is not uncommon for a family to live in one parish but have their children baptised in another.
---
1851 census
Note John born 1797 and John born 1802
---
1861 census
---
Burial Index
---
Death Registration
---
Review of information