CAMP, Herongate, circa 1900

An example of combining census and map date to locate an old property.

August, 2011
Judy Coutts (alcoutts @t telus.net) of Didsbury, Alberta, Canada, writes: My great grandparents, Arthur and Emma Camp, owned The Waterfield House located in Ricksmanworth and apparently the 1901 census has it located at Swillet. We would like to know who resided in the house during 1902-1918 time frame ? Does this house still exist? I have a picture of it taken with the Camps and their nurse, Boshell. It was probably taken around 1890-1900 .The Camps were greengrocers.
Arthur Camp is listed as a private resident at Herongate, Mill End, in Kelly's Hertfordshire Directories between 1895 and 1912 but not in 1890 or 1914. As he died late in 1916 or early 1917 (FreeBMD) he may have moved into a nursing home by 1914.
The only record of the inhabitants of the house for this period will be the 1901 census (which you have seen) and the 1911 census, where the address is recorded as Waterfield House, Chorleywood, Herts. The occupants were:
CAMP, Arthur Head Widower M 82 1829 Retired Hoddesdon Herts

CAMP, John Son Single M 44 1867 Gardener Hampstead Mids

CAMP, Clara Daughter Single F 45 1866 Shop Assistant Hampstead Mids

HOLDEN, Emily Visitor Single F 31 1880 None Stoke Surrey

[click image to see full page]
I was interested to see that Arthur Camp really moved up in the world, as I see that in 1851 he was working as a footman for Arthur Loveday in a house in Hampstead.
The Location of Waterfield House
There is a help page on Locating Census Addresses on Maps.
In 1901 the census enumerator followed the following route:

[click image to see full page]
If you look at the detailed 1901 census returns again you will see that the census enumerator visited the following properties, the number being the enumerator record number for the purpose of the census, and not a house number. There is no indication of the distance between the houses or which side of the road they are.
| | | |
| --- | --- | --- |
| 99 | The Swillett | Phoebe Mead |
| 100 | Flint Cottage, The Swillett | Charles Baldwin |
| 101 | Land of liberty Public House | Robert Hunt |
| 102 | The Swillett | Arthur Camp |
| 103 | Little Blacketts | James Hedgcock |
| 104 | Crowndale | Charles Loram |
| 105 | Crowndale Stables | William Wallington |
| 106 | Keepers Cottage, Shire Lane | David Bye |
| 107 | Bulls Land Farm | Edward Moles |
| 108 | Hill Farm | John Piddifoot |
Arthur Camp's house is "next" to the Land of Liberty Public House which still exists. In addition I have had a query about Robert Hunt, who was the landlord when Arthur Camp was living nearby. For further information see HUNT, Land of Liberty PH, Herongate, Rickmansworth.
In 1911 the enumerator followed a somewhat different route as his description shows.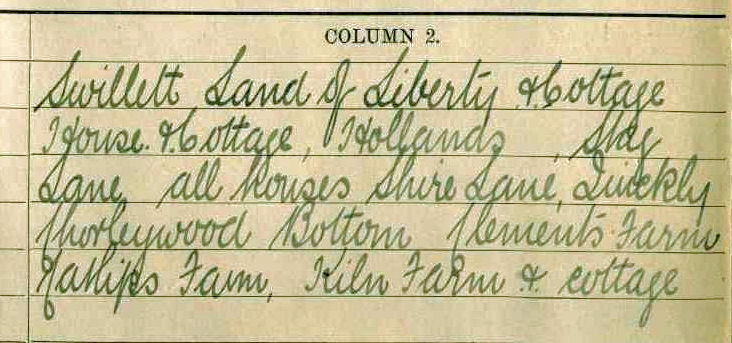 [click image to see full page]
In the 1911 census the addresses given are those written by the individual householders, and not the summary addresser given by the census enumerator. This can be more useful in many cases, so it can be additionally useful to look at the returns either side of the page you are interested in. Another useful feature of the 1911 return is that it gives the number of rooms, which can help identifying houses on large scale maps. Looking at the properties on either side of Arthur Camp we find:
| | | | |
| --- | --- | --- | --- |
| 78 | Chorleywood | 4 | Phoebe Mead |
| 79 | 6 Beechwood Cottages, Chorleywood, Herts | 5 | William Pollybutt |
| 80 | Swillett, Chorley Wood, Herts | 5 | Thomas Wheeler |
| 81 | 4 Beechwood Cottages, Swillett, Chorleywood, Herts | 5 | John Henry Simmonds |
| 82 | 3 Beechwood Cottages, Swillett, Chorleywood, Herts | 5 | Alfred Saunders |
| 83 | 2 Beechwood Cottages, The Swillett, Chorleywood | 5 | Walter Edwards |
| 84 | 1 Beechwood Cottages, Chorleywood | 5 | Thomas Stanhope Roberts |
| 85 | Land of Liberty, Herongate, Chorleywood, Herts | 7 | Robert Hunt |
| 86 | Waterfield House, Herongate, Chorley Wood, Herts | 7 | Arthur Camp |
| 87 | "Quickley", Chorley Wood, Herts | 9 | Vincent Lawford |
| 88 | Hill Farm Cottage, Chorley Wood | 5 | Frederick Bagginshaw |
| 89 | Hill Farm, Chorley Wood, Herts | 7 | William James Saunders |
| 90 | Kimg John Farm, Chorleywood | 15 | Arthur Capel |
Note that Arthur Camp is still "next door" to the Land of Liberty public house, but a row of cottages appear to have been built between the pub and Phoebe Mead's house. It would appear that Arthur Camp's house had the same number of rooms as the public house - and I suspect it had two reception rooms, a reasonable hall, a kitchen and scullery on the ground floor and four bedrooms upstairs. There was probably an inside toilet and possibly even a bathroom. The 5 roomed cottages may well have been a reception room and kitchen/scullery downstairs, three bedrooms upstairs, and an outside dunny with a bucket!
It is possible to locate The Land of Liberty public house on the Old-Maps web site - in this case a large scale map from 1898 (Other years and scales are available). Arthur's house is almost certainly one of the buildings to the West of the public house.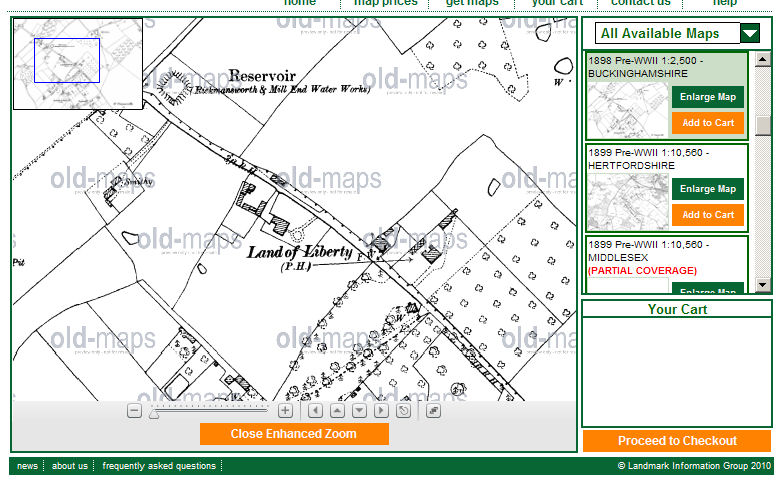 It is now possible to locate the Land of Liberty on Google Maps and explore Long Lane using Street View,
[Note that the logo for the Land of Liberty is in the wrong place]
If you explore the above Google map you will find that Old Shire Lane and Bullsland Lane are to the North West (along what is now called Long Lane).
September 2011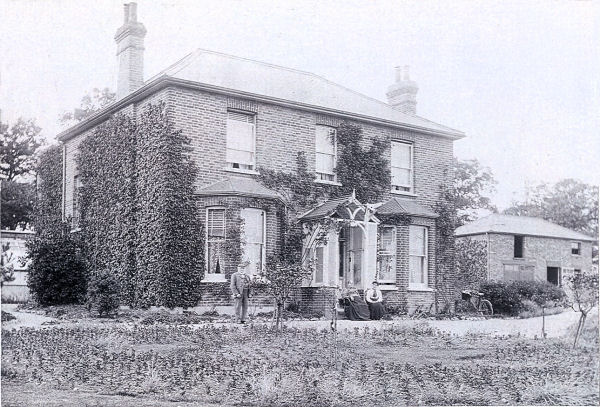 Judy sent a photograph of Waterfield house showing Arthur Camp, his wife Emma (who died on April 7th in 1903) and Nurse Boskell, together with sales particulars from 1953, with a note indication that it was being sold by Miss James Marian Richardson (1869-1957).
The sales particulars show a picture of the house with and additional bay added towards the barn shown in the above picture, and the description shows that my estimate of its rooms at the time of the 1911 census was pretty accurate. The property is described as having 5 acres of land and it is clear that it is set back from the road.

A re-examination of the Google satellite fails to reveal any house currently fitting the roof layout, etc. However a re-examination of the maps available on Old-Maps maps suggests that the 1898 map given above is in error and the arrow for the Land of Liberty should point to the house immediately adjacent to the road. The house where the arrow points is the right size to be Waterfield and the drive past the house shown on the map is compatible with the above photograph.

I note that the owner selling the house was a spinster who was over 80, and the particulars carefully refrain from describing the decorative condition, apart from saying the tennis lawn was not in use. A house of this size, with 5 acres of land, possibly somewhat neglected by an elderly occupant, and with 5 acres of land, not too far from London, would very likely be brought by a builder, demolished, and a small housing estate erected on the land. My suggestion is the the group of houses called The Hollies on modern maps are built on part of the Waterfield property.

Judy also sent the following story about Jane Camp, one of the daughters of Arthur and Emma Camp.

Charles King & Jane Camp

Charles King was born in Kent, England in approximately 1860. In the late 1890's he pre-empted 100 acres a few miles west of Sooke. He planted fruit trees and had a small cabin close to the beach. He worked on a survey crew. he also had chickens, pigs, rabbits, strawberries, fruit and gathered mushrooms from the fields and sold them. Around 1905, he built a log cabin for his intended wife. Jane Camp was born in Hamstead, England in 1865. Her home in England was called Waterfield house. She was one of nine children of Arthur Camp and Emma (Ayres) Camp. In 1905, she agreed by mail to marry Charles King. she arrived in Vancouver to meet and marry him. She had never seen her husband until her wedding day. The trunk containing her wedding dress had been mislaid somewhere in Montreal. They were married in Vancouver and crossed to Victoria. On the horse stage to Sooke, she met Miss Janet Murray who befriended her and invited the couple to spend the night at Wellpark. The next day, they continued their journey to Otter Point. Jane King's new home was a log cabin, and the first thing she asked upon arrival was "where are the pillow slips?". Alas! There were none. Soon after, the neighbours held a "shivaree" for the couple and numerous gifts arrived, among them was a scrubbing brush and a bar of soap, bought by Emmanuel Throup!

On April 15, 1907 Jane gave birth to a baby daughter in Victoria at Mrs. Hart's nursing home at 15 Stanley Avenue. Dr. Hart delivered the baby, Fanny Margaret King. In 1910 Mrs. King became ill and went to the Royal Jubilee Hospital and later to Mrs. Hart's Nursing Home with rheumatic fever. She was to rest, but on Margaret' s third birthday, she came down stairs which was too much for her heart. She died three days later on April 18, 1910. She was 45 years of age at this time. Charles King took little Margaret on his shoulders to his wife's funeral. She was buried at Ross Bay Cemetery in Victoria.

Mrs. Hart, Miss Kirby, Mrs. Anderson, and Mrs. Murray all offered to take little Margaret to give her a home. Little Margaret chose Mrs. Murray as a foster mother. Mrs. Murray (nee McMillan) had been the matron of the Royal Jubilee Hospital in Victoria. She set up the first operating room in the hospital. She was matron from approximately 1895 to 1898.