Val Roberts (peter.roberts16 @t btinternet.com) writes from Derbyshire: Abe Mitchell, the famous golfer, whose effigy adorns the Ryder Cup, was employed at North Foreland Golf Club by Sam Ryder. Abe was married to Dora Deag on 27th November, 1920 in Tunbridge Wells. I am looking for a photograph of the wedding or any other material which the local archives may have.

As I am sure you will realise this is a site specialising in Hertfordshire, basically up to about the end of the First World War. However because of the significance of Abe Mitchell and Samuel Ryder of Ryder Cup fame, it is appropriate to summarise the information linking Abe with St Albans, and suggesting some possible Hertfordshire sources. This may allow some of the regular followers of this web site to add further suggestions.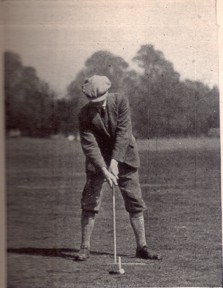 Henry Abraham Mitchell was born in the Forrest Row, East Grinstead, Sussex, in 1887, and in 1911 was still in Forest Row, working as a chauffeur in the Yewhurst Stables, Forest Row. (I see that in 1902 the Ashford Forest Ladies Golf club has "The Yewhurst Gold Cup" presented by C. W. Bell.) In fact by 1910 Abe Mitchell was already a very experience golfer. In 1920 he was appointed as Professional on a five years contract at the North Foreland Golf Club, at Broadstairs, Kent, and it was in the same year that he married in Tonbridge Wells. In 1923 Samuel Ryder organised the Heath and Heather Tournament for professional golfers at St Albans and Abe Mitchell took part. In 1925 Samuel Ryder employed him as a personal instructor at the Verulam Golf Course, and Abe moved to 19, Cunningham Avenue, St Albans. He died in St Albans in 1947, possibly still living at the same address as a Mrs Mitchell was still living there in 1949. In 1927 he was the model for the golfer on the top of the Ryder Cup Trophy.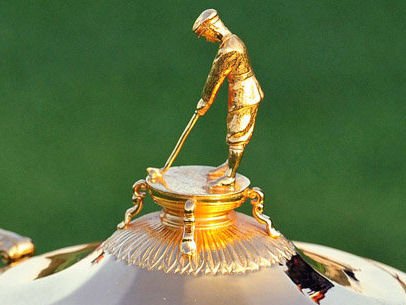 In these circumstances there seems no reason why, for example, the local St Albans papers such as the Herts Advertiser, should have even mentioned the wedding, much less included a photograph, and you should be looking for such evidence in Sussex or Kent.
However there are several Hertfordshire sources which might have information about him after about 1923, apart from the Verulam Golf Club, which I am sure you will have already tried. There are:

February 2018
Pauline Warrington, of the North Forelands Golf Club, has kindly provided a digital copy of the relevant page in the club scrap book, showing the happy couple and a short press report.
In fact, since the original query many newspapers have been digitized on the British Newspaper Archive - and there are a number of mentions of the marriage in papers from all over the country, a few with photographs such as the following from the Leeds Mercury