Ruth OSBORNE, Witch, of Tring, 1751

October, 2012
Rosie Hastings, a student at the University of London, writes I am currently doing a research projects on Ruth Osborn of Tring, the last "witch" to be executed in England for witchcraft. I am interested in tracing the exact locations of the events surrounding her death. The event was well documented and lots of records exist, many of them online. In the various records a work house is mentioned, a church and then the pond where she was "ducked" or "swum" and eventually murdered, no one has ever been able to find the exact location of this pond. This Link gives quite a good local summary of the event and mentions some names and places not all of which seem to correlate !

If you know anything at all about the events surrounding Ruth Osborne and her husband's death, the places (especially the pond in which she was drowned) involved in the story or even a more general history of the Witch hunts in Hertfordshire and the practice of swimming witches I would be very interested to know your thoughts. This is a challenging period of history to study and I would seriously appreciate any help you have to offer.


Ducking Ruth Osborne
from The Witches of Hertfordshire
The events surrounding the events have been described many times, first of all in the 18th century, and the summary on the St Cross, Wilstone, web site is a reasonable modern account, and I would not want to comment without studying the contemporary accounts - except to say that I know there are problems of interpretation in later accounts which may well reflect contradictions in the mid 18th century records.
However I can comment on the local geography. The starting point must be the 1766 map of Hertfordshire by Dury & Andrews, which show part of the rural part of Tring parish.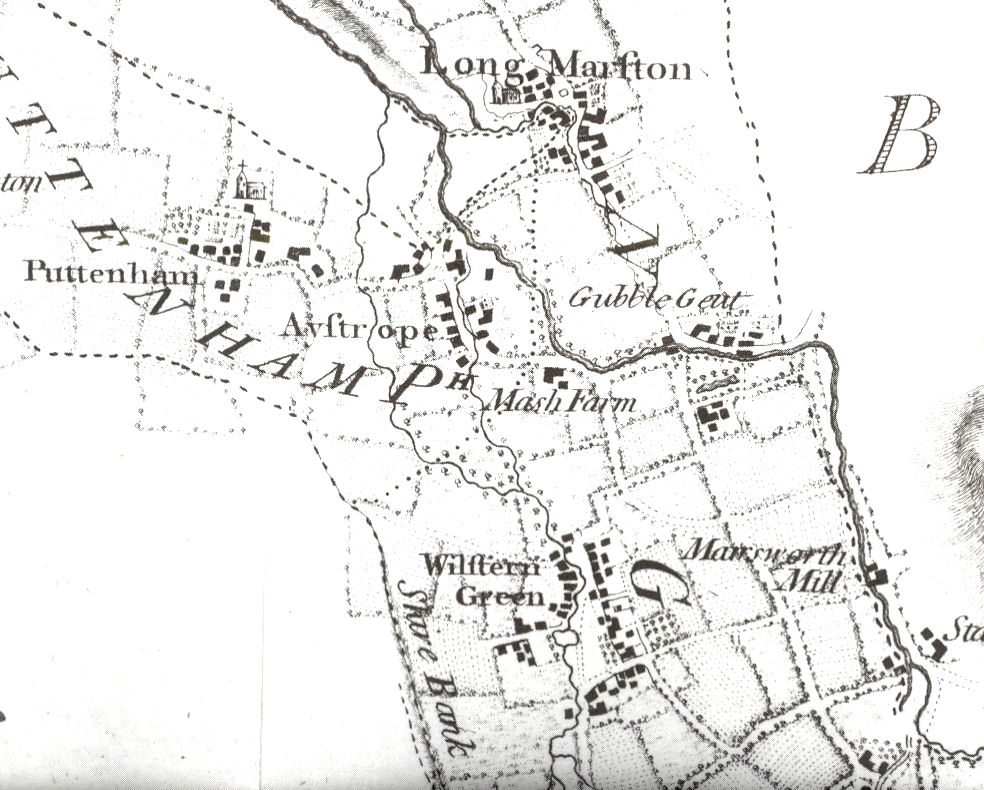 While the town of Tring (to the south of the area) is on the edge of the Chiltern Hills the area which includes Wilstone (Wilstern Green), Astrope (Aystrope), Gubblecote (Gubble Gent) and Long Marston are geologically part of the Vale of Aylesbury and very flat, and very wet. (Note Marsh Farm!) Any ponds would have been widened point of the streams that crossed the area There are no ponds shown on the larger stream (the headwaters of the River Thame) which runs through Gubblecote. There is one pond shown at Wilstone Green, and this is close to the spot where the much more recent St Cross Church now stands. The nature of the area of the church is such that there are no burials in the churchyard as the water table is too high and if you tried to dig a grave the hole would immediately fill with water. For this reason there is a rural graveyard on slightly higher ground about a mile to the south.
Since 1766 the drainage of the area has been modified by the building of the Grand Junction Canal (now called the Grand Union Canal) and in particular the Wendover and Aylesbury Arms. together with the building of the vast Wilstone reservoir (just south of the area shown in the above map). In addition changes have been made to drain the land to make it easier to farm.
I cannot say for certain that the pond in Wilstone Village is the one where Ruth Osborne was drowned but it is the only candidate on the best almost contemporary map.
As to churches Long Marston church (now only the tower remaining, the more recent All Saints - on better drained ground - being a replacement) was a chapelry of St Peter & St Paul, in the town of Tring, Puttenham church was at the time a separate parish. I am uncertain of the location of Tring's workhouse.