Randall connections with Watford and Canada, Early 20th Century

May, 2013
I helped Marina (marina3290 @t telus.net) of British Columbia, Canada, with her Potton relatives some time ago and she recently wrote
I have enjoyed your genealogy site so much and have found more items related to my family. You have helped me with my Potten ancestors and thanks for getting me in touch with Linda a while ago, who has a relative in common with me. She was able to help me with some really interesting stories about Rev. Henry Potten who I had always wondered about, so very much appreciated.

My Randall ancestors were all bricklayers from Buckland Common, Buckinghamshire from at least 1795 until my gr-grandfather Reuben Randall (who was married to my Gr-Gran, Dora Potten), came to Canada in 1899 when he was 15. He arrived in Montreal by ship from Liverpool and met his older brother and they rode the train (mostly illegally!) and walked all the way to British Columbia to work at the Coldstream ranch in Vernon.
Buckland is a very strange shaped parish, perhaps four miles long and on a hundred yards or so wide in places, with the parish church being in the Vale of Aylesbury linked by a thin strip of land to Buckland Common - on the top of the Chiltern Hills. I am not surprised with the Randall connection with bricklaying as there were many brickworks on the top of the Chilterns in the area. There was a brickworks at Cholesbury (next to Buckland Common) which only closed in the last 50 years, and when walking my dog some years ago I discovered the remains of extensive brick pits on Tring Common, on the Hertfordshire side of the county boundary. The brick works at Bovingdon, Herts, south-east of Ashley Green, is also in Hertfordshire, and is still making bricks.
I found a postcard on the page titled Abbots Langley that had been addressed to Miss Edie Randall who was my Great Aunt! Reuben's sister. She came to Canada and lived at Coldstream Ranch with her brother Reuben and their mother Emma (Thorn) Randall (who was from Hawridge). Edie married and lived out her days in Canada. Her sister Gussie was probably the writer of the postcard.
The card she refers to is this one, of Abbots Langley, and I sent her a copy of the back of the card
I added that in 1901 the occupants of 45 St Mary's Road, Watford were Charlotte Bray (52, married, born "Harridge" [pronounced Harridge, written Hawridge], Bucks) and four children. John (22, bricklayer's labourer) and Sarah (19) had been born in Chesham, Bucks) while the 11 year olds, Alice and Nellie, had been born in Watford.
Offa is an extremely rare Christian name so I attempted to identify him. His parents were apparently John Hawes and Jane Redding, whose marriage is recorded in the Amersham, Bucks, registration district in April-June 1878. The birth of Offa Alaric Hawes was registered at Amersham, Bucks, April-June, 1884. In 1891 John (42, bootmaker), Jane (35) and a large family, including Offa (7) - all born in Chesham), were living in Ashley Green, Bucks (on the Hertfordshire border near Berkhamsted). By 1901 John was a widower and the family had moved to 53 Shaftesbury Road, Watford. Offa A Hawes departed for Halifax, Canada on 17th March 1904 on the Allan Line ship Ionian, apparently married with a wife - but I can't find the marriage.
Marina replied, sending a number of relevant photographs:
Hello Chris, so nice to hear from you with all the information on the postcard that was sent to Edie Randall. I am hoping to be able to send on the information to some of Edie's descendants, so thank you so much for that!!

I have spent some time looking through all my information, looking for a link to Offa. So far I have only found that he was born the same year and place as my gr-grandfather Reuben Randall, 1884 in Chesham.

The writer of the postcard, Charlotte Bray was my gr-gr-grandmother Emma (Thorn) Randall's sister. So Charlotte would have been sending a message to her niece Edie

One other interesting thing, I knew that I had seen Charlotte's return address, 45 St. Mary's Rd. Herts somewhere before. As I was looking through all my paperwork, I found that while Reuben was in the war, my Gr-grandmother Dora (Potten) Randall, who I have written to you about before, gave her address as his next of kin, the same 45 St. Mary's Rd. Watford, Herts.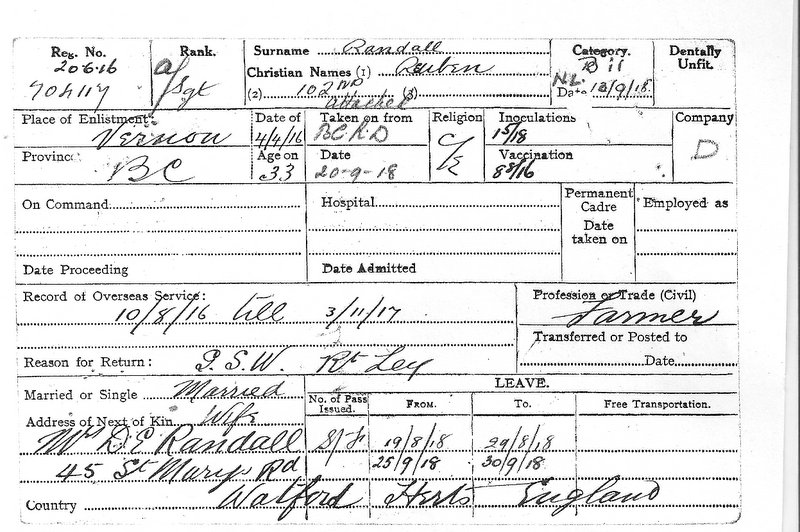 Reuben Randall in 1916 - In the middle of the back row in picture taken at Apres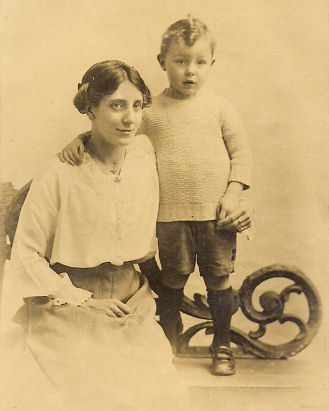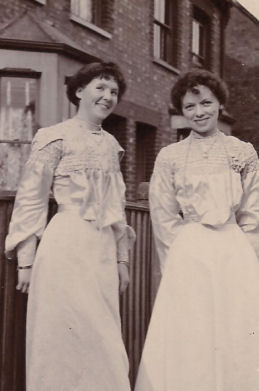 Reuben and Dora had only one child, my Grandpa Ivan Randall. He told me that when his Dad, Reuben went to the war he was only 3. He and his mother Dora, went to England and stayed with various relatives. One of the places they stayed was with Reuben's aunt Charlotte, and they also stayed with Dora's brother Rev. Harry Potten in Swindon Wilts. The picture dates from this period.
The other picture is of Edie (to whom the card was sent) and her sister Gussie
I suppose Offa could have been a friend or cousin somewhere down the line. I looked up his address on Google Earth and it wasn't too far from the St. Mary's Road address.

These are pictures that were in my Grandpa's collection that were from Watford area I think. May look familiar to you?

This is definitely Ironbridge Lock (Number 78) on what was then known as the Grand Junction Canal where it runs through Cassiobury Park, Watford.

This scene, with children by the side of a canal, with thatched cottages in the background, could well be somewhere on the Grand Junction Canal in Hertfordshire but I don't recognise it. Do You?

This has now been identified as the Queen's Head, Pinner.

This is a view of Thames with Windsor Castle in the background - and definitely not Hertfordshire
February 2015
Mrs Allen writes from Berkshire: :My husband is also a descendant of Randall-bricklayers of B Common+ unbelievably I also had relative sent to Canada as homechild in 1907 and ended up in 102nd CEF - same regiment as Reuben Randall. I know that Reubens descendant has put his photo on 102nd CEF website-so have I for mine - Abraham Abel, both in same regiment signed Vernon same time and also both on Coldstream ranch. Not sure if you know of 102nd CEF website but I'm sure that the army photo you have online of Reuben is that regiment, my relative though is not in photo with him.
If you can add to the information given above tell me.
| | | |
| --- | --- | --- |
| Jamuary 2013 | | Page created |
| February 2015 | | Update |