Marina
(
marina3290 @t telus.net
) of British Columbia, Canada, writes:
I have found that my Great-Grandmother Dora Potten was from Watford, Christened at St. Andrews Nov 9, 1890. We never knew she came from such a large family, she was the youngest of 10 or 11 children. Her parents were Thomas and Ellen Potten. In the 1881 Census their address was 4 Sutton Road, in Watford. I am wondering if this location is still residential. I sent a letter to the address hoping for information but it was returned ' incomplete address '. Would love a photo of the area for my history book.
Also her oldest brother was Rev. Henry Thomas Potten b. 1868 (sometimes called Harry) and he was the author of 2 or 3 books about religious freedom approx. 1905. Any information about him would be great.

I include details from the 1881 census for reference purposes
| | | | | |
| --- | --- | --- | --- | --- |
| Name | Relation | Age | Birthplace | Occupation |
| Thomas POTTEN | Head | 34 | Elstree | Gardener |
| Ellen POTTEN | Wife | 33 | Bushey | |
| Henry T. POTTEN | Son | 13 | Bushey | Garden Boy D |
| Anne E. POTTEN | Daur | 12 | Aldenham | Scholar |
| Richard A. POTTEN | Son | 10 | Aldenham | Scholar |
| Ellen M. POTTEN | Daur | 8 | Aldenham | Scholar |
| Mary S. POTTEN | Daur | 7 | Aldenham | Scholar |
| Catherine F.A. POTTEN | Daur | 5 | Aldenham | Scholar |
| Emma L. POTTEN | Daur | 4 | Bushey | Scholar |
| William MOTLEY | Lodger | 21 | Nighton Bear..ckett, Dorset | Gardener |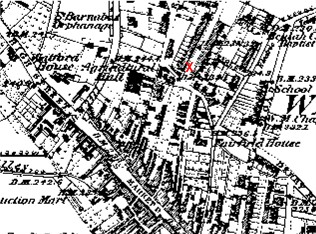 The map shows the area from the 1877 large scale
Ordnance Survey
map - which may be obtained online from
oldmaps
. The red
X
shows the approximate position in
Sutton Road
, which was part of a housing development between
Watford High Street
and the railway line, built by
Thomas Henry Sutton Sotheron Estcourt
(1801-1876) circa 1870 (
Street and Place Names in Watford
).
In 1964 a plan was drawn up to produce a ring road to keep traffic out of the High Street and there is now a modern dual carriage way passing the now blocked off southern end of Sutton Road. Without visiting the site I cannot be certain - but I suspect that several of the lower number houses - almost certainly including the Potten's house, were demolished then. Information on the developments (which does not mention Sutton Road) is available at www.watford-history.co.uk.
The 1881 census shows that the family had previously lived at the nearby village of Aldenham, and the older members are listed in the 1871 census:
| | | | | |
| --- | --- | --- | --- | --- |
| Thomas POTTEN | Head | 24 | Gardener | Elstree |
| Ellen POTTEN | Wife | 23 | | Bushey |
| Henry T POTTEN | Son | 3 | | Bushey |
| Anne E POTTEN | Dau | 2 | | Aldenham |
| Richard A POTTEN | Son | 4 months | | Aldenham |
The order of properties listed are:
Fishery Inn - Henry Hicks - Carpenter & Publican
Berkley Cottage - Maria White (servant) - Cook [presumably the owner was away)

Garden Room -

Thomas Potten

- Gardener

Caldecot House - Walter Drummond - Independent Income
The 1882 Kelly's Directory lists Charles Palmer Phillips as the occupier of Berkeley Cottage. It is not clear whether the "Garden Room" was associated with Berkeley Cottage or Caldecot House. If you get Dora's birth certificate it should provide the family address in 1890 - which should help find them in the 1891 census.
I couldn't spot Henry Thomas Potten in England in the 1901 census (could he have been working overseas as a missionary?). Two different books are listed under his full name in the British Library catalogue and the title of one, The Strife for Religious Liberty as illustrated in the history of Congregationalism, suggests he was a minister of the Congregational Church. I can only really help further if you have evidence he was still in Hertfordshire.
Following a further brief query from Marina I checked the 1911 census, which had not been available when I first looked at this family. Henry Thomas Potten was a 43 year old Congregational Minister, born Bushey Heath, living in Chesterfield, Derbyshire, with his wife and two children born circa 1895 and 1899 at Whiteabbey, Belfast, Co. Antrim, which suggests that he may have been in Ireland at the time of the 1901 census. Marina comments that he later moved to Brighton.
Marina wrote :
I have enjoyed your genealogy site so much and have found more items related to my family. You have helped me with my Potten ancestors and thanks for getting me in touch with Linda a while ago, who has a relative in common with me. She was able to help me with some really interesting stories about Rev. Henry Potten who I had always wondered about, so very much appreciated.

My Randall ancestors were all bricklayers from Buckland Common, Buckinghamshire from at least 1795 until my gr-grandfather Reuben Randall (who was married to my Gr-Gran, Dora Potten), came to Canada in 1899 when he was 15. He arrived in Montreal by ship from Liverpool and met his older brother and they rode the train (mostly illegally!) and walked all the way to British Columbia to work at the Coldstream ranch in Vernon.

I was looking at your postcards and really enjoy looking at all the places in Hertfordshire and surrounding areas. I found a postcard on the page titled Abbots Langley that had been addressed to Miss Edie Randall who was my Great Aunt! Reuben's sister. She came to Canada and lived at Coldstream Ranch with her brother Reuben and their mother Emma (Thorn) Randall (who was from Hawridge). Edie married and lived out her days in Canada. Her sister Gussie was probably the writer of the postcard.

I seem to always find something interesting on your site. I am also enjoying all of your information on Bricks, and the areas where the Potten's and Randall's were from. Thanks so much for all the great information. Your website is one of the very best I have looked at, easy to get around and just so much to look at!!
Fir a full reply and follow up see Randall Connections with Watford and Canada, early 20th Century
February 2016
Thomas Potten (1846-1901)

by Albert Warren of Watford

Ellen (Archer) Potten (1848-1906)

by Fred Downer & Sons of Watford
See Thomas Potten and his employer, Walter Drummond of Caldecote House