IND, Baldock, 18th century

August, 2013
Miriam Dixon (mim @t dranse.com) of Lancing, Sussex, writes: I am trying to trace the lineage of JAMES IND (Born 1753 died 1810). He was a prominent brewer/maltster in Hertfordshire. He married Mary Thurgood on 17/12/1778 in Baldock. They had ten children - Edward, Anne, Mary, Sarah, James, Elizabeth, Hannah, Louisa, Charlotte and Emma. His eldest son Edward was the "Ind" in the brewer Ind Coope. My information so far has been obtained from Ancestry and Find my Past but I am unable to trace James back any further than his birth in 1753,
As the Ind family of brewers of Baldock will be of significant interest to many visitors to my web site I will start by giving a summary of what is already published about them in Brewers in Hertfordshire, much of which you undoubtedly already know.
| | | |
| --- | --- | --- |
| This brewery was on the corner of White Horse Street and Clothall Road. There were also maltings (one or two) that may have been on the brewery site and/or on the opposite corner of the crossroads behind the Talbot. James Ind had established this brewer during the late 1700s. He is reputed to have first brewed behind the Rose and Crown also in White Horse Street and lived in a house on the site of Pen fold's furniture shop. In 1792 he bought the Rose and Crown at Ashwell with a small malting in the yard. Besides brewing for the tied estate, he also sold considerable quantities of beer directly to some private customers. His bill to the Reverend Sparhawke of Hinxworth for six months to May 1797 is an example of this type of business undertaken by many brewers at this time but not very well documented [detail of bill given in the book]. However, he died in 1810 and his son James who inherited the brewery died only a year later in 1811. Another son Edward decided to initially lease the tied estate to John Pryor as he already had a major interest in a brewery in Romford and did not wish to retain the brewery in Baldock. Soon afterwards he decided to sell all parts of this business to John Pryor with the proviso that his mother, Mary Ind, could live in the brewery. | | Breweries in Baldock |
James Ind's tied estate consisted of the following public houses
Herts
Ashwell
Rose and Crown
Buntingford
Fox and Duck
Clothall
Barley Mow
Great Munden
White Lion
Hinxworth
Three Horseshoes
Sandon
White Swan
Shephall
Red Lion
Stevenage
White Lion
Watton at Stone
George
Beds
Dunton
Boot
Langford
Three Tuns
Potton
Green Man
White Lion
Red Hill
Swan
Southill
Red Lion
Stotfold
Chequers
Wrestlingworth
Three Horseshoes
Cambs
Bassingbourn
Hoops
Melbourn
Red Lion
This all suggests that James was a very well-to-do businessman and this is supported by the 1798 land tax records and Hertfordshire poll book records as early as 1784 (on Ancestry). He is listed in the Universal British Directory of 1794 as a farmer, maltster and brewer of Baldock. It is worth noting that there are also Cambridgeshire poll book records from 1780 which lists a James Ind of Ashwell who owned property in Melbourn, Cambs (?was this the Red Lion pub?) and another which lists a James Ind of Fenstanton at the earlier date of 1768.
FindMyPast also includes a reference which relates to his wealth. The Northampton Mercury of 21st March 1801 reported: On Tuesday se'night, about seven o'clock in the evening, as William Lee, servant to Mr. James Ind, was returning from Hitchin to Baldock, he was met by two footpads, who robbed him of twenty pounds in bank notes, and also stole his horse.
=====
In carrying out any genealogy research (particularly if you are over-reliant on online records) it is very easy to get names muddled (even if the surname is uncommon - see Right Name, Wrong Body) and to overlook factors such as the inheritance of given names and the importance of social status. The above suggest that James came from a family with some money and social status, at the trader/larger farmer level, but not at the level of the nobility or major landowners, so one would expect his parents to have a similar status.
As you noted there is no immediately obvious birth/baptism record of James Ind in the Baldock area on the Ancestry and FindMyPast web sites - but it is important to remember that these are competing commercial sites and both vie to give the impression that they can provide all the data you need about your ancestors. They are appallingly bad at warning you when you don't get a positive answer. Often a negative simply indicates that they don't have access to the relevant records. They also never tell you when relevant information is available free elsewhere - such as on the very useful familysearch web site.
You quote a precise birth year for James Ind, which I note corresponds to an amateur family tree that has been posted on Ancestry. You should realise that sites like Ancestry allow anyone, however incompetent, to post family trees on their web site, and you should ignore all such trees until you have checked them out in detail yourself and shown that they are correct. The James Ind entry has is very vague, has no supporting sources for anything, and the best that can be said for it is that it is a wild guess which might be approximately correct. One of the real dangers of the internet is that it has millions of incorrect family trees, containing uncertainties, guesses and sometime catastrophic errors. Other people find these trees, assume they are correct, and copy the information to their own tree. (see The Dangers of Internet Genealogy)
In trying to find James's birth and parents it is important to realise that at this stage we don't know when (or where) he was born from reliable contemporary records. As you may have noticed when you looked at the records no age at death is given in the burial records entries at Baldock (on FindMyPast) for either James senior or James junior. (Recording age at death in Church of England registers only started in 1813.) The brief press reports of the deaths (FindMyPast) are no help:
On Wednesday last died Mr. James Ind, brewer, of Baldock, Herts, leaving a wife and ten children to lament the loss of an affectionate husband and an indulgent parent. Bury and Norwich Post, 5th December, 1810

Yesterday se'night as Mr. James Ind, son of the late Mr. James Ind., of Baldock, Herts, was riding in a gig, the horse became restive, and threw him out, by which unfortunate accident he was killed on the spot, to the great grief of his disconsolate mother and surviving friends. Northampton Mercury, 13th July 1811
It may be that there are records of his age from a tombstone as Cussans reports that there were Ind graves in Baldock churchyard in 1878 (but did not give details). In recent years memorial inscriptions at Baldock were recorded by the Herts Family History Society but I cannot be certain that the Ind stone(s) survived in a readable form at the time the Society did their survey, although they may have had some information collected by Gerrish about 1900. You may well want to get the Baldock booklet and check this out for yourself - as this could well be the best source to confirm age at death, and hence, year of birth.
It is useful to identify villages in Hertfordshire where other members of the Ind family lived in the mid 18th century. Searches for baptisms on Ancestry, FindMyPast and familysearch all prove negative. An alternative source is a very useful Hertfordshire Militia Ballot Lists CD produced by the Herts Family History Society which will allow you to determine which surnames occurred in which parish in Hertfordshire in the later part of the 18th century and if you search this for the surname IND you get the following results.
| | | | | | |
| --- | --- | --- | --- | --- | --- |
| 1778A | James | IND | Baldock | Clerk | |
| 1778D | James | IND | Baldock | Clerk | Mr |
| 1779 | James | IND | Ashwell | Brewer | Mr |
| 1781 | James | IND | Ashwell | Brewer | |
| 1782 | James | IND | Ashwell | Brewer | |
| 1784 | James | IND | Baldock | Brewer | |
| 1785 | James | IND | Baldock | Brewer | |
The first thing to note is that there is only one name, and this occurs in only two parishes - and is compatible with a Mr (i.e. someone with social status) James Ind coming to Baldock (probably as a comparatively young man), moving to Ashwell (this ties in with the 1780 reference to Cambridgeshire poll book mentioned above) and then back to Baldock where he was a brewer. As men with large families were exempt from the militia the absence of any entry after 1785 could fit in with the growing number of children in your James Ind's family. In addition the absence of anyone else called Ind in the whole of Hertfordshire could indicate that James was not a member of the Hertfordshire family and we need to look elsewhere for his birth and parents.
A good reliable starting point is the Baldock marriage register entry (from FindMyPast) for 1778.

There are a number of points to note:
It says "James Ind of the parish" but this means not more than that he was living there at the time of the wedding. Many beginners seem to assume that if a marriage registers says "of this parish" it means the person was born there. Often they were from the parish, especially if the family was poor, but those with money were more mobile.

I have not explored Mary Thurgood's ancestry but the Thurgood family were a prominent Baldock family at the time with memorials in Baldock church. This would fit in with James having some social/financial status at the time of his marriage.

The marriage was by licence - which was common when the well-to-do married as it removed the need for the banns to be publically called out before the "common people" at the church on the preceding sundays. However it was also used if the couple were comparatively young and needed parental permission to marry.

Because the marriage was by licence the couple must have been at least 16 years old - and the groom was therefore probably somewhere between 16 and 35 years old - but could have been even older. This means we will need to look for a James born between about 1745 (but could be earlier) and 1762.

The groom, bride, and witnesses were at least educated to the point of being able to write their own names in a firm hand. Another indication the couple and their families were probably not poor. If you look at the complete page, and not just the Ind entry you will see that many people could only make a mark, and a lot of the signatures are poorly written, suggesting the person could not read and write.

Witnesses were often relatives of the bride or groom. However sometimes a church warden, etc., would act as a witness, and such people can usually be identified because they act as witnesses to several different weddings. A check of several pages on either side of the Ind wedding shows the witness names do not reoccur.

George Hoye is (as judged by the signature) the George Hoye (wrongly indexed as Hoge by FindMyPast) of Gilden Morden, Cambridgeshire, who married Ann Harris of Baldock in Baldock in 1774. It is not immediately obvious whether either George or his wife were related to either the Ind or Thurgood families.

Robert Ind was almost certainly a relative of the groom - most likely a brother, but could be his father or an uncle or cousin. Finding out who Robert Ind was could lead to finding James Ind's parents!
At this point it is appropriate to turn to the very useful free web site, familysearch, which Ancestry and FindMyPast never tell you about! A search reveals the following facts:
A Robert Ind married Ann Ralph at Witton, Huntingdon on 10th September 1749.

Robert and Ann had a son James who was christened at St Ives, Huntingdonshire, on 2nd January, 1754.

This James had a brother Robert who was christened at St Ives, Huntingdonshire, on 27th November, 1756

Young James and brother Robert were both non-conformist baptisms (NOT at the parish church) and sometimes non-conformist registers contain much extra information not found in Church of England parish registers. So it could be useful to get sight of the original register (on microfilm) to see what else it says about the Ind family.

Robert was probably the Robert Ind who married Biddy Burrill at St Mary the Great, Cambridge, on 9th January 1787. If this is the right the witness could be either James's father or brother and it would be worth getting copies of the 1749 and 1787 marriage register entries to compare signatures with the 1778 register entry displayed above.
A quick check of the Newspaper index on FindMyPast for Robert Ind of Cambridge has many references to the Millinery and Drapery business run by a Robert Ind in Cambridge and the following entry, which includes an age at death, suggests that he was the right Robert Ind.
DIED: On Sunday evening, aged 62 years, Mr Robert Ind, of this town. He was struck with an apoplectic affliction in the morning of that day; in an hour he became insensible, and continued so till eight o'clock in the evening, when he expired, deeply regretted by his family and friends. Cambridge Chronicle, Friday 5th November, 1819.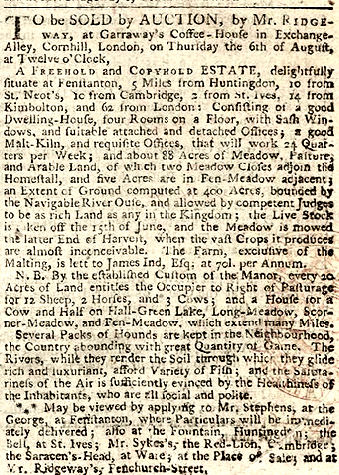 Because the family was well-to-do, and owned property, other records will probably have survived and a quick check revealed the following (but there are probably others if you look for them.
So what have we got so far?
We have a James Ind of Fenstanton in 1768 and 1778 who might be the grandfather or uncle of James Ind, brewer, of Baldock. and you will need to search in Cambridgeshire and Huntingdonshire records to find more. This could mean chasing down manorial records and other manuscript documents by actually visiting the archives where they are kept.

You have the marriage of Robert Ind and Ann Ralph in 1749 - and their children includes James Ind (who went to Baldock) and Robert Ind (who went to Cambridge) - and there may be other children. I have made several references to documents where you could check this out further. Wills could be important as they can sometimes refer to property that has been in the family for generations, and you can then trace earlier generations by tracing the history of the property.

You potentially have a problem. The baptisms of James and Robert are recorded in a nonconformist register - and if earlier generations were also non-conformist it is very likely that no earlier birth/baptism records survive (see Where to look before 1837 when the Parish Registers don't help). It may therefore be difficult to determine the link between the James and Elizabeth Ind of Fenstanton and the Robert Ind who married in 1749. However there may be relevant information in the non-conformist St Ives register which includes the 1754 and 1756 baptisms, as such books sometime contain other matters relating to members of the congregation. It is therefore important that you see the register (on microfilm) and have a good look at it - and not just the pages on which the baptisms are recorded.
Clearly much of your research will not involve Hertfordshire - and for information on the relevant genealogy resources see the GENUKI pages for Cambridgeshire and Huntingdonshire. It is possible that you could find some more information on the Brewery History Web Site. If you are in London it might be worth spending a day in the Society of Genealogists Library.
See also Brewers and Maltsters of Baldock, Early 19th Century