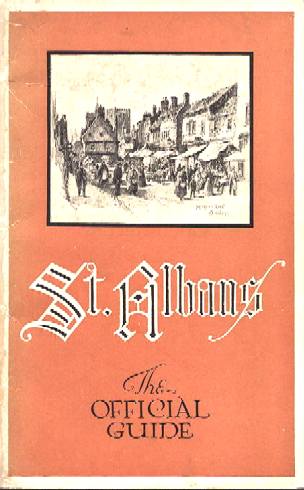 Books on Hertfordshire
St Albans
The Official Guide
undated - circa 1923
This is an excellent guide to the city - with plenty of information about the Abbey, and outlines on other features of historical interest. It includes a fair number of line drawings and some photographs, There are adverts for many local firms - and brief details of the following local firms:
A. E. Massey, timber merchant, London Road

Horace Slade & Co. Ltd., Straw Hat and Cardboard Box Manufacturers, Victoria Street

Wiles & Lewis Ltd., Suet Manufacturers and Fats Specialists

Edwin Lee & Sons Ltd., Wholesale and Export Boot and Shoe Manufacturers, Grosvenor Road

Ryder & Son (1920) Ltd., Seed Merchants

John Freshwater & Co. Ltd., Wholesale and Export Boot and Shoe Manufacturers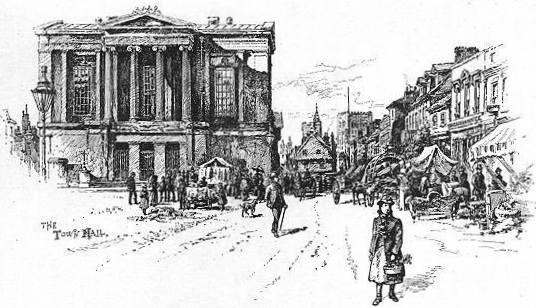 St Albans Town Hall by F. G. Kitson
Dating the Guide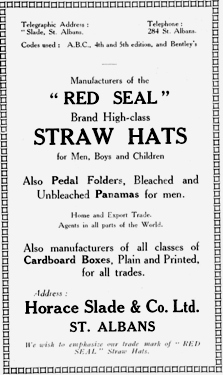 The latest date mentioned in the guide is 1921 and it is clearly published before the Second World War. The cars in one of the photographs are probably not later than about 1920. I therefore decided to check the advertisements against the St Albans Street Directories in the St Albans Library.
A first check, against 1928, showed that while most of the firms advertising in the guide were listed - but there were some discrepancies - both in terms of missing names and products. For instance in the Guide Horace Slade made straw hats and cardboard boxes, but by 1928 he was no longer selling straw hats.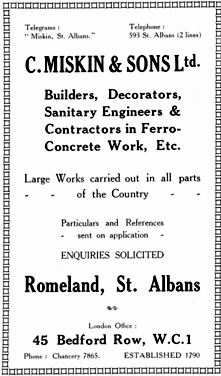 A second check, against the 1922 directory was an almost perfect match. The only advert for which no directory entry was found was T. H. Fuller, pastry cook and confectioner, of 143 Victoria Street.
A check against the 1923 directory showed no directory entry for J. L. Gillgan, watchmaker, etc., of 5, St Peter's Street and no entry for T.H.Fuller - although her turns up for the first time in 1924.
On this basis the Guide was almost certainly published about 1923.
There is a web page for St Albans
Page updated April 2007