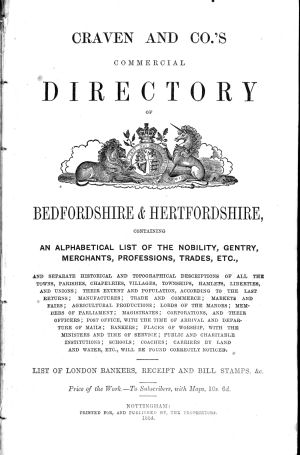 Craven and Co's
Commercial
Directory
of
Bedfordshire & Hertfordshire
containing
An Alphabetical List of the Nobility, Gentry,
Merchants, Professions, Trades, Etc.,
and separate historical and topographical descriptions of all the
towns, parishes, chapelries, villages, townships, hamlets, liberties
and unions, ... ...
1854
This content of this directory is very similar to that of the Post Office Directory of 1851 but it is organised in a very different way. For instance there is a long description of St Albans; list of clergy & gentry; alphabetical list of traders; a classified list of trades; short descriptions of nearby villages; then for each village alphabetical lists of gentry and traders.
The descriptions appear to be modified versions of the text of the Post Office Directory (presumably without permission) - but the lists of gentry and traders are more detailed and have clearly been updated. There are also a large number of advertisements at the end of the volume.