Ephemera

George Austin's Cash Book
Solesbridge Paper Mill, Rickmansworth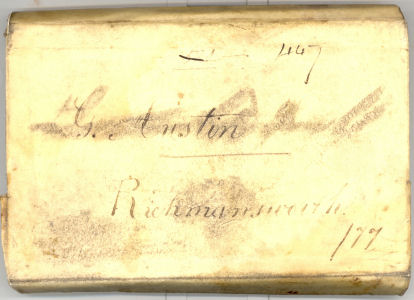 I recently purchased a small pocket account book on ebay that had belonged to George Austin of Rickmansworth. George Austin (1820-1891) was the son of a Rickmansworth papermaker, James Austin, and was living at Solesbridge Mill in censuses between 1841 and 1881. In 1871 he was described as a paper maker employing 9 men, 3 boys and 15 women. For this reason he can be considered to be a significant paper maker runing one of the area's paper mills.
It was a pretty standard cash book mounted in a folding leather cover on which the words George Austin, Rickmansworth, /77 have been written.
Inside the back cover of the cash book the following words have been written in a bold hand:
H.J. Austin
Cash A/c
Jany 1, 1878
The first four pages have been drawn up as an index and the expanded names and occupations given below have come from the best fits in the 1878 Post Office Directory for Hertfordshire.
[names in italics have pages but were not included in the index]
Adams John, confectioner, Queen Street, Watford

Additer John, grocer, 218 High Street, Watford

Andrews, Lower Marlowes, Hemel Hempstead [Not Found]

Bailey & Goodson, grocers, 78 High Street, Watford

Brackett Joshua, bookseller, stationer & printer, High Street, Hemel Hempstead

Beckley James, baker & confectioner, Queens Road, Watford

Brightman, Chipp[erfield] [ p 35] [not found]

Clark Thomas, grocer, 61 Sotheron Road, Watford

Coleman, Hemel Hempstead [not found]

Cullingford, Hemel Hempstead [not found]

Carter, Hemel Hempstead [not found]

Clark, Dunstable [Bedfordshire]

Downer David, hair dresser & stationer, 97 High Street, Watford (or Frederick Downer, photographic artist, same address)

Dexter, Bushey [not found]

Davis William, confectioner, Marlowes, Hemel Hempstead

Dell William Henry, grocer, 139 St Albans Road, Watford

Emery John, grocer, 252 High Street, Watford

Easton John Charles, grocers, 157 High Street

Foxwell Charlotte (Mrs), shopkeeper, 73 St Albans Road, Watford

Gillis, Uxbridge [Middlesex]

Kempster Edwin, shopkeeper, 77 Sotheron Road, Watford

Kempton Thomas Tyerman, grocer, 115 High Street, Watford

King, Uxbridge [Middlesex]

Lyne Thomas, grocer, High Street, Rickmansworth

Lambert, Uxbridge [Middlesex]

Lucy, Uxbridge [Middlesex]

Lister, Two Waters, Hemel Hempstead [not found]

Mason Frederick, general printer & publisher of the "Hemel Hempstead Gazette," High Street, Hemel Hempstead

Oxford, Hemel Hempstead [Page 33]

Peacock Samuel Alex, printer, Queen Street, Watford

Pupland, Watford [not found]

Peek, Hemel Hempstead [not found]

Pearce, Hemel Hempstead [Several ?]

Pritchard, Prichard, Hemel Hempstead [not found]

Palmer, J [Page 26]

Pettit, Aylesbury [Page 53]

Sear, Watford [not found]

Seabrook Daniel, grocer, Sotherton Road, Watford

Spencer Walter Thomas, stationer, bookseller & newsagent, 117 High Street, Watford

Slatter John, confectioner, High Street, Hemel Hempstead

Tratt, Queens Road, Watford [not found]

Wittey William Alfred, boot & shoe maker, 46 High Street, Watford

Wise George, Grocer, Loates Lane, Watford

White, Hemel Hempstead [several possible]

Wharton, Hemel Hempstead [not found]

Warren, Apsley End, Hemel Hempstead [not found]
Most accounts were small, involved a single sale, and only occupied the top few lines of the page. Many of the sales were to grocers and small shopkeepers and were possibly for paper used for wrapping up goods. The biggest purchasers were:
| | | | |
| --- | --- | --- | --- |
| Purchaser | Goods supplied | Total Paid | Notes |
| Mr Mason | December 1876-February 1877 | £19.6.6 | Publisher of the Hemel Hempstead Gazette |
| S.A. Peacock | August-November 1877 | £16.13.8 | Publisher of the Watford Observer |
| J. Palmer | October 1876 | £8.15.6 | ? |
| Mr Emery | July-December 1876 | £5.8.4 | Grocer, High Street Watford |
The book has /77 on the cover was only used for a short period, with the late 1876 entries perhaps having been brought forward and the last regular entry appears to be March 1877. Shortly after it had ceased to be used for its original purpose the book found a very different use starting in 1878 - using the space at the bottom of used pages as the following page from 1881 shows.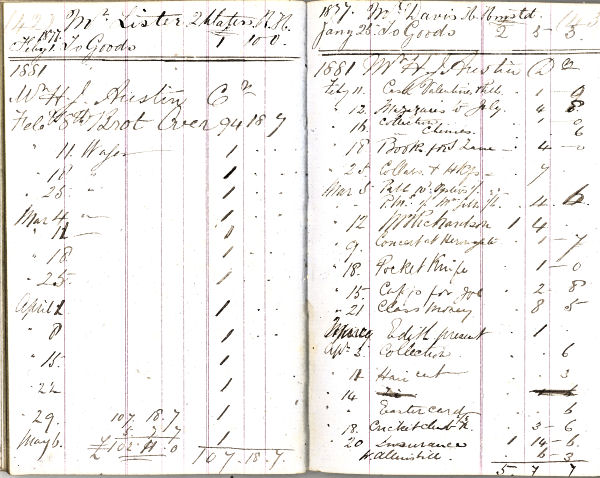 And here are details from another page in 1880

What is going on? On the right hand pages wages are being paid into a "fund" starting at 15/- a week in January 1878 rising to £1 a week for the last payment in November 1882. On the other pages miscellaneous expenses are being deducted. These include payments for a holiday to Ramsgate in October 1880 and a Valentine's card in February 1881. On other pages there are payments for classes - which could be fees for an evening class - gifts to named people (a doll for Ethel cost 2/9 in February 1880) clothing (a new coat cost £4.4.0 in July 1880 and a new black suit cost £3 in April 1879) and a regular subscription to a magazine (Methodist Monthly Magazine). A few months after the wages stop there is a payment of 15/- for a wedding cake and £5 worth of furniture was purchased from Wedbale's of Luton.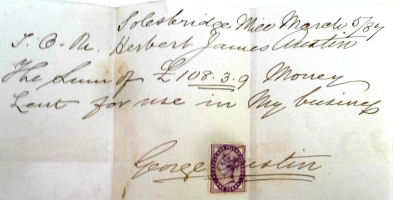 H. J Austin would be Herbert James Austin (born at Solesbridge in 1858) who was working as an assistant for his father, George Austin, at Solesbridge Mill at the time of the 1881 census. When Herbert was 19 George started to credit Herbert with a weekly wage into a fund, and whenever Herbert asked his Dad for some extra money this would be deducted from the running total. Interest was paid and money taken out for insurance. A promissory note (also advertised on ebay) relates to the final balance and the money was clearly being treated as a loan by Herbert to his father for use in the business. It was never cashed, presumably because George Austin is reported as going bankrupt in 1888.
~~~~~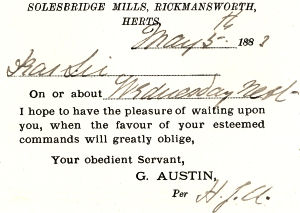 With the cash book came a letter, from Herbert's older brother George Austin who (in 1881 and 1891) was manager at the paper mill at Mill End, Rickmansworth. It is dated 6/3/83 and wishes Herbert a happy birthday, and apologises the the nice present which should have accompanied it will follow later.
There was also a note on a pre-printed form relating to a business visit to a customer.
~~~~~
Source Information:
The cash book was purchased on ebay in August 2014 from bitsnpiecesatc2011 with the following description:
This is a piece of ephemera that has come out of two boxes job lotted together at auction that will be listed. A cursory run through gives a sense that the time lines are from mid 1870'sto the late 30's,some later including WW2 emergency issue pound note. A mixed lot with a couple of main players one Herbert I Austin and his enterprise a paper manufacturer Bledlow Bucks - Joseph W Taylor I believe a associated with the Wesleyan Methodist church and descendants. A multitude of Financial ephemera including cancelled cheques insurance contracts - Business ephemera between merchants of the day such as B M Tite & sons coal merchants-ephemera connected to the Wesleyan Methodist church - period ephemera such as licences for dogs, carriage, man servant as well as period greeting cards.
At the same time as I brought the cash book several other items were advertised for sale. Not all sold and the advert suggests that more can be expected. The Joseph Taylor mentioned above was Herbert Austin's father-in-law, and the assorted papers probably passed down the line via Herbert's daughter, Sybill Ann Austin (born 1890-1956). She married Marshall Lane in 1923 and they had son, John M A Lane (1931-2013). John married Rita Hawthorne (1930-2003) in Lewisham in 1953, and had two children. As the above documents came on the market in 2014 they probably had been owned by John, who died in Surrey in 2013.
If you can add to the information given above tell me.
| | | |
| --- | --- | --- |
| August 2014 | | Page Created |
| March 2015 | | Info re Herbert's descendants |