A Hertfordshire Hounds Calendar from 1897

with changeable post card programme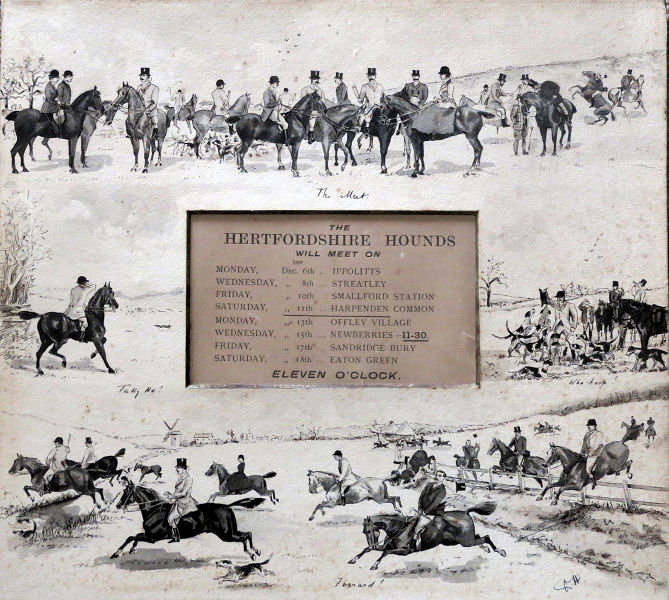 This "Calendar" consists of the hunting scenes printed on a firm card backing, together with a slot which allows you to insert a court size post card (the standard size at the time) which included the current month's hunting timetable. It is not known whether pictures were part of a standard printers catalogue or whether it was produced especially for the Hertfordshire Hunt. This item was kingly donated by Trudi Rintoul, whose grandfather who was a groom and kennelman in Sussex.
The Hertfordshire Hounds

will meet on (1897)

Monday
Dec 6th
Ippolitts
Wednesday
Dec 8th
Streatley
Friday
Dec 10th
Smallford Station
Saturday
Dec 11th
Harpenden Common
Monday
Dec 13th
Offley Village
Wednesday
Dec 15th
Newberries 11-30
Friday
Dec 17th
Sandridge Bury
Saturday
Dec 18th
Eaton Green

ELEVEN O'CLOCK

The post card was sent to J. B. Verity, Esq, Sandridge Bury, [Sandridge] St Albans, and posted from Luton on November 30th, 1897. It was presumably sent from the Hunt's kennels at the Kingsbourne kennels, just north of Harpenden, but over the county boundary into Bedfordshire. For more information see J. B. Verity of Sandridgebury.
If you can add to the information given above tell me.
| | | |
| --- | --- | --- |
| October 2014 | | Page Created |
| | | |