Arkley

The church was built 1840 and became a separate parish in 1905. Since 1965 it has been part of the Borough of Barnet, Greater London
ARKLEY, formerly called Barnet Common, is a chapelry of Barnet, 1 mile west, standing on high ground and commanding extensive and beautiful views which open towards Bedfordshire and Buckinghamshire on the north, while on the south may be discerned the high ground of Hampstead and Highgate and Muswell Hill, with Alexandra Park and Palace. The neighbourhood is studied with pleasant villas, the branch of the Great Northern Railway to High Barnet giving easy access to the City and West End. The old Roman road between London and St. Albans, traces of which may yet be clearly distinguished, passed through the centre of the district, This place has. in pursuance of the "Local Government Act, 1894" (56 and 57 Bict. ch. 73), been formed into a civil parish, and which in 1905 was transferred to the Barnet Urban district. Arkley was formed into an ecclesiastical parish April 14, 1905.
The parish church of St Peter, erected here in 1840 by the late Enoch Durant, esq. of High Canons, Shenley, is a plain building of flint, with dressings of freestone, mostly in a debased Gothic style, consisting of chancel, nave, small transepts, west porch and western turret, containing one bell: in the chancel is a marble monument to the founder: in 1898 a new chancel in the Early English style, with groined oak roof was consecrated: there are sittings for 170 persons. The registers were incorporated in those of the Barnet parish church until 1905. The living was declared a vicarage 14th April, 1895, net yearly value £180, with residence, in the gift of the Bishop of St Albans, and held by the Rev. John Tinson Wrenford.
The area is 830 acres; rateable value £3,869; the population in 1911 was 494.
Post, M.O., & Telephonic Express Delivery Office. -- Spencer Rush, sub-postmaster. Letters from Barnet arrive at 7.30 & 11 a.m. & 3.30 & 7.55 p.m.; Box cleared at 8.5 a.m. & 12.20, 3.25, 6.5 & 7.55 p.m. week days & 8.15 p.m. sundays; no sunday delivery.
Kelly's Directory for Hertfordshire, 1912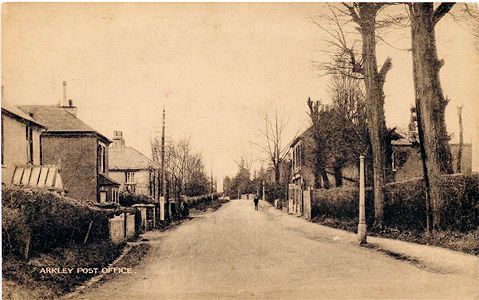 Arkley Post Office
A Vulcan Series card published by S. Rush, General Grocer & Fancy Draper, Arkley, High Barnet

Barnet Gate - The Old Mill
"Cowing series" [Cowing of Barnet] posted in 1907 to a Mrs Lansbury in Barnet Cottage Hospital.


Old Mill, Arkley
[Detail]
Published by J. R. Connor
Back suggests a publication date of about 1903 - but sails are more complete than in the other postcards..

Windmill. North West of [Arkley] Church, off Brickfield Lane. Built probably early in the 19th century. Repaired in 1930. Brick tower-mill. Three sails and fantail. [Pevsner, Hertfordshire, 1977]
At the time of the 1891 census Frederick Edwards (66) was the miller.
Cyril Moore's Hertfordshire Wind Mills and Millers includes a detailed history