Ashridge in the 18th Century

The above picture, publication details unknown, shows Ashridge Abbey before the virtually complete rebuilding in the early 1800s. A similar print is reprinted in A Prospect of Ashridge

The map detail dates from 1766, clearly showing the outline of the pictured building and is from the large scale county map by Dury and Andrews.

The dashed line is the Bucks / Herts county boundary. As can be seen most of the building is in Buckinghamshire.
The house is now a management college and much of the estate belongs to the National Trust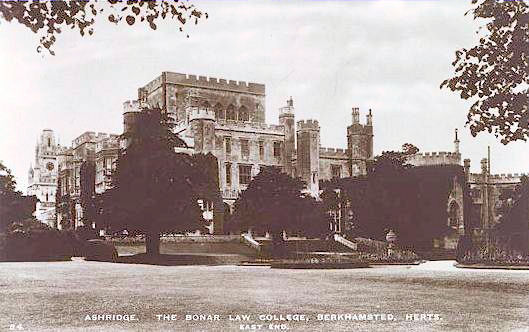 Ashridge - The Bonar Law College
The College was founded in 1929 and the card was printed before 1936.
Ashridge House
The North Front and Grand Entrance

Published by J T Newman, Berkhamsted

Posted 1905
Web Site: The Ashridge Management College site includes information on the history of the house - select "About Ashridge" from the menu.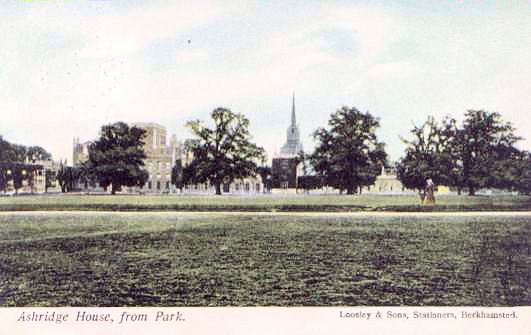 Postcard by Loosley & Sons, Berkhamsted, posted 1905
Web Site: The GENUKI site for Buckinghamshire includes a list of the rectors of the College of Bonhommes, Ashridge, between 1276 and the dissolution of the monasteries.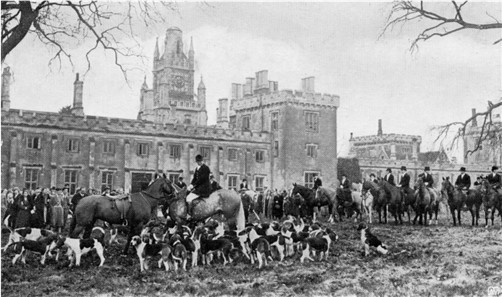 Meet at the Bonar Law Memorial College, Ashridge House
From The Hertfordshire Hunt, 1933
Some of the Views of the Gardens at Ashridge House taken by Chris Reynolds on Geograph

ArmorialGarden

Rhododendrons

Italianate Garden

Terrace Garden

Wellingtonia Avenue

The Lawns

The Gardens of the house were planned by Humphry Repton, in 1813 and his design showed 15 different styles of garden to the south and west including a lawn, rosary, flower garden, souterrein and grotto. and monk's garden. It was completed in 1823 by Sir James Wyatville in a way which retained the spirit of Repton's original design and remains intact today as the finest surviving examples of Repton's work.

When the estate passed to the Earls Brownlow in 1849 she added an Italianate garden and extended the gardens south into the park creating an arboretum, Wellingtonia avenue, rhododendron walk, formal moat, paths and skating pond.

The Ashridge (Bonar Law Memorial) Trust is currently working to preserve the gardens and have already restored the Italian Garden, Rose Garden, Herb Garden and flower garden, but further work is needed, for example on the grotto, and the bridge over the moat, depending on suitable funding being available. Link

Foundations of Medieval Church
| | | |
| --- | --- | --- |
| | | |
| October 2013 | | 18th century print and map added |