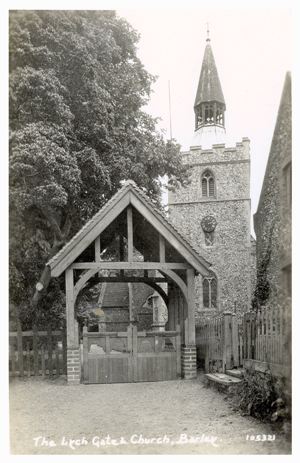 There is a handsome Village Church of considerable antiquity, dedicated to St. Margaret, with a fine Norman tower and small spire. It was rebuilt, except the tower and south aisle, in 1872. The living is a Rectory, in the gift of the Bishop of Ely, and, with the glebe, is valued at more than £600 per annum. The Parish contains 2,600 acres, mostly arable land. There is a School with a small endowment, and other schools and charitable institutions of an excellent kind. Chauncy records several epitaphs and inscriptions in the Church to former Rectors, but there are none calling for particular notice, except one to Dr. Willet, and one to Dr. Rutherford of Cambridge, in the chancel. The Parish Register extends from 1559.
The post card (undated, no publisher) on the right shows the lych gate and is clearly later than the post cards by Robert H Clark shown above. Its date is not known, but several other churches in Hertfordshire erected memorial lych gates just after the First World War.
1n 1912 Kelly's Directory for Hertfordshire reported that Rev. John Frome-Wilkinson, M.A. of Wadham College, Oxford, had been rector since 1884.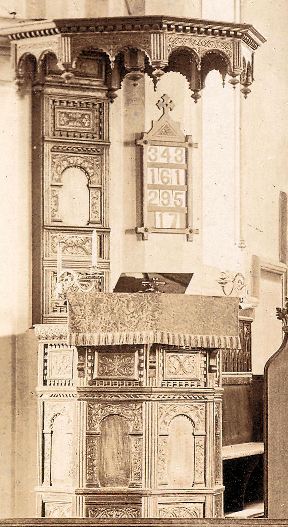 The Names of the late RECTORS.
1621
Andrew Willet, D.D.
--
Ralph Brownrigge, D.D. Master of Katherine Hall in Cambridge. afterwards Bishop of Exeter.
1640
Herbert Thorndyke.
1663
Mark Franc, D,D. Master of Pembroke Hall in Cambridge, and Treasurer of St. Paul's Church in London.
1664
Joseph Beamont, D.D. Master of St. Peter's Collegge in Cambridge, and Professor of Divinity there.

This Church is situated in the middle of the Vill in the Deanery of Braughing, within the Diocese of London, upon a rising Ground in the Vale, and hath two fair Iles divided from the Body, cover'd with Lead; at the West End stands a square Tower, with a small Ring of five Bells, and a neat leaded Spire about thirty Foot high upon it.

Chauncey, The Historical Antiques of Hertfordshire, 1700