Hertfordshire Postcard Artists, Photographers, Publishers, etc.

Robert H. Clark

Photographer of Royston
Robert Henry Clark was a major post card publisher from the early 20th century, and the company is still a photographer at Royston (see web site). He was described as a jeweller, living in the Royston High Street, in the 1881 and 1891 censuses. In the 1901 census he was living in Overton House (late South Bassingbourn) Royston, when his daughters were making lantern slides:
| | | | | | |
| --- | --- | --- | --- | --- | --- |
| Robert H Clark | Head | 45 | Jeweller (in Gold) | own acct | London |
| Matilda E Clark | Wife | 43 | | | Suffolk Lowestoft |
| Ethel M C Clark | Daughter | 21 | Lantern Slide Maker (Opt) | worker | Herts Royston |
| Florence M C Clark | Daughter | 18 | Lantern Slide Colourist (Opt) | worker | Herts Royston |
| Robert H C Clark | Son | 14 | School | | Herts Royston |
| Letitia O Clark | Mother-in-law. widow | 78 | Living on own means | | Lincolnshire Spalding |
| Sarah Wainscott | Boarder | 59 | Lantern Slide Maker (Opt) | worker | Herefordshire Hereford |
Between 1899 and 1926 Kelly's Hertfordshire Directory describes him as a watch maker and jeweller in Royston High Street and also as a photographer in Kneesworth Street. After 1929 the entry only refers to a watchmaker at 4 High Street.
The following series of postcards of Royston and area were published by Robert Henry Clark, High Street, Royston, and form a series of postcards issued by one local photographer over a period of perhaps 20-30 years. [The family continued the tradition - but I am only looking at the early examples.]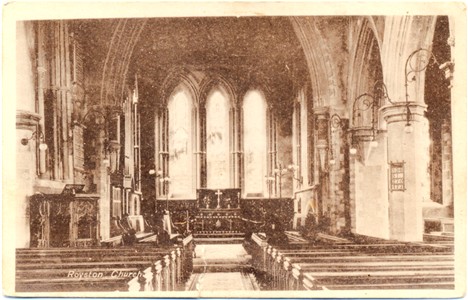 Interior of Royston Church
Undivided back so possibly about 1902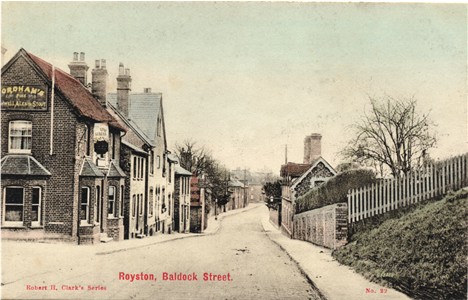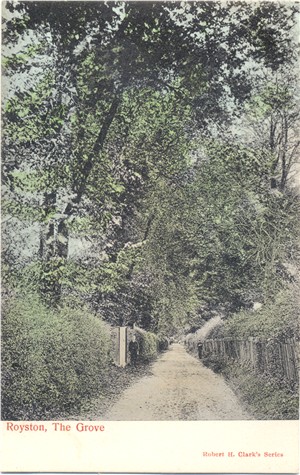 The above three cards (of a number I have) show minor variations in format but all are "Robert H Clark's Series". There are minor variations on the back, and all were printed in Germany or Saxony. An earliest date of about 1904 is not unreasonable. A card of the Fox and Hounds, Barley, with an early divided back was posted 1st January 1905. Other early (pre-numbered series?) cards are of Ashwell Spring, Dalnyveed, Barley, and Chipping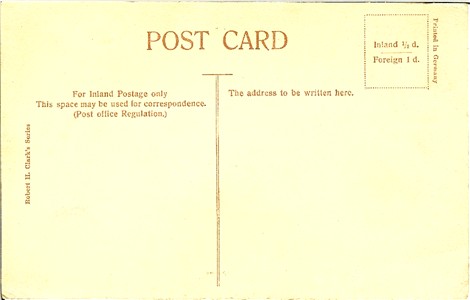 Typical early Back (18. Buntingford)
Royston, The Grove (shown above) unnumbered - white space on picture side suggest it may be earlier than the rest

Royston, Church from S.E. (q.v.) is unnumbered and similar to the above. I have a copy posted in 1907.

Buckland Church (q.v.) has identical back
Numbered Series
1. Royston - The Cross (shown above)

2. Barkway Church (ebay sale) - Unnumbered version posted 1909

6. Therfield (ebay sale) Posted 1904

7 Barkway (ebay sale) Posted 1906

18. Buntingford (q.v.) [picture kindly provided by Theresa Smith]

19. Royston, Newmarket Road

22. Royston, Baldock Street. (shown above) - later back that the rest and the only one printed in Saxony - may be a reprint at a later date.

23. Royston Church (ebay sale)

29 Royston, Kneesworth Street (ebay sale)

42 Royston Church from N.E.

67 Royston, London Road (ebay sale) Posted 1907

77. Royston High Street (ebay sale) Posted 1907

85. Royston, The One Hill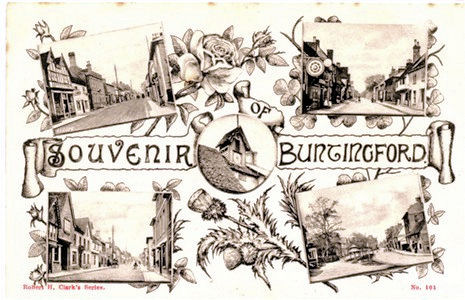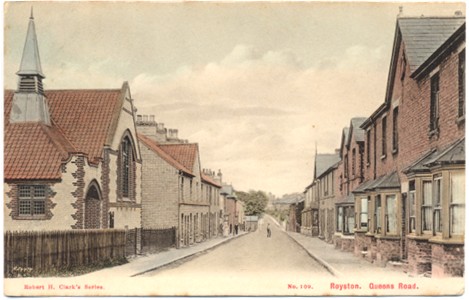 109 Royston, Queens Road

112. Royston, Lovers Walk

116 Royston, Melbourn Street (ebay sale)

118 Royston, High Street (ebay sale)

126 Royston, Kneesworth Street (ebay sale)

131. Royston, The Green Drift

134 Royston, Melbourn Street (ebay sale)

135. Royston Church. Rev J Harrison, Vicar 1872-1907 (q.v.) is a multi-view card with space for a message on the picture side.

136 Royston - Kneesworth Street (info from Brian Stuart)

139. Royston. The Home for little girls (q.v.) The subject is very different to the others - but the back is the same. The picture is said to be the first class held in the school, which opened in 1908. Old Royston Volume 1

141 Royston Church (Choir & altar)
Another early card of his shows Nuthampstead Village (q.v.). It is not numbered and the back would appear to be of a similar age to the above but of different design, and the title is in script. Might even be earlier.
In the Kelly's directory for Hertfordshire for 1912, under Royston, his entry reads: Clark, Robert Henry, watch maker and Jeweller, High Street & photographer, Kneesworth street.
He was similarly listed in 1926, but only as a watch maker in 1929
The business has continued in the family and I am mainly concerned with the earlier postcards.
A card with a later back, printed in Saxony (so presumably before World War 1) is numbered 505 and shows the Royston Home for Little Girls (q.v.). It was posted in 1916, and from the vegetation is several years later than on taken in about 1908. Old Royston Volume 1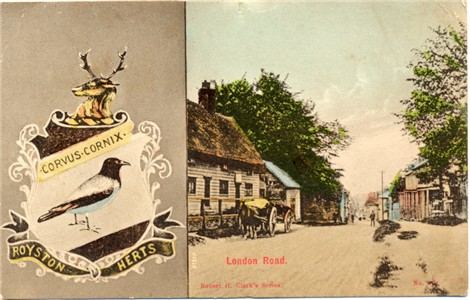 The above card, showing the Royston Crow and a view of London Road, Royston, was printed in Saxony and has a simple back, suggesting a later date than the previous cards. It was posted in July 1909. The number is unreadable - but is at least over 500, as the first digit could be 5,6,8, or 9.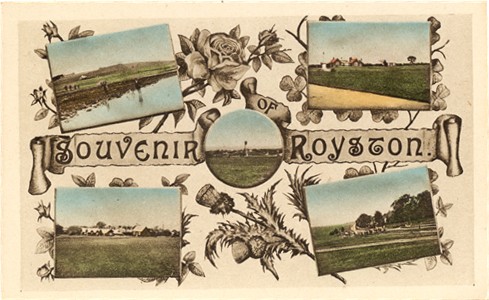 The above souvenir card is "Published by R. H. Clark, High Street, Royston" but the highly decorated back (below) shows that it was printed in England by Radermacher, Aldous & Co., who published many cards for other people. Date uncertain but perhaps early 1920s. An uncoloured version was also published.

The following two monochrome cards have similar backs and may have been published at about the same time.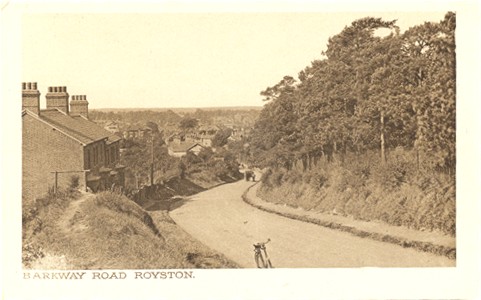 Barkway Road, Royston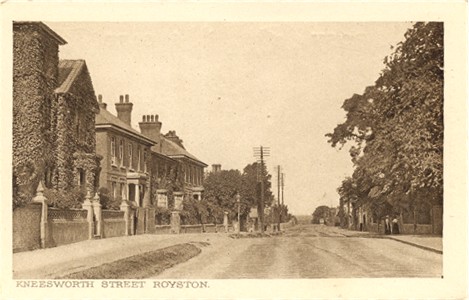 Kneesworth Street, Royston
The above photograph of Kneesworth Street illustrates a way of comparing the date of photographs by the telegraph poles. As more phones were connected more lines were needed - and more cross-bars were added to the poles. This photograph shows 4 larger cross-bars on each pole and seven shorter ones. This makes the photograph quite a bit later than the photograph of Kneesworth Street in 1907 in Old Royston Volume 2 which only has the 4 longer cross-bars.
I also have other cards with a very simple back showing Therfield Rectory (q.v.) and Anstey (q.v.). They are un-numbered and I am not sure where they fit into the series.
The Royston Cave postcard (q.v.) is an early card (back circa 1904) in the "Real Photographic Series" while all the above are printed.
Simple back - posted 1922

A copy of this card has been seen, posted 1980, presumably using up old stock, with a stamped message

:

R. H. Clark & Son,

Photographers,

4 High Street, Royston,

Telephone 41226

Dear Sir/Madam,

Your photographic work/repair is ready and awaiting your Collection

Most of his cards are of Royston and nearby villages in Hertfordshire and Cambridgeshire but Colin has located an early card of Wrestlingworth, Bedfordshire, which is not far from Royston. Did he also publish any cards of the nearby parts of Essex?
Some Other Robert H Clark cards

Anstey - The Church
circa 1904?
Robert H Clark's Series

Anstey - The Church
posted 1906
Real Photographic Series

The Springs, Ashwell
posted 1906
Robert H Clark [very faint]

Barley - The Homestall
posted 1906
Real Photographic Series

Barley - The Rectory
posted 1905
Real Photographic Series

Parish Church Royston posted 1912
Robert H Clark's Series

Congregational Church Royston circa 1920
Robert H Clark's Series

Therfield Church

(and other cards of Therfield)
There is a web page for Royston
If you can can provide further dating information on the above cards, or others by Robert H Clark, please tell me.
| | | |
| --- | --- | --- |
| | | |
| March 2010 | | Information on card 136 |