| | | | | |
| --- | --- | --- | --- | --- |
| | | The Parish and Village of Elstree | | |
Adjacent Parishes: Aldenham, Chipping Barnet, Edgware (Middx), Hendon (Middx), Little Stanmore (Middx), Ridge, Shenley
It is in the Cashio Hundred and Barnet Union
Boreham Wood separated from Elstree in 1909
See a map and brief description of Elstree in 1746
The Village of Elstree lies at the intersection of two main roads, dividing the village into 4 parts which are located in:
| | |
| --- | --- |
| The parish of Aldenham in Hertfordshire | The Parish of Elstree in Hertfordshire |
| The Parish of Little Stanmore in Middlesex | The Parish of Edgware in Middlesex |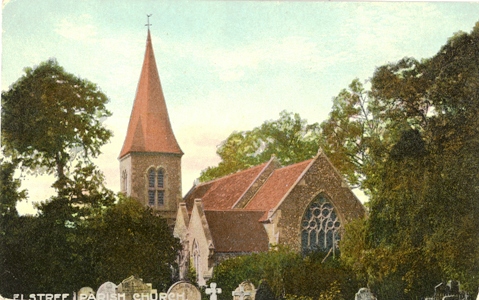 Elstree Parish Church - circa 1905
Elstree (or Idlestree) is a village, in Cashio hundred, Barnet Union and county court district, rural deanery of Watford, archdeaconry of St Albans, diocese of Rochester, and North-Western Metropolitan postal district, 5½ miles north from Harrow railway station, 5 south-west from Barnet, and 11 from London, through Edgware, situated at the intersection of the road from London to St Albans (the ancient Watling Street) with that from Bushey to Barnet; the later road divides the county of Herts from Middlesex: the four parts cut off by these roads are in four different parishes and two counties; the north-eastern portion, in which is the church, is in Elstree parish and Herts county; the north-western in Aldenham, Herts; the south-western in Little Stanmore, Middlesex, and the south-eastern in Edgware, Middlesex. The church of St Nicholas is a handsome building, with tower and spire and 2 bells, having been rebuilt by private subscription. The living is a rectory, annual value £804, arising from 200 acres of glebe, with residence, in the gift of the Lord Chancellor, and held by the Rev. Charles John Plumer, M.A., of St John's College, Oxford. There is a National school. The area is 1370 acres, and the population in 1861 was 402.
Boreham Wood is is north-east of the village and contains some good detached residences. To the west of the village is a large reservoir. It is said that the ancient town of Sulloniacum was situated on Brockley Hill, one mile south.
Post Office Directory for Hertfordshire, 1866
Multiview Postcard (circa 1905) of the Parish Church with portrait of the Rev A. R. T. Eales
Book: The Book of Elstree & Boreham Wood
Book: Elstree & Boreham Wood in Camera by Stephen A. Castle, 1990
Book: Elstree and Boreham Wood Past by Robert Bard, 2006
Book: Elstree, The British Hollywood
Web Site: St Nicholas Church, Elstree and pictures of the church and information on its history.
See Bull Baiters (Bullbeggars) Farm, Elstree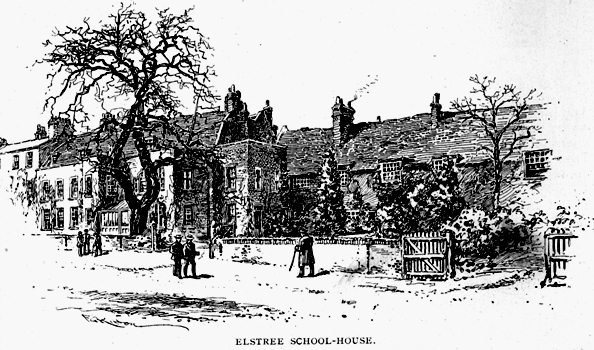 Elstree School House - from Hertfordshire Illustrated Review, May, 1893.
Hill House, Elstree, is now a listed building, used as a care home, and identifiable on Google Maps.
If you know of other books, websites, etc, relating to this place, please tell me.
| | | |
| --- | --- | --- |
| October 2010 | | Link to Elstree in 1746 |
| | | |