Flaunden
In 1973 Flaunden became part of the new borough of Dacorum, which is named after an ancient Saxon hundred of the same name.
Adjacent Parishes: Bovingdon, Chenies & Latimer(Buckinghamshire), Chesham (Buckinghamshire), Sarratt
Flaunden was in the Hemel Hempstead Union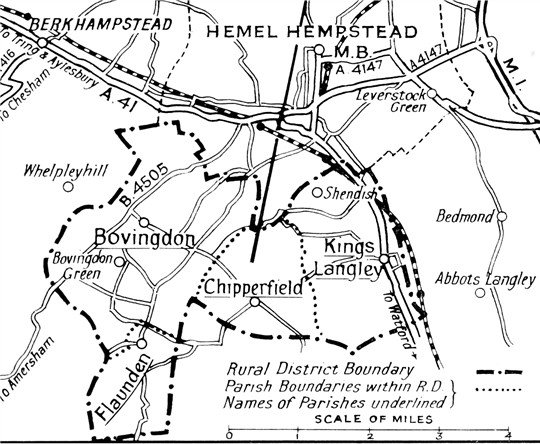 Map from Hemel Hempstead Rural District Official Guide (circa 1972)
Flaunden is a village and parish on the Buckinghamshire border of the county, 4 miles south-west from Boxmoor station on the London and North Western railway, 8 miles north-west from Watford and 6 south-west from Hemel Hempstead, in the Western Division of the county, Dacorum petty sessional division and hundred, Hemel Hempstead union, Chesham county court district, and in the rural deanery of Amersham, archdeaconry of Buckingham and diocese of Oxford, being the only parish in the county not in the diocese of St Albans.
The church of St Mary Magdalene, erected in 1838, chiefly at the cost of the Rev. Samuel King, a former rector, is a plain structure of flint with brick quoins and dressings, and said to have been the first church built by the late Sir Gilbert Scott kt. R.A.; it consists of a nave only, with south porch, vestry, and a western turret containing one bell ... the font and the bell and the floor tiles in the porch were brought from the old church, the slight ruins of which are still standing within a fir plantation in the valley between Latimer and Chenies; it was a cruciform building and very small. ...
Kelly's Directory for Hertfordshire, 1912
See also Dacorum and Vital Records
If you know of other books, websites, etc, relating to this place, please tell me.
Page updated December 2007