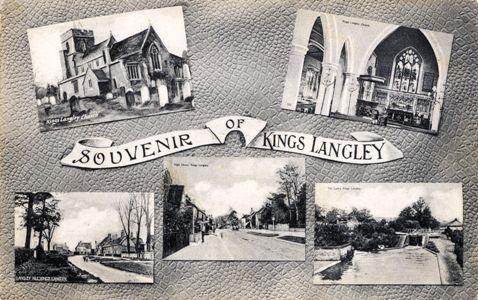 Published by E. H. Macmillan, Kings Langley - Posted 1907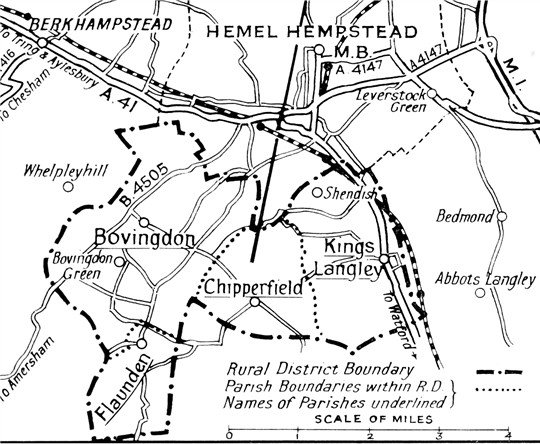 Map from Hemel Hempstead Rural District Official Guide (1971)
The following description (but not the pictures) comes from Watford and its surroundings - Homeland Guide published in 1906.
From Langleybury Church the road is as straight as a die. About a quarter of a mile on, after leaving on the left the private road to King's Langley Lodge, we noticed on the right a public footpath which leads to the railway station. we, however, continue forward, and another quarter of a mile or so brings us in sight of King's Langley Church, which stands at the south entrance to the village. We are now treading historic ground; and before examining the many objects of interest which the Church contains, will recall some of the more important names and incidents, and visit the ruins, that have served to make King's Langley not a little famous.
The first turning on the left past the Church brings us to what remain of the ruins of Langley Palace, which, according to some authorities, was built by Henry III, and according to others, by some person or persons unknown.
Be that as it may, there remain plenty of evidence and numerous records of the many great personages who have dwelt at different times within the old palace. For instance, we read of Edward I staying here with his court for several weeks, to the great disgust of the inhabitants of the surrounding country; for it is said that, while Longshanks did not hesitate to lay his hands on the provisions of his dutiful subjects, by some strange lapse of memory he forgot to pay for them. In 1299 Edward, with his second Queen, Margaret, again entertained noble company at Langley Palace; but as there is no record of a renewal of the bitter lamentations of the inhabitants of the district, on this occasion, presumably, the lengthy monarch paid for whatsoever he appropriated. [There continues a lengthy history of later Medieval Royal associations, etc]