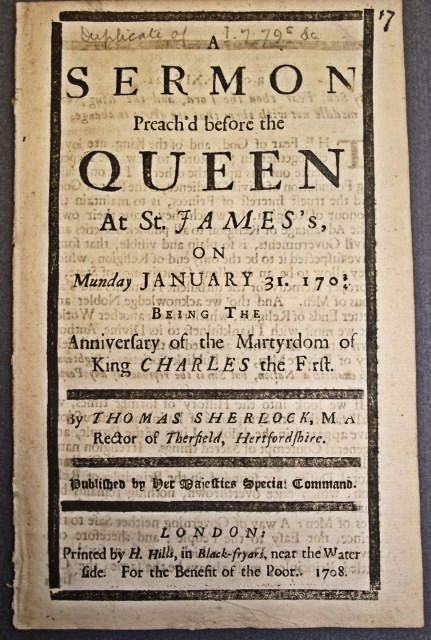 A
SERMON
Preach'd before the
QUEEN
at St JAMES's
on
Munday JANUARY 31, 1703/4
being the
Anniversary of the Martyrdom of
King CHARLES the First
by THOMAS SHERLOCK,. M.A.
Rector of Therfield, Hertfordshire
Published by Her Majesties Special Command
LONDON
Printed by H. Hills, in Black-fryars, near the Waterside
For the Benefit of the Poor. 1708
---
Cover of the Sermon being sold on ebay
October 2012
WILLIAM SHERLOCK was born in Southwark about the year 1641, and on leaving Eton, where he received his education, was entered at Peter House, Cambridge, where, in 1665, he took his degree of M.A. In 1669 he was presented to the Rectory of St. George's, Botolph Lane, London, which he held for some years. In 1683 he was collated to a Prebend in St. Paul's, and appointed Master of the Temple during the following year. On the accession of William and Mary, he refused to take the oaths, and was therefore suspended from all his preferments: he was, however, reinstated shortly after, on his compliance with the ordinance. In 1691 he was made Dean of St. Paul's, and died Hampstead on the 19th June, 1707. He was buried in St. Paul's Cathedral. He was the author of several polemical and controversial works, chiefly directed against the Nonconformists.
THOMAS SHERLOCK, eldest son of the last rector, was born in London in 1678, and, like his father, received his early education at Eton. About 1693 he was admitted to Catherine Hall, Cambridge, where, in 1701, he took the degree of M.A. In 1714 he took the degree of D.D., and was elected to the Mastership of his College. In 1716 he was made Dean of Winchester. In] 728 he was promoted to the Bishopric of Bangor; six years later he was translated to the see of Salisbury; and on the 12th October, 1748, he was translated to the see of London. He died on the 18th July, 1761, and was buried at Fulham. He published five volumes of sermons, and a number of political and controversial pamphlets.
Cussans, History of Hertfordshire