In 1901 John Chennells was a 70 year old chemist and grocer, born Islington, London,. living in the Post Office, Wheathampstead High Street, with his wife Annie, 59, born Welwyn, and their son Frank, 24, born Wheathampstead, clerk in the Post Office.
By 1911 Frank's father had died (1905), and he married Stella Godseff in 1906. He was now the subpostmaster at Wheathampstead and was the father of baby Winifred Stella Chennells (5 months).
By 1929 he had move to Amwell Farm, No Man's Land, Wheathampstead, but kept on the business and in 1937 he is listed as a grocer, post office & farmer living at Amwell Farm. Frank Chennells, of High Street,Wheathampstead, died on 24th July 1950.
It seems possible that he did not actually take the photographs but sold cards with his name from the post office.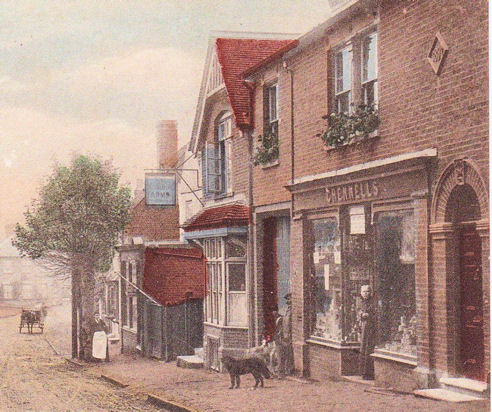 Chennells Shop in Wheathampstead High Street
from a F. Chennells card posted in 1906