Wheathampstead village and parish are in the hundred of Dacorum; the village is 24 miles N.N.W. from London, 5 N. from St Albans, rather more than 4 miles W.S.W. from Welwyn, and 8 S.S.E. from Luton, in Bedfordshire - situated upon the navigable river Lea. Although at the present day the place presents little worthy of description, yet its name is connected with an occurrence of some importance in the fourteenth century - here it was that, in 1311, the barons confederating against Edward II concentrated their followers. Brewing and Malting are the most prominent branches of business carried out in the village, and a paper mill gives employment to some hands. The parish church, dedicated to St Helen, is an antique cruciform fabric, with a tower springing from the intersection of the transept and the nave; the living is a rectory, in the gift of the Bishop of Lincoln, and the present incumbency of the Rev Geo, Thomas Prettyman [Pretyman], whose curate is the Rev Joseph Douton. The independents have a chapel, and there is a school conducted upon the national system. The parish, in 1831, contained 1,666 inhabitants.
Pigot's Hertfordshire Directory, 1839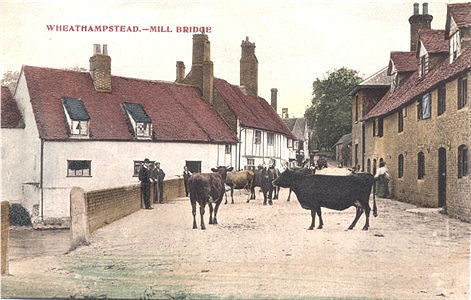 Mill Bridge - published F Chennells, Wheathampstead, circa 1905
The building in the middle distance with its tall chimneys is The Bull, while to the side is the Town Mill.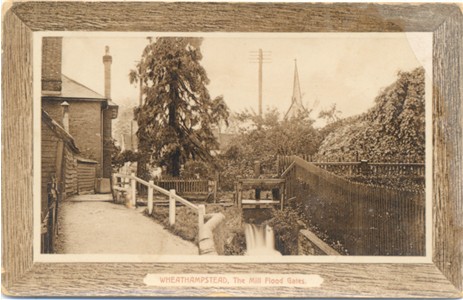 The Mill Flood Gates - circa 1910
Adjacent Parishes: Harpenden, Kimpton, Luton (Beds), Redbourn, Sandridge, St Michael
If you know of other books, websites, etc, relating to this place, please tell me.