AYOT ST. LAWRENCE
Is a small parish, l0½ miles north-west of Hertford station, 3½ west of Welwyn, and 5 west of the Great Northern railway, in Broadwater hundred, Hatfield union, diocese of Rochester, archdeaconry of St . .Albans, deanery of Welwyn, and Hertford county court district. The church is a modern building in a mixed Italian style. The living is a rectory, annual value £180, in the gift of Lionel Lytle, Esq.; the incumbent is the Rev. John Olive, M.A.; and the Rev. John Harding, Church Missionary College, of Codicote, is curate. The old church is in ruins, and is an object of much interest to antiquaries. The area of the parish is 747 acres; the population in 1861 was 122. Here is a school supported by the rector. Ayot House, now occupied by Colonel Cavendish, was formerly the residence of Anne Boleyn: it has a noble appearance, and is surrounded by plantations and stately trees, extending over 200 acres of park.
LAMER PARK, Bibsworth Hall, Reed Hall, Bride Hall, and Abbot's Hay, are places in the neighbourhood.
Post Office.- Letters arrive from Welwyn.
| | |
| --- | --- |
| Cavendish, Col. W. H. Frederick, J.P., Ayot House | Deard, John, Three Horseshoes |
| Olive, Rev. John, M.A., Parsonage | Ivory, Edward, farmer, Cross farm |
| Bentley, Mrs. Sarah, shopkeeper | Pavitt, William, farmer |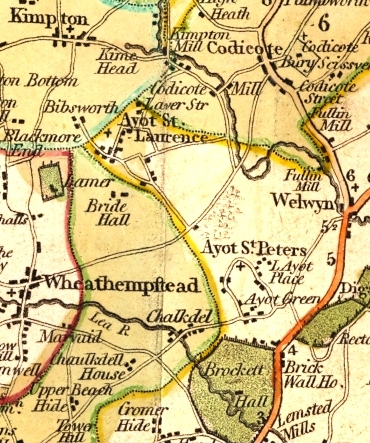 Detail of Charles Smith Map, 1808