A Short History of Bernards Heath
Jacob Reynolds of Heath Farm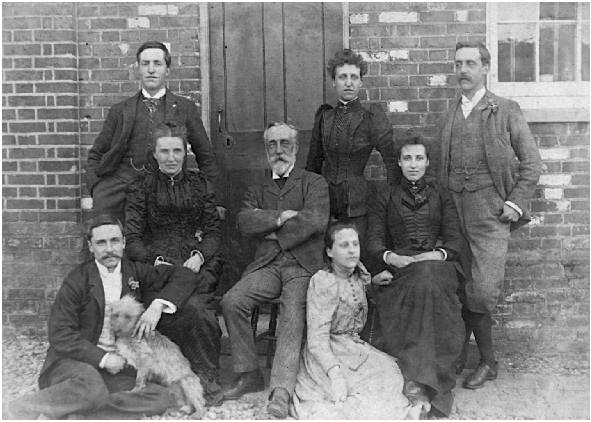 The Reynolds Family outside the back door of Heath Farm in 1892
John Lizzie Harry
Ellen Jacob Rose
Frank Ellen (Nellie)
Jacob Reynolds was the son of an impecunious East Anglian farmer and for a time worked for his Uncles Jacob and Henry Young Finch of Swaffham, Norfolk. He was then involved in marketing Lawes' patent fertiliser. Shortly after receiving a legacy he took the lease of Hammonds Farm, Sandridge, in 1863. Following the death of Edmund Smith of Heath Farm in 1870, Jacob took the lease of Heath Farm, where he lived until his death in 1926.
In addition to farming and running the Heath Farm Dairy, he was involved in many other activities. He sold artificial fertilisers, particularly in the 1870's, and in the 1890's he made bricks. He was a church warden of Sandridge for many years, with responsibility for Sandridge New Town, as the earliest developments between the railway line and Sandridge Road was then called. He was actively involved in the building of St Saviours, and became an alderman on the Hertfordshire County Council. As an alderman he was on the management committee of Hill End Hospital.
SCHOOL TREAT. – By the kind permission of Mr. & Mrs. J. Reynolds, who were also good enough to provide the tea, the scholars attending the Sunday School in connection with the Mission Room on the Heath, held their annual treat at Heath Farm on Tuesday. In spite of the weather being rather unpropitious the youngsters thoroughly enjoyed themselves. Tea was partaken of on the lawn, about 150 children sitting down to a substantial meal. Swinging-boats, erected for the occasion, as well as the many other games provided were made the most of by the children. Not the least enjoyable part of the pleasure provided was the races for which presents were kindly provided by Mr. Lloyd., Miss Loraine, and others. The children were most materially assisted in their games by the Misses Gamlen and Reynolds, Mr. Lloyd, Mr. W. Slight, the Rev. Dr. Griffith, and the Rev. W. Slight and Miss Howard contributed several songs. At the same time the mothers were kindly entertained.

Herts Advertiser

, 21st June 1890
His son Harry was a veterinary surgeon, who built Calverton, the large house looking down St Peters St, next to The Cricketers, using his father's bricks. Harry later farmed Hammonds Farm, Sandridge. John became a farmer at Cheapside Farm, Sandridge, and his son Eric becoming headmaster at Stowe School, and was actively associated with St Peter's Church. Frank became a doctor. Jacob had three daughters. Rose, married Arthur Martin, the Dairy Manager, who died a few years later. Ellen married Richard Grove (with family connections back to East Anglia), and Lizzie married Cecil Scott, who family lived at Oster Hills, St Albans.
Next: Heath Farm Dairy
For more information see Jacob Reynolds