A Short History of Bernards Heath
Heath Farm Dairy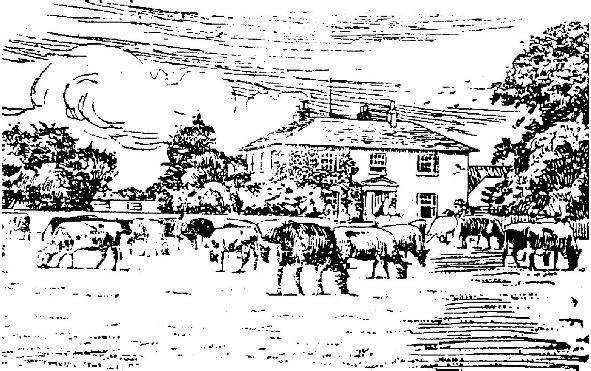 Heath Farm circa 1912
19th century reports show that the cows, which included shorthorns and jerseys, were stall fed with a plentiful supply of roots, hay, etc., with 4lb. a day of linseed cake or brewers grain, which was fetched from Adey and Whites by cart once or twice a week. The cows were milked at about 6 a.m. and the milk was passed straight through a cooler directly into the delivery churns. The milk was measured out by the head cowman, who kept a record of the quantity given to each milkman. The milkmen went out with their horse-drawn float or hand cart, delivering milk to the townsfolk. There were two rounds on weekdays, and one on Sunday. When the rounds were complete any unsold milk was credited to the milkman. Meanwhile the cows were driven down the Sandridge Road to spend the day on pasture. In the afternoon the cows were brought in, and they were milked in time for the afternoon delivery.
After 1881, when Earl Spencer started to sell land off for building, Heath Farm became smaller and smaller, but the dairy continued to provide two deliveries a day to houses in St Albans. Jacob Reynolds died in 1926 and in 1931 the business was sold to H. C. Pullin. It later became part of Express Dairies and moved away from the farm.
In about 1975 the farm house was demolished and a housing development, "The Limes" was built on the site.
Next: St Saviour's Church
Additional Information
Military Tribunal calls up milkmen - see Old News: May 1916 and June 1916
and Xmas Cards and the St Albans Military Tribunal, 1916
See 10 Chequer Street, St Albans
Bernards Heath Farm in the 1830s
Heath Farm, Sandridge, in 1911