A Short History of Bernards Heath
Wiles & Lewis's Tallow Works
Sparrowswick was a large house built in about 1883, adjacent to the Heath on the Harpenden Road. It was laid out with ornamental gardens. It was initially occupied by R. A. Kelley, a solicitor, but Arthur Lewis moved in 1886.
Meanwhile Edward Sutton Wiles had been running a business as tallow chandler, melter, candle maker & merchant and oil merchant in premises in George Street. The highly offensive smells which emanated from his factory caused considerable offence to people living in St Albans, and there were frequent complaints. In 1885 notice was given to Messrs Wiles & Co. to abate the nuisance caused by their tallow factory and in 1886 they were prosecuted.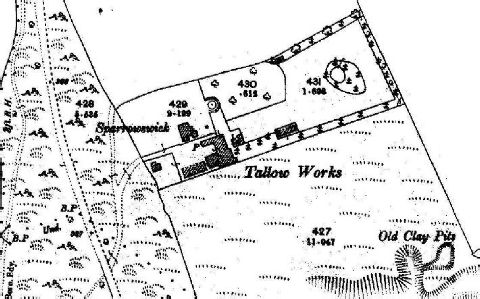 The works then moved to Bernards Heath and became Wiles & Lewis - and the smelly trade continued there. In 1911 there was a disastrous fire which burnt down the works. The Factory was rebuilt as the Ariston Works and people can still remember the bad smell when the wind was in the wrong direction. The factory finally closed in the 1960's.
Next: The Aftermath of Brickmaking
---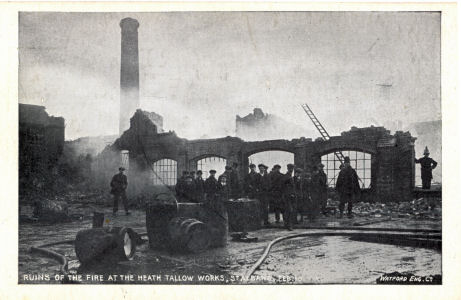 Ruins of the Fire at the Heath Tallow Works, St Albans, February 16, 1911
Published by Watford Engineering Co.
See also: Wiles & Lewis Advert circa 1930
March 2004
Sukie Hunter (sukieh @t compuserve.com) writes Arthur Lewis of Wiles & Lewis, tallow & suet manufacturers, was a younger son of John Lewis, Chemist & Druggist in St Peter's Street, who is reputed to have served a turn as Mayor. Arthur's elder half-brother, Henry, took over the chemists business when their father died in 1868. Arthur's maternal grandmother, Maria Thurtell, was a double first cousin of Jack Thurtell, who committed a very notorious murder at Radlett in 1823 and was hanged at Hertford. I bet the family kept fairly quiet about this! Most of Maria's relatives changed their name in order to avoid the opprobrium associated with being called Thurtell in the mid 19th century.
I was unaware of the connection! The murder is of particular interest because it was the first that took the newspaper world by storm, with extensive coverage in all the papers, and plenty of prejudicial reports on Jack Thurtell and his companion Joseph Henry Blair Hunt. Joseph was transported to Australia, and in 1999 there was some correspondence about him on the bulletin board which preceded this web site. Several books have been written about the case.
April 2004
Sukie Hunter (sukieh @t compuserve.com) revealled some further links with the Thurtell Family. See St Albans Educational Adverts.
If you can add to the information given above tell me.