The Brickmakers of St Albans

William George Bennett
William George Bennett was born in Tenterden, Kent, in about 1850, and was a coal merchant in St Albans from 1878 or earlier. For a short period around 1905 he made bricks in Sandpit Lane.
Unless otherwise stated family information comes from the IGI, VRI, and census data.]
According to the 1851 census William George BENNETT was the son of Robert BENNETT (38, carrier, born Tenterden, Kent) and Ann (39, carrier's wife, born Tenterden) living at West Cross, Tenterden. He was still in Tenterden, with his parents, for the 1871 census - with the occupation carrier. He married Ellen Laura Waddell at Tenterden registration district in 1877 and is not mentioned in the 1877 Langley's Directory of St Albans. However the 1878 Post Office Directory records: BENNETT William George, 7 Verulam Street, & Midland Station. He is listed in the 1881 census in Verulam Street:
| | | | | |
| --- | --- | --- | --- | --- |
| William G BENNETT | Head | 30 | Coal Merchant | Tenterden, Kent |
| Ellen S. BENNETT | Wife | 27 | | Burwash, Sussex |
| Sallie WADDEN | Unmarried Sister | 25 | | Burwash, Sussex |
| Herbert W. BENNETT | Son | 2 | | St Albans |
| Alice LAWRANCE | Servant | 14 | | Lemsford Mills |
In 1890 Kelly's Directory he is listed as living in Victoria Road and the commercial entry had been expanded to read "BENNETT WILLIAM GEORGE, coal & coke merchant; coal order offices Victoria Street, depot Midland Railway. See Advertisement." He was still there in 1891, when he was described as a coal merchant and magistrate.
W. G. BENNETT was a member of the St Albans city council and Mayor in 1891 and served as a magistrate when one of Jacob Reynolds' turkeys was stolen.
In the 1901 census he is described as a coal merchant living at 77 Victoria Road, with his wife and children Herbert Walter (22), Gertrude Kate (19), Helena Rose (17) and Robert (13). Robert died in 1904,
The "brick" link is that the 1903 St Albans Directory shows William George BENNETT as a brickmaker in Sandpit Lane. W G BENNETT Ltd is also listed in 1906 and 1907 - when it is clear that the brickworks are to the east of Lancaster Road (east of the Midland Railway line.) The Coal adverts in the directories make no mention of brickmaking. There is no mention of the brickworks in 1901 or in 1909 or later - and it seems likely he took over the Sandpit Lane brickworks of W A Dixon.
In 1911 he was living at Glyheath, Lemsford Road, St Albans, with his wife, Ellen Laura, and daughter Helena Rose Bennett. His occupation was given as Managing Director. His son Herbert Walter Bennett (grocer and provisions dealer) and wife Emily [Julia Bagshaw] (31) were living at 213 Hatfield Road.
While I have so far found no later explicit references to his having a brick works in St Albans it is clear that, as a builders' merchant he (or at least the company) continued to sell bricks. In 1913/14 he was listed as living at Wakefield, York Road while the company was described as:
Bennett W. G. Ltd (Arnold Beck, Sec) Coal, Coke, gravel and brick merchants; coal order office 77 Victoria Street, Midland Railway depot and Cape Road.
In addition the 1921 railway guide describes the company as "Brick Factors" while the 1934 advertisement from Kelly's St Albans Street Directory shows him selling "Special Hand-made Sand Faced Reds." (Note that "Hoggin" is the traditional material used as a sub-base for pathways.)
In January 2012 Louise Collins (louise_j_collins @t yahoo.co.uk) of St Albans wrote: I live in Cunningham Ave and I have just looked up W. Bennett as he is listed as the vendor of the land in 1926 on which to build the whole street. There are many restrictive covenants on the type of houses and minimum sums that should be paid, so obviously a discerning fellow.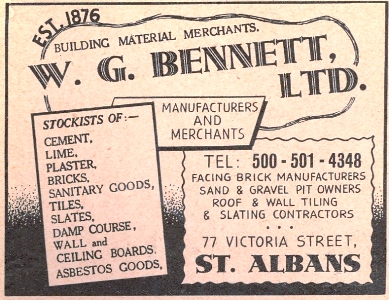 In 1937 William George Bennett was still listed as living at Wakefield, 5 York Road, St Albans, with Bennett W. G. Limited as builders merchants & coal merchants at 77 Victoria Street and Cape Road. The firm was also listed under the "Brick & Tile Makers" heading in the trade section.
By 1946 W. G. Bennett no longer appeared in the street directory but the company was still at 77 Victoria Street and advert includes the words "Facing Brick Manufacturers". They are not listed in the 1966 directory.
If you can add to the information given above tell me.
Page updated January 2012