At the HALH Symposium on Sport, held at St Edmund's College in November 2012, Julia Moore gave a talk on Golfing in Hertfordshire in the late 19th century. She observed that as more and more London based professional people started to acquire rural homes, mainly in South West Herts, they wanted to be involved in rural activities - but were not able to ride horses as well as the local gentry. Golf provided rural exercise and the first golf courses were on existing commons - such as the one at Berkhamsted. However later courses were especially constructed on private estates where the general public could be excluded! Some of her slides included lists of the early clubs, drawn up from Kelly's Directories. While I was unable to copy it at the time I have "reconstructed it" - and the following is a list of clubs, drawn up with details from the 1914 directory, with the earliest date I fond in earlier directories available to me, although Julia had earlier dates for some of them. I have also added some employment statistics.
Arkley

H. G. Rowley, sec

Rowley Green, Arkley, Barnet

1912

Berkhamsted

Charles J Gilbert, sec

The Common, Great Berkhamsted

1902

Bishop's Stortford

J. B. Douthwaite, sec

W. E. Brown, porfessional

Dunmow Road, Bishop's Stortford

1912

Boxmoor

Roughdown, Boxmoor

Founded 1890

Bushey Hall

N. Lindsay, sec

Bushey Hall, Buchey, Watford

1895

Chorley Wood

A. Dunbar Walker, M.D., hon. sec.

The Common, Chorley Wood, Rickmansworth

1895

Cuffley

W. E. Manning, sec.

Cuffley, Northaw, Potters Bar, Middlesex.

1912

East Herts

Hugh M. Gisby, hon. sec.

Hertford Road, Ware & Little Amwell, Hertford

1908

Harpenden

E. T. Raban, hon. sec.

East Common

1899

Knebworth

Herbert Henry Peacock, sec

Knebworth, Stevenage

Founded 1908

Mid Herts

Charles Dymoke Green, sec.

Gustard Wood, Wheathampstead

1908

Old Fold Manor

R. L. Leigh-Clare, sec.

Hadley, Barnet

1912

Oxhey Ltd.

Col. Robert Fulton, sec

Oxhey Road, Oxhey, Watford

1912

Royston

George F. Phillips, hon. sec.

Ernest Beverley, professional

Royston

Founded 1892

South Herts

Jn. Robt. Burton, sec

Totteridge lane, Totteridge, Whetstone

1902

Verulam Ltd.

Capt. C. F. Nesham, sec

London Road, St Albans

1912
West Herts

Capt. A. Scott, sec

Cassio Park, Watford
1899
Over the years there was a major increase in Golf related employment.
In 1881 there was no-one in the Watford area whose job involved Golf
In 1891 Benjamin Ball is described as a golfer, Herbert Baldwin was a golf boy, David Cuthbert was a golf club maker and William Walker was a golf professional.
The list on the right gives the names and occupations for the 1901 census.
In 1911 57 people had golf-related occupations.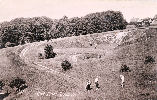 Golf Workers in Watford, 1901
| | |
| --- | --- |
| CARTER, George W | Golf Professional |
| CASBON, Wm | Golf Club Manager |
| CHESNEY, Harry | Golf Club Maker |
| COX, Joseph | Golf Green Keeper |
| DICKENS, William | Golf Caddie |
| EVANS, Charley | Golf Caddie |
| FREEMAN, Kenneth G | Golf Caddie |
| GARDNER? George | Golf Caddie |
| GEORGE, Charles W | Golf Caddie |
| HALL, Frederick A | Golf Caddie |
| KILLICK, Ruben | Golf Professional |
| LONG, Arthur | Golf Professional |
| OLIVER, James | Golf Caddie |
| PARISH, Walter B | Golf Boy |
| PUDDIFOOT, Joseph | Golf Green Labourer |
| RAINBOW, William G | Golf Caddie |
| REEVES, Joseph | Golf Caddie Master |
| SAUNDERS, George | Golf Attendant |
| SMITH, Henry A | Golf Caddie |
| SNELLINGS, Edward | Golf Badge Boy |
| SUNDERLAND, Thomas | Golf Green Keeper |
| TINGEY, Albert | Golf Professional |
| TINGEY, Frederick | Golf Club Maker |
| WALLIS, Charles | Golf Caddie |