For general information see
The Exploring Family History Tutorial
Marriage Certificate
Available for Marriages after July 1st 1837
The Missing First Wife
We know from the 1861 census (view) and James Horwood's marriage to Mary Town (view) later the same year that James was a widower in 1861.
Task: So who was his first wife, and what happened to her?
When we searched for James Horwood's marriage to Mary (view) we decided, correctly, that the 1861 marriage was the one to pursue as it fitted in with the evidence on Mary on Thomas William Horwood's birth certificate (view). For this reason we rejected two earlier marriages in 1857 and 1859 which now need to be re-examined. Clerkenwell seems the most likely location, Returning to FreeBMD we found that only one of the wives were indexed - but decided to buy the certificate from the General Register Office.
Marriages Dec 1859
Fletcher
Henry
Clerkenwell
1b
809
Horwood
James
Clerkenwell
1b
809
Shannon
Agnes Maria
Clerkenwell
1b
809
The certificate came and clearly was for the right James Horwood - again indicating that James's father was deceased at the time of the marriage. The bride was a Mary Anne Crichley.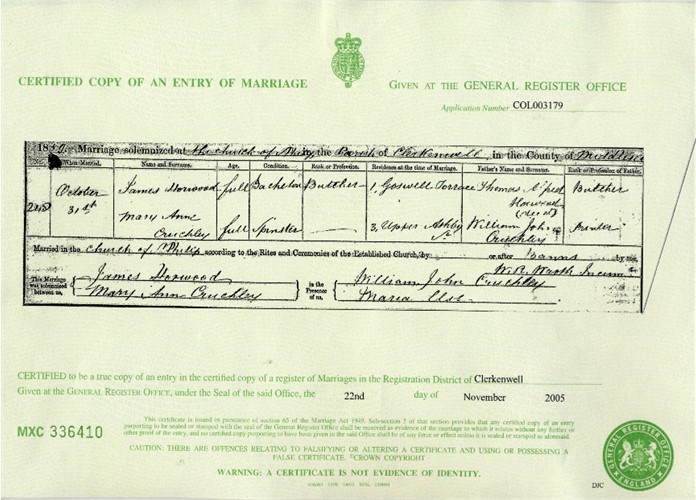 Marriage solemnized at
the Church of St Philip
in the
Parish of Clerkenwell
in the County of
Middlesex
When married
October 31st 1859
Name and surname
James Horwood
Mary Anne Critchley
Age
full
full
Condition
Bachelor
Spinster
Rank or Profession
Butcher
-
Residence at the time of Marriage
1 Goswell Terrace
3 Upper Ashby Street
Father's name and surname
Thomas Alfred Horwood (deced.)
William John Critchley
Rank or profession of father
Butcher
Printer
Married in the
Church of St Philip after Banns
By me
W R Worth Incumb.
This marriage was solemnized between us
James Horwood
Mary Anne Critchley
in the Presence of us
William John Critchley
Maria Else
A search for the death of a Mary Anne Horwood between the marriage and the 1861 census came up with a single entry, which indicates that Mary Anne died between the wedding on 31st October and the death being registered by 31st December. In view of the dramatically short period of the marriage it was decided to get the death certificate.
Deaths Dec 1859

Horwood
Mary Ann
Clerkenwell
1b
381
Result of Investigation
[To be written when the Death Certificate arrives]
While there is no difficulty in this case, because all the relevant evidence had been properly collected, and the bible confirms it, the situation is one that could easily lead to errors if records are not properly checked (for instance to save money by working with index entries and not buying certificates). From Thomas William Horwood's baptism (view) we know that his parents were James and Mary Horwood. From the above marriage we would discover that James married Mary Anne in 1859 - and on this limited evidence it would be easy to assume that Mary Anne Critchley was James's mother. Such errors can easily occur in inadequately researched family trees - which is why you should always check the evidence by consulting the source documents.
Page created November 2005