The Exploring Family History Tutorial
Session 2
Sarah Lewin and her family
When Sarah died at Little Gaddesden in 1839, the Lewin Bible (view) says she left one daughter and four sons. These were probably born at Water End Farm, Sandridge.
Task: Identify the Children
Search of International Genealogical Index at www.familysearch.org
Children of James and Sarah Peppercorn baptised at Ayot St Peter
| | |
| --- | --- |
| 6 August 1808 | John |
| 19 July 1812 | Charles |
| 10 April 1814 | Sarah |
| 15 Oct 1815 | James |
| 28 July 1817 | William |
| 11 April 1819 | Lewin |
This identifies one daughter and five sons so ...
Search of the Hertfordshire Family History Society Burial Index 1800-1851 on CD.
This shows that William Peppercorn, of Water End, Sandridge, was buried at Ayot St Peter on 3 August 1817, aged 1 week.
NOTE: The burial is also recorded on the National Burial Index CD - but this does not give the additional information that William came from a different parish.
Look at the Microfilm of the Ayot St Peter Registers at HALS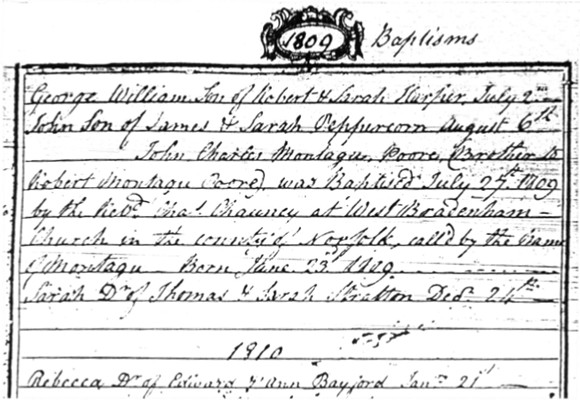 This shows the baptism of John, Son of James & Sarah Peppercorn, on August 6th, 1808, at Ayot St Peter church.
It is a typical entry for the time, with pretty minimal information, in a register with lined paper (less common). However the entry following that for John illustrates why it is is important to see what the original document says, as some entries contain information that is not in the International Genealogical Index:
John Charles Montagu Poore (Brother to Robert Montague Poore) was Baptised July 27th 1809 by the Revd Chas Chauncy at West Braddenham Church in the County of Norfolk, called by the name G Montagu. Born June 23 1809.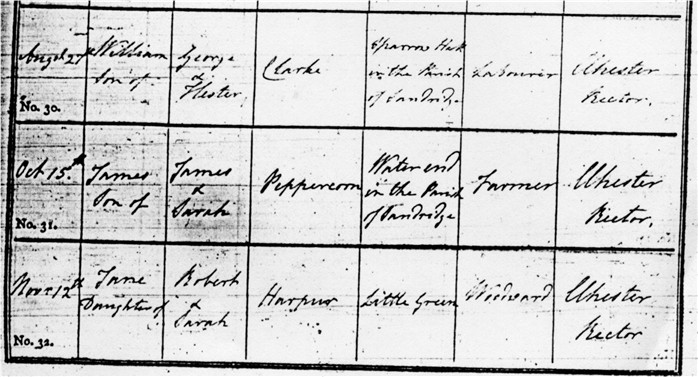 In 1813 a pro-forma baptism register was introduced , and the above shows the entry for James Peppercorn in 1815. The columns are When baptised, Child's Christian Name; Parents Christian & Surnames; Abode; Quality, trade or profession and By whom the Ceremony was performed. This entry shows that the father, James Peppercorn, was a farmer, and lived at Water End, Sandridge.
For most baptisms the 1813 format is more informative than the earlier unformatted text - but tends to discourage the more unusual entries, although margin notes still occur.
Result of Investigation
This has established that James Peppercorn was a farmer at Water End Farm, and (excluding an infant death) there were one daughter (Sarah, baptised 1814) and four sons (John 1809, Charles 1812, James 1815 and Lewin 1819). The children were baptised at Ayot St Peter, and not in Sandridge.
This raises the question - why were the children baptised at Ayot St Peter and not Sandridge?
Previous
Session Index
Next
Page created November 2005