Ancestors of Christopher Finch Reynolds

Hannah Dolling > Burchmore

(1770-1826)
Father: Edward Dolling
Mother: Hannah Robarts
Born: 1770 [from age at death]
Baptised: 31st March, 1771 at Redbourn
Married: 6th August 1790 at Redbourn
Husband: William Burchmore (1765-1841)
Son: William Burchmore (1791-1856) baptised 25th September 1791 at Flamstead; married Sarah Kingston (nee Burchmore) in about 1840. See BURCHMORE/KINGSTON, Flamstead, Mid 19th Century
Daughter: Sarah Burchmore (1793-after 1841) baptised 16th April 1793 at Flamstead; married Thomas How at Flamstead in 1820.
Daughter: Hannah Burchmore (1794-1830) baptised 19th December 1794 at Flamstead; married John Lavender at Flamstead in 1827.
Daughter: Abigail Burchmore (1796-1846??) baptised 3rd August 1796 at Flamstead; married George Davison at Flamstead in 1824.
Daughter: Elizabeth Burchmore (1798-1826) baptised 7th October 1798 at Flamstead; married Daniel Hill at Flamstead, in 1821.
Daughter: Martha Burchmore (1800-1887) baptised 16th July 1800 at Flamstead; married Daniel Hill at St Pancras New Church, London, in 1827.
Son: Thomas Burchmore (1801-1812) baptised 30th November 1801 at Flamstead.
Daughter: Jane Burchmore (1802-1882) baptised 17th June 1802 at Flamstead; married William Bates at Redbourn in 1833.
Daughter: Charlotte Burchmore (1805-1885) baptised 19th January 1806 at Flamstead.
Daughter: Ann Burchmore (1808-1853) baptised 2nd November 1810 (aged 2½) at Flamstead.
Son: George Burchmore (1810-1874) baptised 2nd November 1810 at Flamstead; married Hannah Young in about 1845.
Daughter: Mary Ann Burchmore (1813-1891) baptised 23rd May 1813 at Flamstead - at Flamsteadbury.
Death: 27th September 1826 at Flamstead
Burial: 2nd October 1826 at Flamstead. ... Mrs Hannah Burchmore ... aged 56 ... also Mr William Burchmore.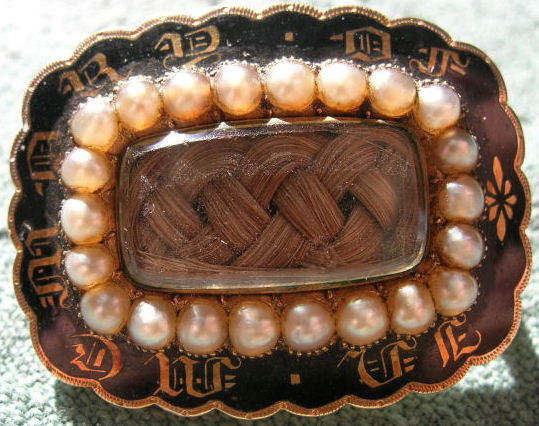 Picture of In Memorium Broach kindly provided by Joy Elsden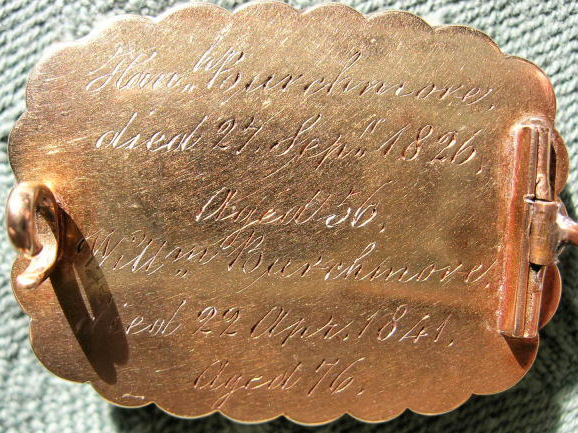 If you can add to the information given above tell me.