Who is Related to Who?

Page 1
Cousin marriages can lead to very complex family trees and the following example shows how intertwined they can be. It demonstrates the known links between my great grandfather, Jacob Reynolds, and his friend, Francis House Kingston Mardall and was originally drawn up to supplement an index to Jacob Reynolds' scrapbook.
Francis House Kingston Mardall (1872-1955), or Frank Mardall as he was usually called, was a great friend of the family, and sent some interesting home-made Christmas cards. The following family trees show how he was related to members of the Reynolds family. He first appears in the scrapbook in the account of the Cox double wedding in 1893, the indirect link being shown in the following family tree, which also shows the earlier marriage between Harry Beasney Cox and Emma Mardall in 1887. It should be noted that Henry Cox was the tenant at Hammonds Farm, Sandridge, immediately prior to Jacob Reynolds taking up the tenancy of this farm in 1862.

In 1903 a closer bond was forged when Frank Mardall married Jacob's niece, Alice Mary Smith.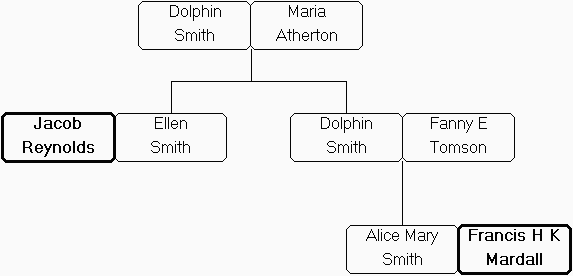 See also Maria Atherton, Jacob Reynolds, Dolphin Smith, Ellen Smith
If you can add to the information given above tell me.